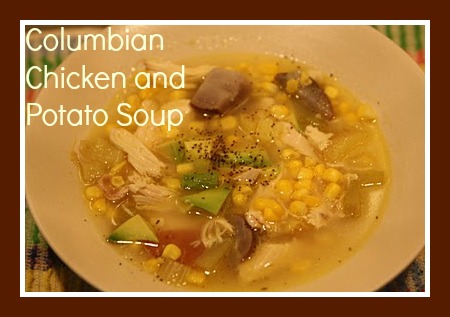 It's Seriously Soup day today, featuring one of my favorite bloggers, Serena, who authors a blog called Seriously Soupy.  Serena started Seriously Soupy as a creative outlet for herself after her first daughter was born, which combined her passion for cooking with an interest in learning more about soups and soup making.  Since it started, she has given soup tours and taught soup classes and has a catalog of over 100 soups on the site!  You can join Serena on her Soupy journey at SeriouslySoupy.com and twice a month you can find her here, at My Judy the Foodie, sharing her wisdom and helping demystify the world of soup.
Here's what Serena has to say:
A few months ago I learned about some soups from South America and was excited to learn about locro, sopa de sorrel and Ajiaco Bogotano – a chicken and potato Soup from Columbia. Considered Colombia's national dish, I discovered another recipe for chicken and potato soup in the January 2011 edition of Real Simple magazine that included corn, lime juice, celery and potatoes. Topped with avocado and cilantro (optional), this delicious comfort food was also an easy and quick soup to prepare that used minimal spices (lime, oregano, salt, and pepper).
This recipe is great variation on the chicken soup and one that will have you wanting more. Enjoy!
Colombian Chicken and Potato Soup
Adapted from Real Simple Magazine
Ingredients:
1 whole chicken (Real Simple: 1 pound boneless, skinless chicken thighs – about 4)
4 cups of chicken broth – *I used thischicken stock recipe
4 corn-on-the-cob pieces
1 tablespoon of olive oil
1 small onion, thinly sliced
1 celery stalk, thinly sliced
4 garlic cloves, thinly sliced
2 medium russet potatoes (about 1 pound), peeled and cut into 1-inch pieces – *I also used purple and red potatoes
2 tablespoons of fresh lime juice, plus wedges for serving – *I used lime juice
1/4 teaspoon of dried oregano
kosher salt and black pepper
Cut-up avocado, fresh cilantro sprigs, and capers for serving
*celery salt
*topping with sour cream
*Seriously Soupy addition/modification.
Directions:
1. In a large saucepan or Dutch oven, combine the chicken broth and 1 cup of water and bring to a boil. Add the chicken and corn and simmer until the chicken is cooked, 10 to 12 minutes.
2. Remove the chicken and corn from the saucepan and reserve.
3. Wipe out the saucepan and heat the oil over medium heat. Add the onion, celery, and garlic and cook, stirring occasionally, until beginning to soften, 2 to 3 minutes. Add the potatoes and the reserved cooking liquid and bring to a boil. Reduce heat and simmer until the potatoes are cooked through, 15 to 20 minutes.
4. Meanwhile, shred the chicken and cut the corn pieces into 1-inch thick rounds. Return the chicken and corn to the soup. Add the lime juice, oregano, salt, pepper and cook until heated through, about 1 minute. Serve the soup with avocado, cilantro, capers, or lime wedges.
Have you made any soups inspired by other countries?