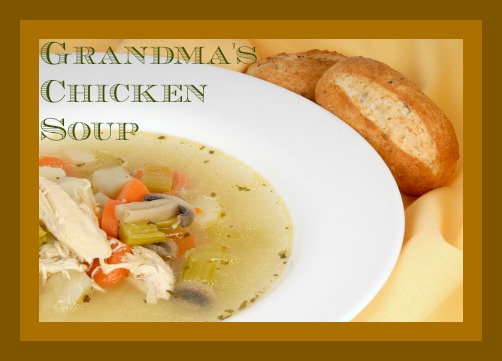 Today's guest post is from Erika Katz. Erika is the celebrated author of Bonding Over Beauty, a comprehensive guide to get you through the tween and early teen years. You can also enjoy her website geared for mothers tackling the drama of the 'tween years at Bonding Over Beauty.

For generations, Chicken Soup has been used for its curative powers and has always been celebrated as a warm, soothing comfort food. How many times have you taken a Chicken Soup short cut by grabbing for that can of soup and adding water?  Think making soup is hard? Erika shares with us her grandmother's celebrated Chicken Soup recipe that requires such minimal effort for a taste that's unparalleled.  After making this recipe you'll never reach for a can of soup again. Instead, you'll reach for your homemade leftovers you've frozen in your freezer…
Here's what Erika has to say:
There is nothing more inviting on a cold winter's day than a bowl of piping hot homemade chicken soup. My earliest childhood memory is of my grandmother coming to my house with frozen containers of soup packaged in Tupperware.  She would put them in our freezer to make sure we always had soup in case any of us got sick.  Before her passing,  she gave me her recipe and now it is a favorite for my children.  Whether used as a base for other soups, in a sauce, or filled with noodles and chicken, it surely the best food you could store in your freezer.
This recipe should make about 6 quarts of soup.  You can keep one container in the fridge and then freeze the rest.  The key ingredient in my grandmother's soup is the bones because that is what gives the soup its rich color and, most importantly, its nutrition.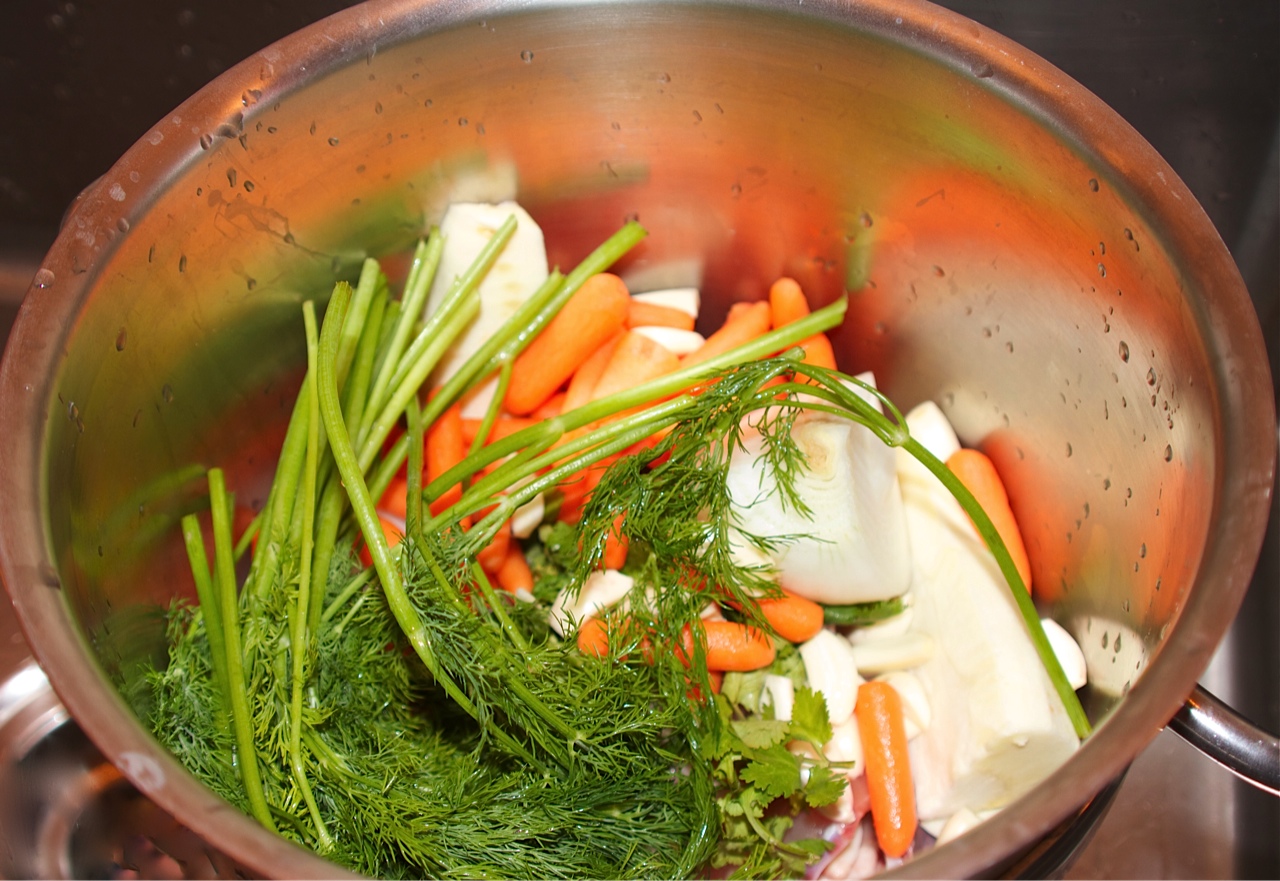 I use a 12-quart stockpot but if you want to make a smaller batch, you can reduce the recipe by using fewer chicken bones and smaller pieces of vegetables.
I know you'll enjoy this recipe as much as my family does.
Grandma's Chicken Soup
Ingredients:
7 pounds of chicken bones and chicken pieces on the bones like breasts or thighs
½ celery root peeled
½ white onion
6 cloves of garlic peeled
1 large parsnip peeled with the ends removed
1 handful of dill
Salt to taste (If you use kosher chicken, you will not need to salt the soup)
Instructions:
Put all the ingredients into a 12-quart stockpot.
Add water to cover.  Water should be about 3 inches beneath the top rim of the pot so the soup does not boil over.
Bring to a boil on high heat.  Then reduce heat to simmer.
Let the soup cook for a minimum of three hours uncovered.  For a deeper, richer flavor, let the soup cook longer.
When your soup is done, turn off your flame and let your soup sit for about an hour to cool off.
Pour the soup into containers, straining out all the meat and vegetables.  The chicken and parsnips will be good to add to the soup later. You can throw out the other vegetables and bones.*
*If you do not mind fat in your soup, you can eat it right away.  However, I like to refrigerate the soup in the containers until the next day.    Then I skim the fat that has risen to the top.  I store all my soup in the refrigerator and reheat when I am ready to use it.  I like to add pasta, matzo balls, and chicken to make it a great meal.
Enjoy!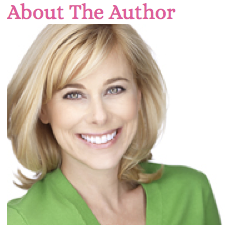 Author of the book Bonding Over Beauty, A Mother-Daughter Guide to Self-Esteem, Confidence and Trust (Greenleaf Press, March 2011), Erika Katz uses her beauty expertise to help moms bond with their 'tween daughters. Erika has been featured on The Today Show, The Doctors, The Better Show, Good Day Street Talk, Fox News, NBC's Today in New York, PIX11, and Telemundo.  She contributes beauty and parenting tips to Seventeen, Parents, Good Housekeeping, Girl's Life, Shape, Prevention, Parenting, and many online blogs and websites.  A former child model and actress, Erika appeared in over 100 commercials, print ads, and films. As the mother of a 'tween girl, she now writes a popular beauty blog for mothers tackling the drama of the 'tween years.
You can follow Erika on twitter @bondoverbeauty
And, due out next month, Erika's second book:  Bonding Over Beauty: The Beauty Recipes!