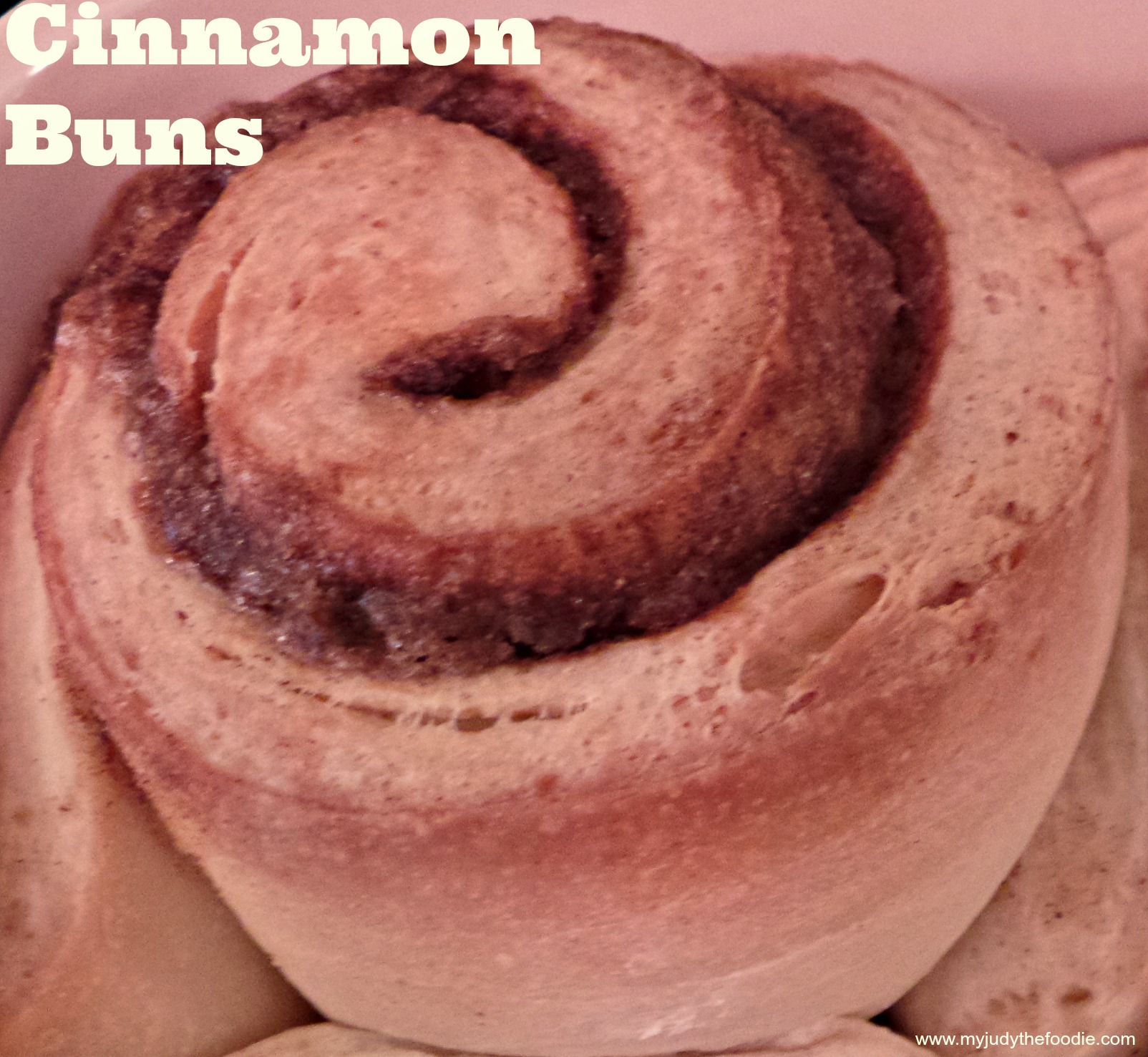 Cinnamon Buns have always been etched my mind as "sinful buns." As a child, when the mall opened up near my house in Baltimore,  my mother and I would spend hours walking around to the different specialty shops and department stores.  When "Cinnabon" opened up, it was a total treat to watch the employees hand roll the buns and slather on all the cream cheese topping.  The warm sweet smells from that little stall alone seemed to fill up the entire market place.
Fast forward thirty years. Now I'm the mom raising two kids of my own in New York City. While we don't have a mall nearby, all we have to do is walk out our apartment building and we're greeting with myriad enticing specialty stores dotting the neighboring streets.  Lucky for my Chai Tea Latte craving, we have a Starbuck's Coffee only one block away.  Lucky for my daughter's sweet craving, she's now got La Boulange (inside Starbuck's) as her nearby resource for some tasty artisanal pastry morning buns (aka, cinnamon Buns).  I let her have these buns occasionally as a special treat for a weekend breakfast.  They're not the healthiest option and I'm on a quest to render her breakfasts a good source of protein –versus empty sugar—to jump start her days.
Lately, I've mustered up more confidence handling yeast (thanks to my recent Cinnamon Raisin Bread success), so I figured it would be worth it- literally and figuratively- to try to replicate these pastries at home.  I found a super easy recipe and waited until Dad came in town so we could bake together with Mom watching over us.
I love having my dad involved in the blog and it's beyond heartwarming to see the genuine pride that crosses his face when he watches me devour a recipe and sort out the ingredients for my next culinary escapade.  Don't forget, he witnessed me evolve from a picky waif-like child, to a non-cook in college, to a non-cook as a newlywed, to a non-cook as a parent with two kids.
I love that I'm still learning as I go and that there's a world of ingredients I haven't explored. The mystery ingredient for the Cinnamon Buns project was Caster Sugar.  We immediately launched a quest to get to the definition of Caster Sugar, what it's called "Caster" Sugar, where Caster Sugar is used, etc.  Then I sent Dad on a mission with my daughter to Fairway to find the ingredients not currently stocked in my pantry or fridge: Buttermilk, Caster Sugar, Icing Sugar and Corn Flour.
The Cinnamon Bun recipe is labor intensive only because it involves yeast and yeast rising (which usually takes at least one hour or more).  But, I had the rising process perfected with my Cinnamon Raisin Bread so everything else seemed like a breeze.  Again, I'm chocking this up to kitchen confidence.  The more comfortable you are handling the yeast, the more adventurous you'll become with your recipes.
I love the element of surprise that's involved when the dough has doubled in size after being covered for hours. Many people would argue that these buns take too much effort. However, I get a huge sense of accomplishment. I love kneading my newly-risen dough and then rolling it out to my desired shape.  Make sure you roll up the dough tightly and pinch off the ends so that none of the signature cinnamon and sugar falls out.  I definitely didn't roll my dough tightly enough and when it baked in the oven, it uncoiled a bit.
While my Cinnamon Buns didn't bake into perfectly neat spirals, they smelled and tasted delicious. Next time I wouldn't bake them as long. I kept waiting for the dough to perfectly brown and it never happened.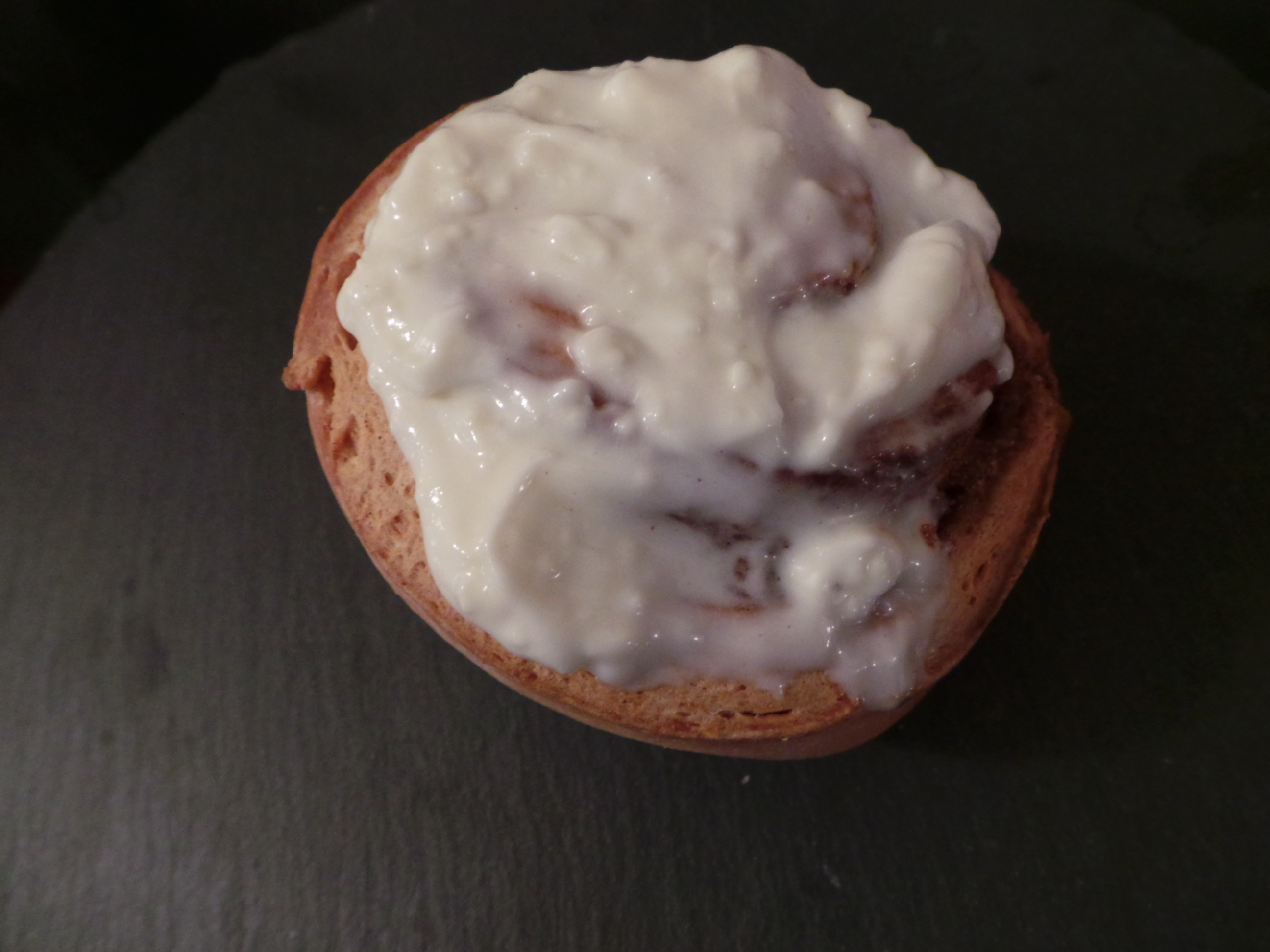 The final touch, the cream cheese spread, was utterly decadent and VERY SWEET.  It totally defined the bun.  Many would argue that it's way too sweet.  I think it completes the pastry, otherwise it tastes just like a simple piece of round Cinnamon Bread.
Know that we had 4 extra buns that we heated and thoroughly enjoyed for the following days.  Next go round, we'll certainly add some raisins and add a lot more cinnamon and sugar for the center.
Happy baking.
Cinnamon Buns
recipe from mbakes
makes 6-7 large buns
Ingredients:
The dough:
3/4 cup warm water (approximately 110 degrees)
2 1/2 teaspoon active dry yeast
1/2 cup caster sugar
1/2 teaspoon salt
1/4 cup buttermilk
1 egg
1/3 cup oil
4 1/2 cups unbleached flour
The filling:
1/2 cup dark brown sugar
1 cup caster sugar
4 tablespoons ground cinnamon
2 tablespoons cornflour
80g unsalted butter, melted
The frosting:
150g cream cheese
350g icing sugar
1 teaspoon lemon juice
splash of milk
Instructions:
In a mixer bowl add water (make sure water is the right temp.  If it's too hot it will kill the yeast), yeast and 1 tbsp of the sugar.  Let stand for 10 minutes until the yeast starts to froth.  In a medium bowl, whisk together buttermilk, egg and oil.  Add to yeast along with the rest of the sugar and mix (with dough hook) until combined.  Pour in 2 1/2 cups of flour and mix while gradually adding the rest of the flour.  Knead dough for 5 minutes until it does not stick to your fingers.  Place dough in an oiled bowl, cover with a warm damp cloth and store in a warm dark place for approximately 2 hours. After 2 hours, preheat oven to 350 degrees.
In small bowl mix together filling ingredients except the butter and set aside.  Roll the dough out and brush with melted butter but make sure to leave approx. 1 inch around the sides.  Sprinkle the filling mixture over the butter and then tightly roll the dough from the shorter side and pinch the ends together to stop the filling from spilling out.
Score dough every 1.5 inches and slice through.  Place buns in a lined brownie pan and bake in oven for 30 minutes or until the dough starts to brown. (each oven bakes differently so constantly check on your dough).
While buns are still warm from oven, slather frosting on top and enjoy!