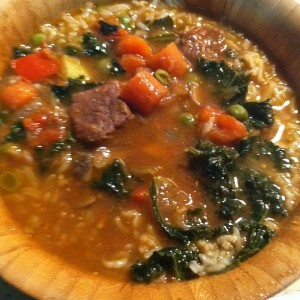 I asked Serena, author of celebrated soup blog Seriously Soupy, to share a soup recipe that can help bridge the gap between the end of summer and the kick off to the new school year.  Because, who isn't searching for easy, time-saving recipes when the afternoon schedules are frenetic.
We love Serena's Beef, Kale and Vegetable soup and there's nothing better than serving a hearty soup that functions as a complete meal too.  We hope you enjoy!
Here's what Serena has to say:
While I love the light summer soups, there is something so comforting of the meal-in-a-bowl option that makes for a wonderful dinner option. Personally, I love rich vegetable soups so I added peas, carrots, potatoes and crunchy kale as well as a base of tomatoes and onions. I also added in some lean beef and rice, which can be easily modified to another type of meat or no meat for vegetarians. Enjoy!
Beef, Kale and Vegetable Stew
Ingredients:
1 yellow onion, chopped
6 cups of beef stock
1 pound of beef
1 cup of frozen peas
1 cup of kale
2-3 carrots, cut up
2-3 potatoes, cut up with skins
3 ribs celery, chopped
3-4 bay leaves
1 tablespoon Worcestershire sauce
1 tablespoon of cinnamon
1 tablespoon chili powder
1 teaspoon salt
1/2 teaspoon pepper
2 cups of Jasmine brown rice
Directions:
Drizzle some oil into a pan. Cut up the onions and turn on the stove on a low heat. Add the beef and let sautee.
Cut up the carrots and celery and add them to the pan, along with 2 cups of stock. When ready transfer to a pot (with the rest of the stock) add the kale, bay leaves, cinnamon, chili powder, salt and pepper.
Cover and let cook for an hour (checking on it periodically). In the meantime, boil water for the rice and let cook.
Taste the soup and serve with rice!
About Serena the author of the celebrated  blog called Seriously Soupy: Serena started Seriously Soupy as a creative outlet for herself after her first daughter was born, which combined her passion for cooking with an interest in learning more about soups and soup making.  Since it started, she has given soup tours and taught soup classes and has a catalog of over 100 soups on the site!  You can join Serena on her Soupy journey at SeriouslySoupy.com and twice a month you can find her here, at My Judy the Foodie, sharing her wisdom and helping demystify the world of soup.