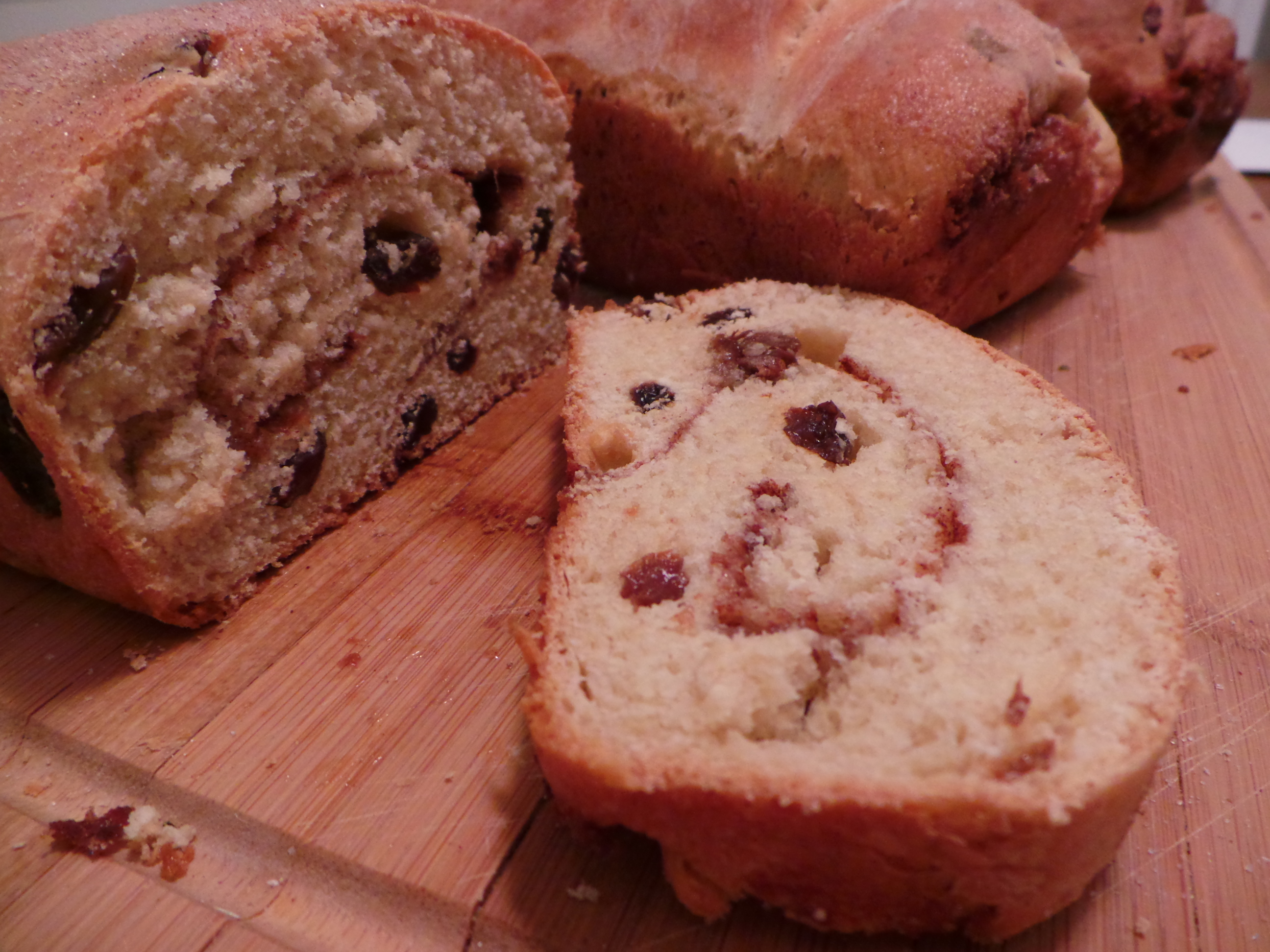 It's the Secret Recipe Club reveal day today.  I was assigned the blog Lynsey Lou's, written by twenty-something Lynsey who's recently married and uses her blog to explore and share recipes for her husband.  Her blog represents a wide variety of foods from simple cakes and meat dishes to other recipes  categorized as " for daring bakers."
While many of Lynsey's recipes are tempting, I decided to take a crack at her  Cinnamon Raisin Bread.  Actually, for me, it was a huge challenge to attempt to make bread (that has to rise twice) in my own kitchen.  The last time I baked was under the tutelage of a chef during a baking class at the Culinary Institute here in NYC.  I didn't have the nerve to work with yeast in my own home.
If you remember me explaining in an earlier post, Mom used to bake bread quite often when we were growing up.  As a young kid, this activity seemed marathon-like.  We had to wait forever for the yeast to rise, sometimes twice. I'd watch Mom combine the yeast with water and flour, stir it rapidly and then cover the bowl with a raggedy old orange dish towel.   Like a cub following its mother, I'd wander behind her into our secret "furnace room".    The furnace room was off the laundry room and it was always dark and tropically warm.  Mom would place the bowl down on the dusty floor, explaining that the yeast needed to rise and in order to rise, it needed to be left in a warm area.  To me, the art of baking bread would forever seem magical and mysterious.  It also intimidated me enough to prevent me from every trying it.  Until yesterday….
The Cinnamon Raisin bread is not terribly difficult to bake.  However, you need to block out a good portion of your afternoon for its preparation since the bread needs to rise twice, which takes up at least 2 ½ hours.  It's critical to follow the recipe exactly, heeding to the specific temperature needed to dissolve the yeast.  I learned the hard way that if the water temp isn't just right, you'll essentially kill the yeast and the bread won't rise.  Since I don't have a furnace room in my apartment, I decided to allow the bread to rise in my oven so as to avoid any potential drafts.
I was truly amazed when witnessing the dough double in size after the first rise.
Not to sound corny but, after 2 ½ years cooking with my blog, seeing dough rise and then pulling out the finished bread product was an unforgettable milestone.  I've come a long way from the simple milestones of properly boiling an egg and cutting open an avocado.
I used extra cinnamon sugar because we like it sweet. And, remember to pinch the bottom of your dough before you place it in the loaf pans to bake.
This recipe yields three loaves, one of which was immediately served hot with some melted butter…at dinner time no less.  I can't wait to serve it for the kids at breakfast.  And, it's sweet enough, you can even substitute it for dessert too.
Hope you enjoy and don't forget to check out Lynsey Lou's blog for a plethora of tasty recipes.
Cinnamon Raisin Bread
from Lynsey Lou's
yields 3  9×5 inch loaves
Ingredients:
1 1/2 cups milk
1 cup warm
water (must be between 110-115 degrees)
2 (1/4 ounce) packages active dry yeast
3 eggs
1/2 cup white sugar
1 teaspoon salt
1/2 cup unsalted butter, softened
2 cups raisins
8 cups all purpose flour
2 tablespoons milk
1 cup white sugar
3 tablespoons ground cinnamon
Instructions
Warm milk in a small sauce pan on the stove until it just starts to bubble, stirring occasionally. Remove from heat.  Let cool until lukewarm, about 120-125 degrees.
Dissolve yeast in warm water and set aside until yeast is frothy, about 10 minutes.  In larger bowl, mix in eggs, suagar, yeast mixture, butter, salt and raisins.  Then stir in the cooled milk slowly so you don't cook the eggs.
Add the flour gradually to make a stiff dough.  Knead the dough on a lightly floured surface for a few minutes until smooth.  Place in a large, buttered mixing bowl and turn to grease the surface of the dough.  Cover with a warm damp cloth and let rise.  Allow to rise until doubled, usually about 1 1/2 hours.
Roll out on a lightly floured surface into a large rectangle 1/2 inch thick.  Moisten the dough with 2 tablespoons milk and rub all over the dough.  Mix together 1 cup of sugar and 3 tablespoons cinnamon and sprinkle mixture evenly on top of the moistened dough.
Roll up tightly the long way.  Roll should be 3 inched in diameter.  Cut into thirds. tuck under ends and pinch bottom together.  Place loaves into well greased 9×5 inch loaf pans  Let rise in a warm place uncovered again for about an hour.
Bake at 350 degrees for 35-40 minutes or until loaves are lightly browned and sound hollow when tapped. Remove and let cool on rack.
Enjoy.