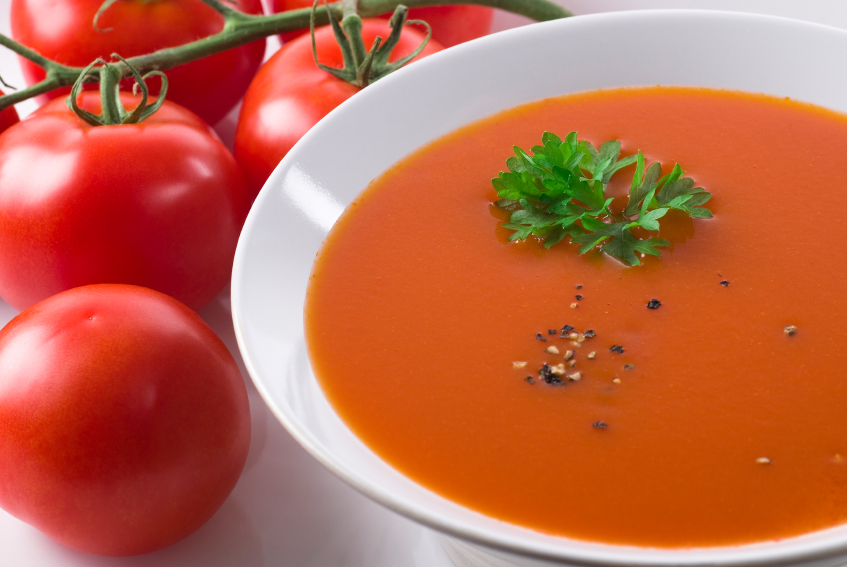 It's going to be another frigid weekend in the northeast so we're stocking up on some homemade soup to carry us through.
I bet the majority of people polled would raise their hands when asked if they had a can of Campbell's Tomato Soup in their pantry somewhere.
And I bet when asked how long that can of soup has been sitting in the pantry, most people would say probably more than a couple months.
What's amazing to me (and hey, I had not one but three cans collecting dust) is that it doesn't take much longer to throw together a homemade batch of tomato soup than it does to watch the watery, canned soup cook on a stove top.  Part of the challenge is just wrapping our heads around the idea of making a soup that has been endeared upon us as the ubiquitous comfort-food-soup-in-a-can beginning way back in 1897 when Joseph Campbell developed the first condensed Tomato Soup!
In high school French class I learned tomatoes were called "pomes d'amour" or "love apples" as they were thought to have aphrodisiacal qualities.  Whatever the moniker, I grew up LOVING tomatoes any way I could get them.  Whether on a sandwich, in a salad, sliced, diced, canned, creamed, roasted, grilled, skewered, hydroponic, marinara sauce, vine-ripened, KETCHUP, SALSA, etc…   Tomatoes were the one vegetable, oops I mean fruit, I never made any fuss eating.  To clear up the age-old debate, botanically-speaking, the tomato is a fruit and can be further classified as a berry since it is pulpy and has edible seeds.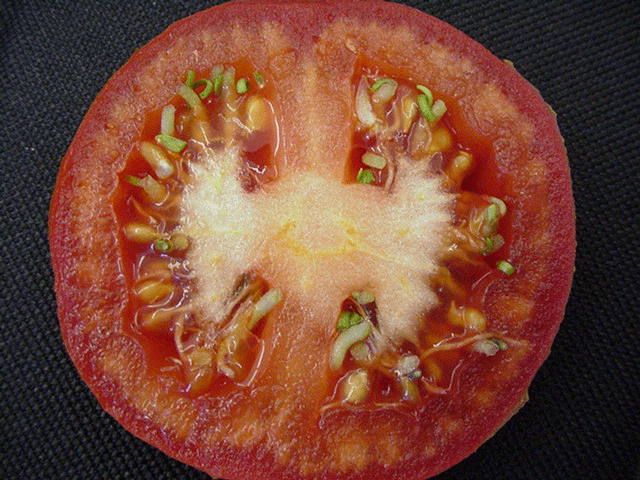 tomato: it's a fruit not a veggie
My kids only accept tomatoes in their diet by way of ketchup or in marinara sauce form.  I knew when I chose to make the Smoky Tomato Soup it would be a hard sell to my picky critics.   However, when they soon learned that in grade school I always enjoyed a hot bowl of Tomato Soup with a generous side of grilled cheese, their ears perked.
The recipe I chose is adapted from The Pip and Ebby Messy Kitchen.  I was drawn to it because I selfishly love anything smoky. And let's face it, no one gets all jazzed up when they hear Tomato Soup the way they would Chilli or Clam Chowder. So, the maple-candied bacon addition sounded like the right oomph to raise the soup's approval quotient.
Anyone with a stocked pantry can make this recipe on a whim, no shopping trip required (except if you don't have bacon on hand). In just 10 minutes your kitchen will be full of the rich robust sweetened tomato smells of an Italian countryside kitchen (or at least that's how I imagine it as I'm staring out at the frozen tundra).  In just 30 minutes, a homemade, velvety smooth, hearty soup (with a side of grilled cheese) will grace your table.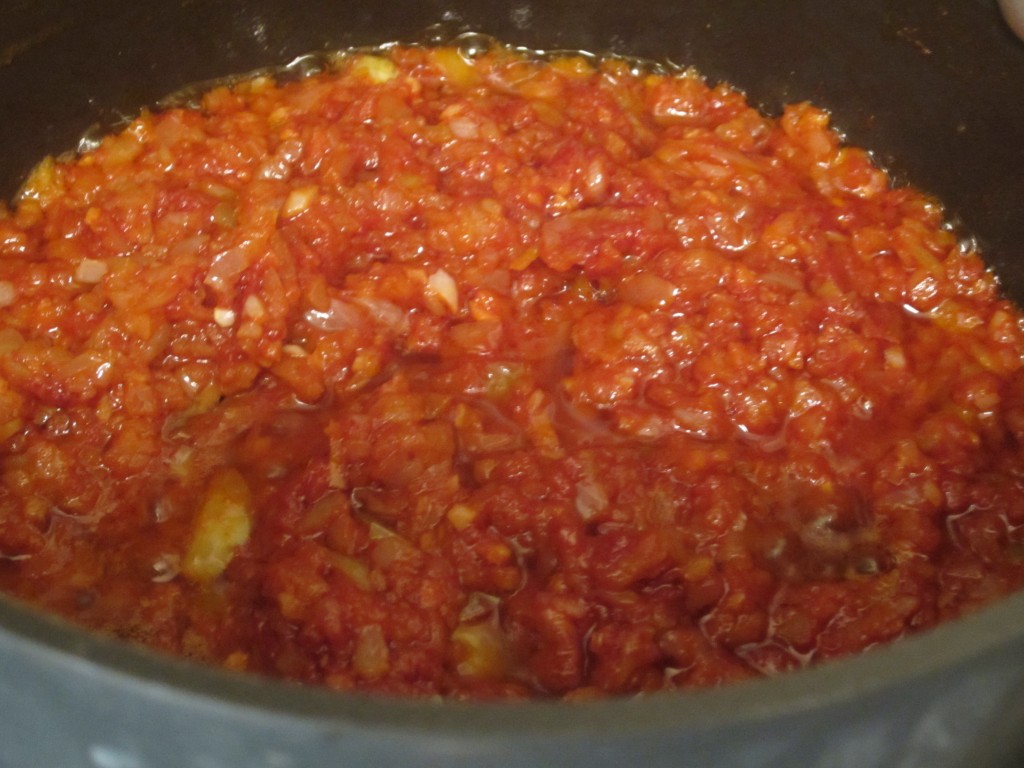 Crushed tomatoes, sugar, garlic and onions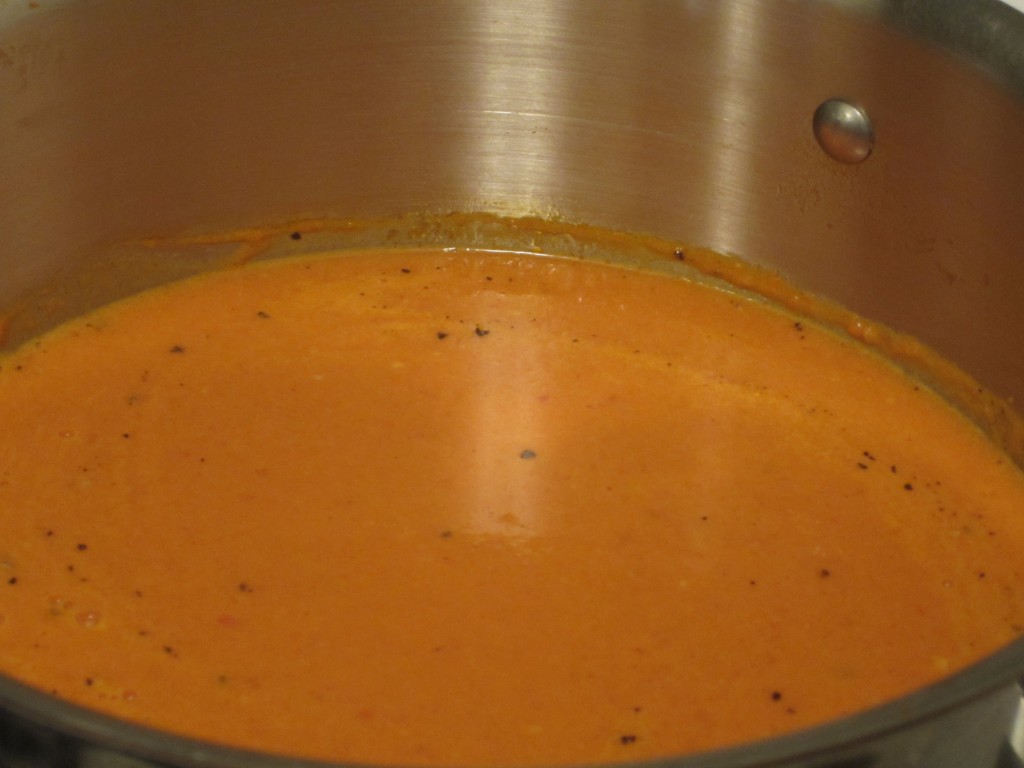 Tomatoes, sugar, garlic and onions post puree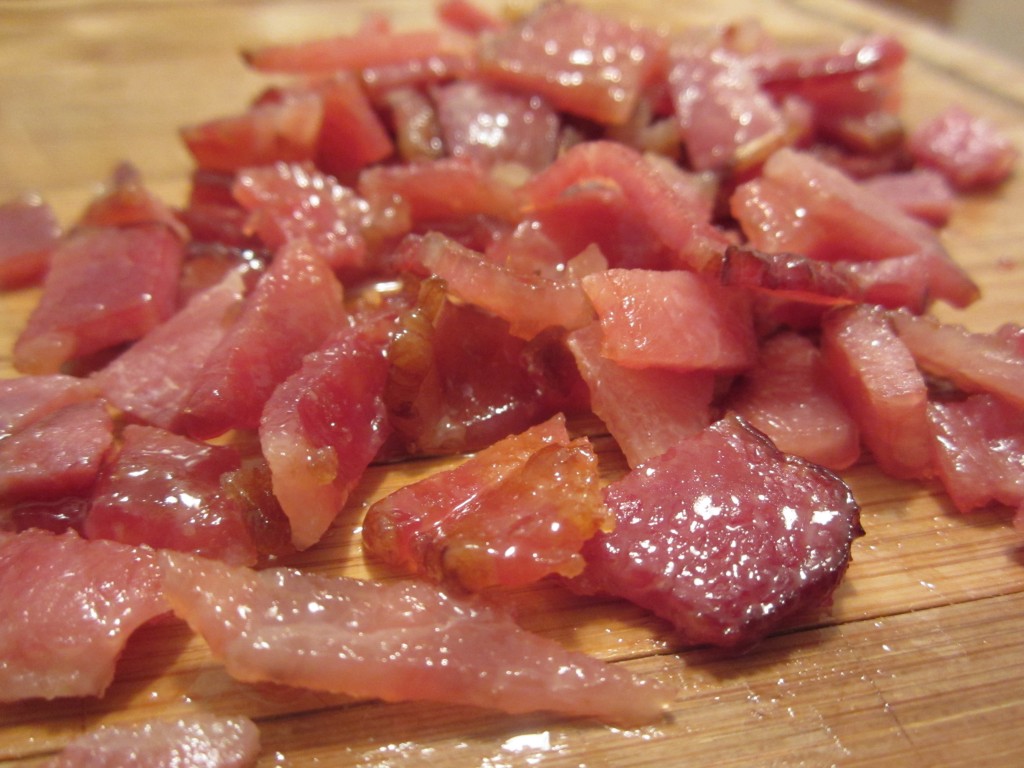 Maple-candied, thick-cut applewood-smoked bacon
If you're dealing with kids, the grilled cheese component is especially strategic.  First of all, I have never met any kid that doesn't like grilled cheese.  It's fun for them to literally dunk the entire sandwich into the soup and eat the sandwich with a coating of soup.  So I guess my kids really had grilled cheese sandwiches with a side of soup for dinner and not vice versa.  But, I did upgrade and use gruyere cheese instead of american and I went gourmet and served it on freshly-sliced pannini bread versus our everyday whole wheat.
Both kids thought that the tomato soup tasted a lot like tomato sauce, which isn't what I wanted to hear but, I'll take that as a back-handed compliment. Either way, they tried something new and actually liked it!
And, it was just as good the first day as it was served four days later…
Enjoy.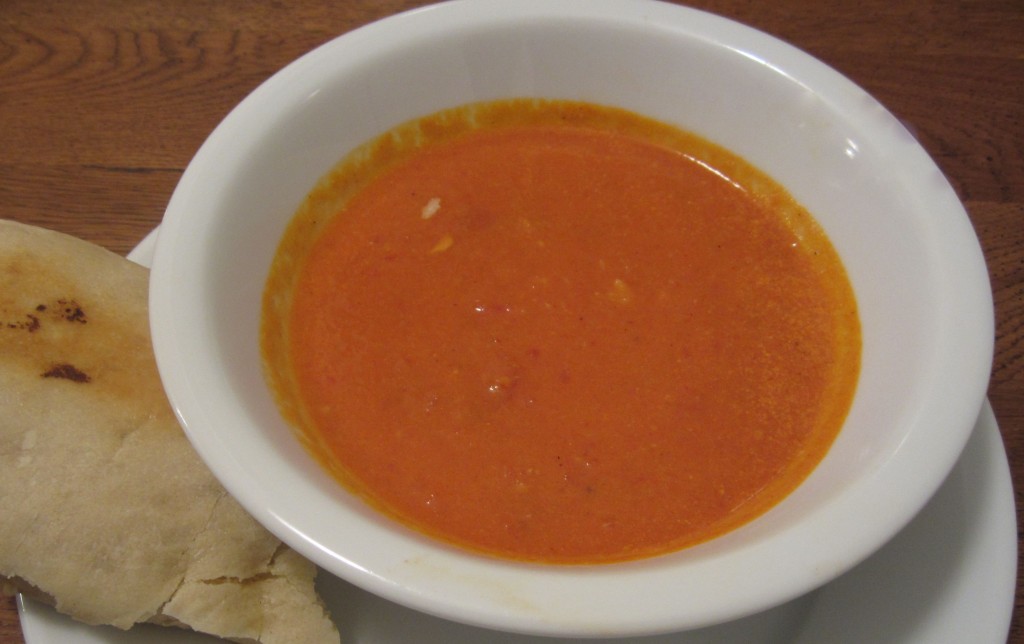 Smoky Tomato Soup with Maple-Candied Bacon
servings: 4
Ingredients:
8 slices of thick-cut applewood-smoked bacon (approximately 8 ounces)
2 tablespoons brown sugar or maple syrup
2 tablespoons unsalted butter
1/4 cup extra-virgin olive oil
1 small onion, finely chopped
2 large garlic cloves, minced
1 1/2 tablespoons tomato paste
3 tablespoon granulated sugar
1 teaspoon smoked paprika
Kosher salt and fresh ground pepper
1/2 cup dry wine
Two 15-oz. cans chopped tomatoes
2 cups water
1/4 cup fresh orange juice
3 tablespoons sour cream
pesto
Instructions:
Preheat oven to 400 degrees F. Arrange bacon on parchment paper on baking sheet and bake for 8 minutes, until the pieces are almost crisp.
Drain the oil from the baing sheet and sprinkle the crisp bacon with brown sugar/maple syrup and bake another 8 minutes.  Let cool.
In a saucepan, melt the butter in the olive oil. Add the chopped onion and cook over high heat until softened, 5 minutes.  Add the garlic and cook over moderate heat for 30 seconds.  Add the tomato paste and cook, stirring until darkened, about 2 minutes.
Stir in the granulated sugar, the smoked paprika, 1 teaspoon of salt and a 1/4 teaspoon of pepper and cook for 30 seconds.
Add the wine and bring to a boil.  Add the tomatoes with their juices; bring to a simmer. Remove from heat.
Stir the water, orange juice and sour cream into the saucepan.  Working in batches, puree the soup until smooth.
Return the soup to the saucepan; season with salt and pepper and add in the bacon pieces.
Reheat and ladle into bowls.  Add a dallop of sour cream or a spoonful of pesto to the top.
The soup can be served chilled.