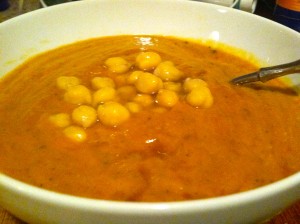 It's Seriously Soup day today, featuring one of my favorite bloggers, Serena, who authors a blog called Seriously Soupy.  Serena started Seriously Soupy as a creative outlet for herself after her first daughter was born, which combined her passion for cooking with an interest in learning more about soups and soup making.  Since it started, she has given soup tours and taught soup classes and has a catalog of over 100 soups on the site!  You can join Serena on her Soupy journey at SeriouslySoupy.com and twice a month you can find her here, at My Judy the Foodie, sharing her wisdom and helping demystify the world of soup.
Here's what Serena has to say:
Inspiration for my soups comes from many sources.Sometimes I see a recipe in a book that looks interesting or a soup from a restaurant will spark my interest. More often though it is the basic simplicity of a single ingredient that will inspire me to create a new soup. This week, it's tomatoe- nothing is really special about them, but there is something really wonderful about a great tomato soup, and I decided to mix that up a bit by adding pumpkin for fall and some protein with chickpeas.
I used basil, rosemary, parsley, paprika to enhance the tomato flavor. To make it a rich and tasty soup with a new level of flavor and creaminess, I added the pumpkin.
The soup is also gluten-free, vegan and low-fat – making it a healthy way to start off any meal. Enjoy!
Tomato, Pumpkin and Chickpea Soup
Ingredients:
approximately 3 cups of water
5 heirloom tomatoes, cut up
Use fresh herbs (if possible). (I used basil, paprika, sage, rosemary, parsley)
I canned pureed pumpkin
I can of chickpeas, drained
sprinkle of salt and pepper
drizzle of olive oil
1/2 yellow onion, cut up
4 cloves of garlic, minced
Instructions:
Add a drizzle of olive oil to a large sauce pan.
Cut the onions and garlic and let cook on a low heat.
Cut up the tomatoes and add them to the pot and cover.
Add in the water, spices and flavorings (basil, paprika, sage, rosemary, parsley) and let cook for 30 minutes, stirring periodically.
Add in the puree of pumpkin, chickpeas and stir. Let cook for another 15 minutes.
Blend the ingredients together and top with some whole chickpeas, enjoy!