For the first time in what seems like forever, we had a Sunday afternoon free; a calm afternoon void of frenetic kid shuttles to birthday parties, sporting events, play dates.  We cleaned out closets and read our books, we spent some quality time by ourselves in our own space in our own rooms, and I had the wonderful opportunity to bake some bread with my son.
I hadn't planned on baking. In fact, I was happy at the prospect that the kitchen was "closed" for the day.  But, how can you turn down your 8-year old son who comes up to you and asks to bake bread together? That's a request I simply couldn't turn down.
We immediately picked our bread, a simple Amish White Bread that required very few ingredients. I didn't want to lose my 8-year old's attention by racing to the store to gather up any unnecessary ingredients.
Within minutes my son began his "experiment. " He learned that, in order for the yeast to rise properly, he needed to make certain the water was at the desired temperature.  Too hot and we'd kill the yeast.  So we heated some water, and he watched the thermometer hit 110 degrees (exactly) before we mixed the yeast with the sugar.  Good thing I have a very precise son.
We carefully layered in the flour, cup by cup, making sure it mixed thoroughly before he added in more.  I leaned back and watched him work.  He knew to use measuring cups, to level off the tops of each cup so we could have the exact amount of flour for the bread.  He kneaded the dough rhythmically until it was just right for its initial rise.  And then he patiently waited for it to rise…waiting for one hour…and was so surprised (and pleased) to see that it had in fact, doubled in size– his creation coming to life!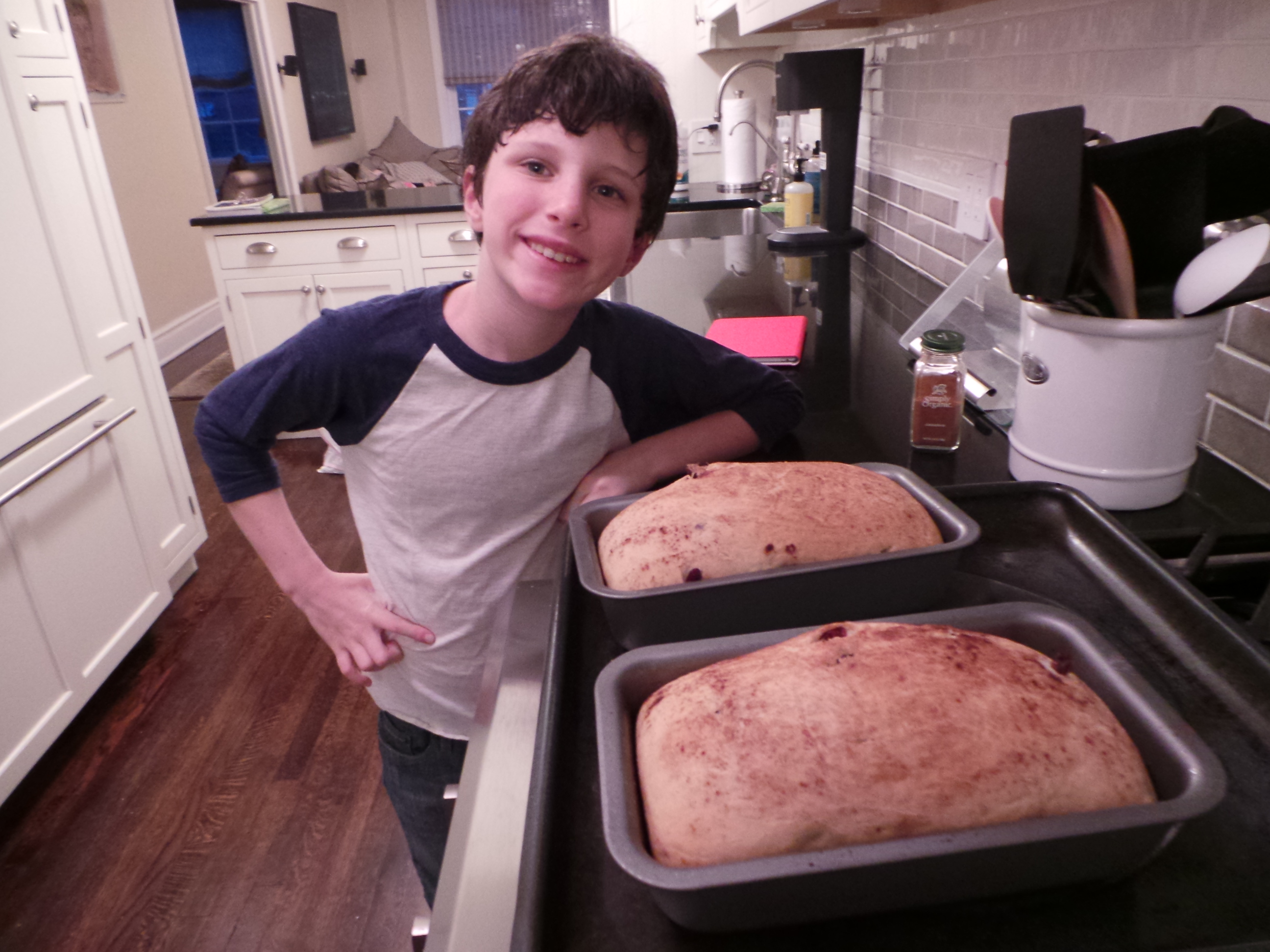 He basted the dough with melted butter and happily sprinkled cinnamon on top (both were his suggestions) before he put the dough back in the oven for the final baking.
When he saw the perfectly risen, beautifully pungent bread loaves, the smile that crossed his face was priceless.
He was so proud, as was I.  As we sliced our first piece, I thought about Mom.
She would've been floored to see her grandson baking his first bread.  But, to see her daughter massaging the baking process– with confidence and ease– would have been unfathomable….
Amish Bread
adapted from allrecipes.com
Original recipe makes 2 – 9×5 inch loaves
Ingredients:
2 cups warm water (110 degrees F/45 degrees C)
2/3 cup white sugar
1 1/2 tablespoons active dry yeast
1 1/2 teaspoons salt
1/4 cup vegetable oil
6 cups bread flour (I used regular flour)
1/2 cup dried cranberries
2 tablespoons butter, melted
1/4 cup ground cinnamon
Instructions:
In a large bowl, dissolve the sugar in warm water, and then stir in yeast. Allow to proof until yeast resembles a creamy foam.
Mix salt and oil into the yeast. Mix in flour one cup at a time. Add in cranberries. Knead dough on a lightly floured surface until smooth. Place in a well oiled bowl, and turn dough to coat. Cover with a damp cloth. Allow to rise until doubled in bulk, about 1 hour.
Punch dough down. Knead for a few minutes, and divide in half. Shape into loaves, and place into two well oiled 9×5 inch loaf pans. Baste tops with melted butter and sprinkle on ground cinnamon. Allow to rise for 30 minutes, or until dough has risen 1 inch above pans.
Bake at 350 degrees F (175 degrees C) for 30 minutes.