Ever feel like you're the poster child for Erma Bombeck's ever-popular book title, "If Life is a Bowl of Cherries Then What Am I Doing in the Pits?"
I caught myself feeling really sad this afternoon. At the close of every school year, when I'm incredulous at how quickly another 10 months has passed, I always reminisce about my childhood and my mom; I guess I'm really missing her. In that reflective moment I received a phone call that an extremely close family friend had passed away. I felt so overwhelmed that I was literally left on the sidewalk gasping for breath.
When you've lost someone near and dear to you, your life will never be the same. There's always a conspicuous void; sometimes it might to be lurking behind your every footstep and at other times it might only sneak up on you in your dreams. But, there's no denying that it's there, and it will never go away.
You just have to learn how to manage the loneliness or channel your focus into some other activity.
Baking was my savior today. For some reason, I felt compelled to rush home to try to whip up a dessert I had bookmarked online. Ironically, the dessert that beckoned me home is a Cherry Vanilla Bean Clafouti.
I wanted to create something that was warm and flavorful and inviting. I wanted to witness my kids' eyes light up when I'd present the dessert after dinner. I wanted to happily answer their litany of strung-together questions, "Ooh, what is it?" "What's it made of?" "Can I have another serving?"
I know my mom felt this intense feeling of satisfaction every time her home cooked meals graced our dinner table.
She was sharing her love through food and nourishing all of our souls at the same time.
And so, after hanging up from that phone call, I found myself racing around my apartment kitchen,  scavenging for all the ingredients to recreate the Cherry Clafouti recipe.
Don't forget, when I first started sorting through Mom's recipes to launch this blog almost 3 years ago, I went through the exercise of circling every recipe word that was completely meaningless to me.  Among them: CLAFOUTIS.
In my then kitchen-clueless mind, Clafloutis sounded more like some sort of tree fungus rather than a celebrated baked custard French dessert.  Only now do I know and celebrate the thick flan-like batter that defines this dessert. I so looked forward to slicing the cherries, layering them in the dish, and pouring in the batter.
I couldn't wait to pull the clafoutis out of the oven, then rhythmically dust it with powdered sugar, only to place it right onto the kitchen table for consumption.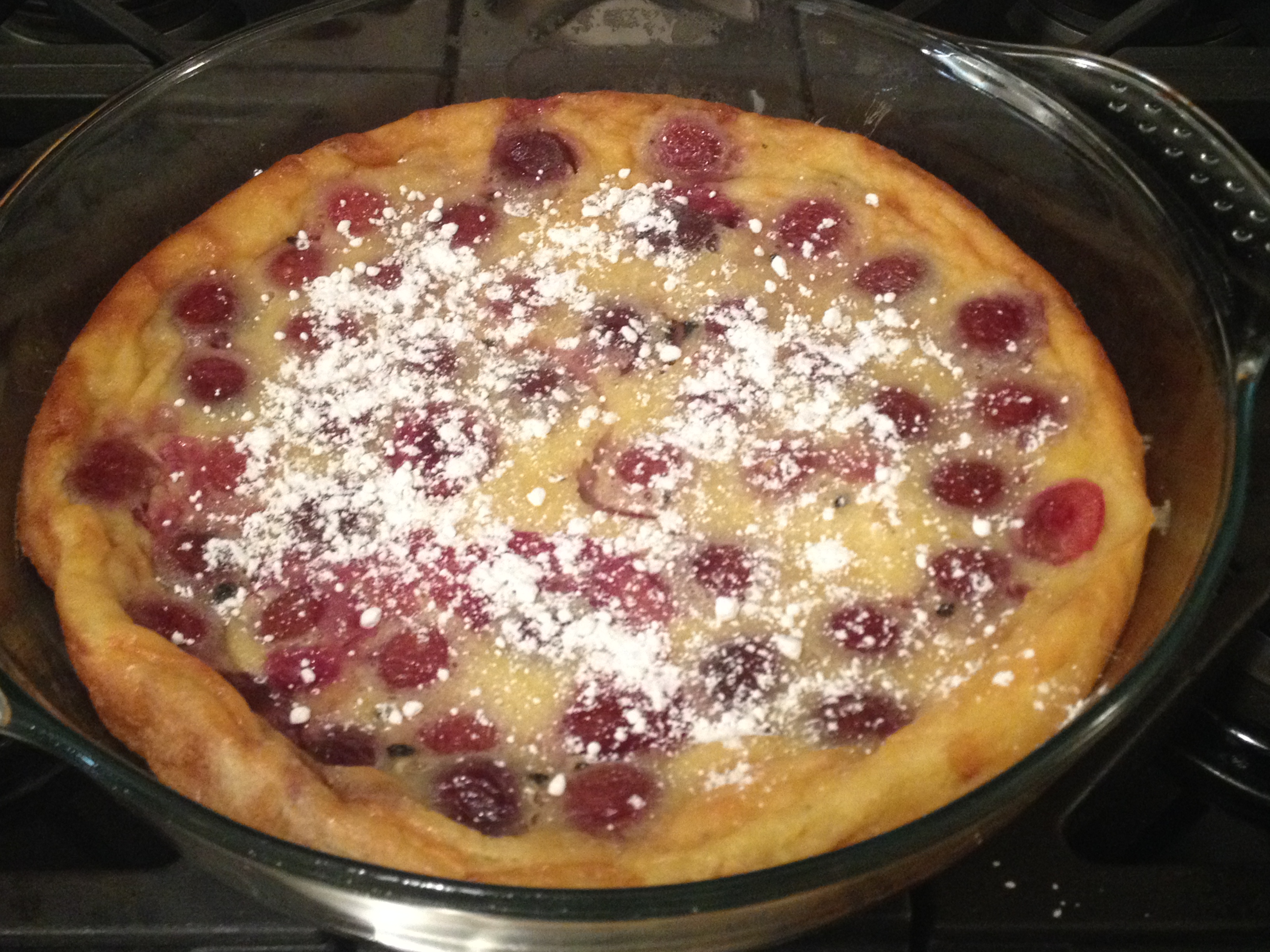 In that moment, I understood why people believe that "sharing food is the most intimate act you can perform with your clothes on." It's authentic and primal.
As I write this post, I'm emotionally spent.
But, I'm also quite satiated and thankful that I now understand and celebrate the healing power of food.
Cherry Vanilla Clafouti

from The Craving Chronicles
serves 8
Ingredients:
1 pound fresh bing cherries, stemmed and pitted
1 cup milk
1/4 cup heavy whipping cream
1 vanilla bean
4 large eggs
1/2 cup all-purpose flour
1/2 cup sugar
1/2 teaspoon salt
powdered sugar
Instructions:
Preheat oven to 375 degrees.  Spray 10-inch baking pan or pie dish with baking spray.
IN a small saucepan, add milk and cream. Split vanilla bean lengthwise and scrape out seeds.  Add bean and seeds to pan.  Heat until warm and just starting to simmer.  remove from heat, and set aside.  Discard vanilla bean pod.
In a large bowl combine sugar, eggs, flour and salt.  Add the hot cream mixture gradually, whisking, until smooth.  Arrange pitted cherries in an even layer in prepared pan  Pour custard over cherries.
Bake for 35-45 minutes at 375 degrees or longer until custard is set in the middle and top is browned.
Dust with powdered sugar and serve.