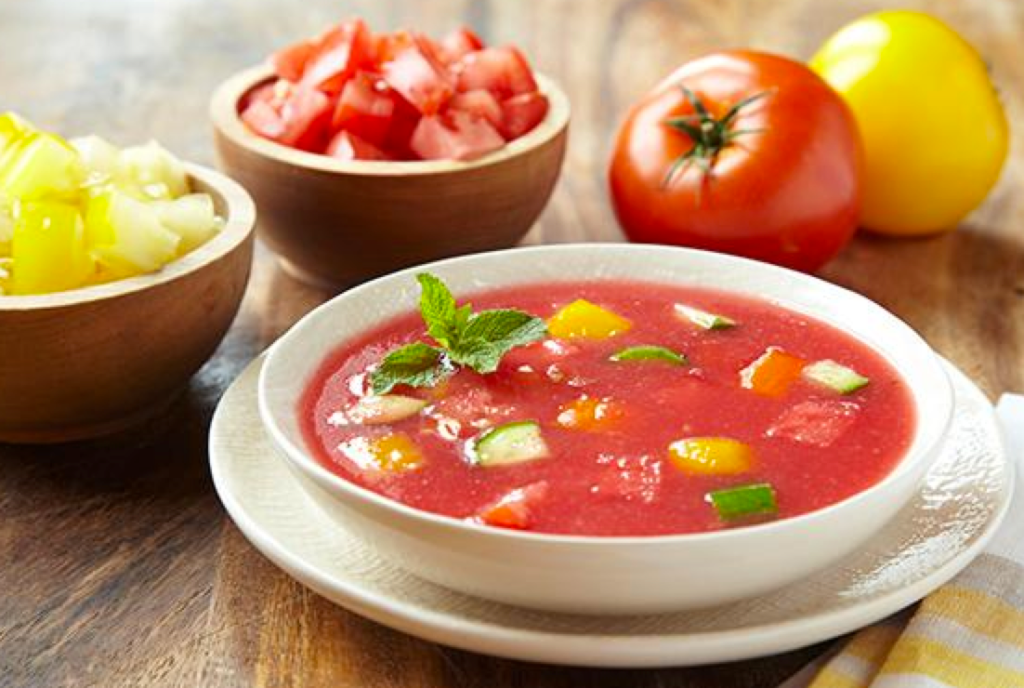 Calling all soup lovers, or non-lovers
Have you tried gazpacho this summer?  I sure hope so.
A few years ago I started making gazpacho and I've since become obsessed. The best part about Gazpacho (in my humble opinion) are the medley of flavors that BURST in your mouth, the texture of the soup, and the fact that it's served COLD.  It's perfect as a summertime side and seriously can't be any easier to make.
So, maybe you've avoided it because of the quirky name?
Maybe you're not into chilled soups?
I promise this recipe for Watermelon Gazpacho will change your mind.  It's got the right blend of  fruity watermelon flavors with some spicy, tangy, zing!
Enjoy:

Watermelon Gazpacho
Prep time:
Cook time:
Total time:
Celebrate summer with this flavorful chilled soup.
Ingredients
5 cups seeded watermelon, cubed
2 tablespoons lime juice
1 teaspoon fresh ginger, minced
4 small tomatoes, chopped
1 small cucumber, chopped
1 clove garlic, minced
1 yellow pepper, chopped
1 orange pepper, chopped
1 tablespoon honey
Sea salt and pepper to taste
Instructions
Puree 4 cups of watermelon in blender.
Cut the remaining watermelon into small pieces, set aside.
Combine pureed watermelon with reserved watermelon and the remaining ingredients in a large bowl.
Mix with a wooden spoon.
Chill 2-3 hours before serving.