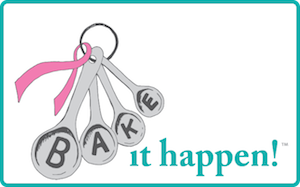 Photos have been coming in from all over the country.  From Texas to Maine, California to Florida, we've been loving the pictures of Mom's baked goods.
We hope you'll join the Bake it Happen™ campaign to raise money and awareness for Breast Cancer research.
It's so easy. 
All YOU have to do is bake one of Mom's recipes.
Then, every time a picture of your Bake it Happen baked good or Bake it Happen experience is uploaded, WE WILL DONATE $$ to the Pink Pumpkin Patch Foundation for breast cancer research.
It's THAT easy my friends.
Oh, and, by baking, you also are entered into a chance to WIN an iPAD mini.
So, what are you waiting for?
Join the movement:  http://www.bakeithappen.net!