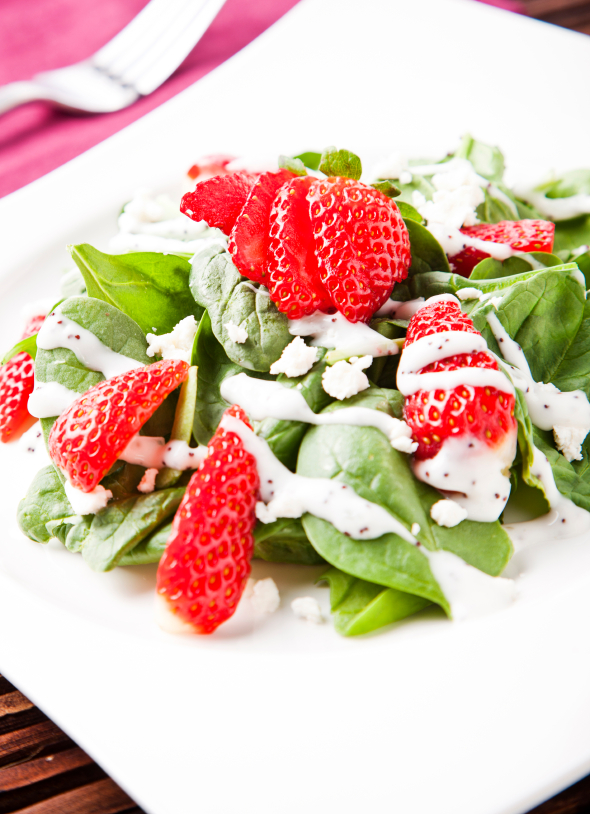 Being with my extended family over this past holiday weekend made me very nostalgic.  As a young child, every Friday night we used to gather together at my grandmother's house to partake in an extended  family dinner.   Gram usually baked all of main dishes (including her famous chocolate pies).  My mother would always bring a side dish, and Uncle Buzz became known for his tasty house salad (served in a bowl that, at the time, looked as big as a bath tub).
Now, 25 years after I moved out of the house for college and beyond, I still find comfort in recreating some of those seminal dishes.  The Levin house salad has been my go-to.  It's the perfect combination of the sour orange with the sweet strawberries.  The Honey Poppy seed dressing takes the flavoring into a different dimension.  The salad is quite refreshing and tasty and has always received 2 thumbs up from my picky eater(s).
Try it for yourself and feel free to experiment with other fruits too.
Levin House Salad
8 Servings
 Ingredients:
1 head lettuce – torn
2 bunches spinach, washed, drained and stemmed
1 small head red cabbage – shredded
drain 1 12 oz. can Mandarin oranges (optional)
12 strawberries – hulled and quartered
1 cup Bermuda onions
Honey poppy seed dressing
Instructions:
 Combine lettuce, spinach and cabbage.
Arrange orange slices along rim.
Top with berries – cover with Bermuda onions. Top with dressing.
Cover and refrigerate. Toss when ready to serve.
Poppy Seed Dressing
Yield 1 ½ cups
Ingredients:
¾ cup sugar                                    ½ cup salad oil
1 tsp salt                                    1 ½ tbsp poppy seeds
1 tsp dry mustard                        optional – green food coloring
1/3 cup white vinegar
¼ tsp celery salt
Instructions:
Combine sugar, salt, mustard, vinegar and celery salt in blender.
Add oil and blend. Add poppy seeds. Shake well before using.