It's Seriously Soup day today, featuring one of my favorite bloggers, Serena, who authors a blog called Seriously Soupy.  Serena started Seriously Soupy as a creative outlet for herself after her first daughter was born, which combined her passion for cooking with an interest in learning more about soups and soup making.  Since it started, she has given soup tours and taught soup classes and has a catalog of over 100 soups on the site!  You can join Serena on her Soupy journey at SeriouslySoupy.com and twice a month you can find her here, at My Judy the Foodie, sharing her wisdom and helping demystify the world of soup.
Here's what Serena has to say:
I was recently inspired to create a different soup for the holidays when I saw this delicious root vegetable soup recipe by Daniel Boulud. I didn't have the celeriac root so I substituted for celery and used Fiji apples instead of McIntosh. I wanted a thicker soup and used two cups of stock (instead of 4 quarts).
I also roasted some chestnuts as a garnish, that when mixed into the soup, made the soup a very rich with a nice crunch.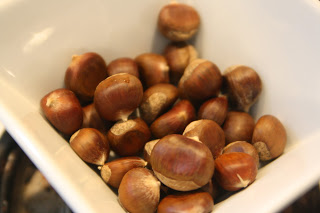 This is definitely one to try out over the holidays and one that is easy enough to vary –depending on what ingredients you have at home.
Chestnut, Celery and Apple Soup
From Daniel Boulud's Café Boulud Cookbook, Daniel Boulud and Dorie Greenspan, Scribner 1999.
Makes 4 servings
Ingredients:
2 tablespoons extra-virgin olive oil
1 medium onion, peeled, trimmed and thinly sliced
1 medium leek, white part only, trimmed, thinly sliced, washed and dried
2 McIntosh apples, peeled, cored and cut into ½-inch cubes
*4 celery ribs, cut up or from Daniel Boulud's recipe -10 ounces celery root, peeled and cut into ½-inch cubes
1 bay leaf
1 sprig thyme
Pinch of freshly grated nutmeg
Salt and freshly ground white pepper*Pinch of celery salt
3/4 pound peeled fresh chestnuts from 1 ¼ pounds chestnuts in shells, or 3/4 pound dry-packed bottled or vacuum-sealed peeled fresh chestnuts
2 quarts homemade unsalted chicken stock or store-bought low-sodium chicken broth
1/2 cup heavy cream
*Changes to the original recipe
Instructions:
 Heat the oil in a stockpot or large casserole over medium heat. Add the onion, leek, apples, celery root, bay leaf, thyme, nutmeg, salt and pepper and cook, stirring occasionally, for about 10 minutes, or until the onions and leeks are soft but not colored. Add the chestnuts and chicken stock and bring to the boil. Lower the heat to a simmer and cook, skimming the surface regularly, 35 to 40 minutes, or until the chestnuts can be mashed easily with a fork. Add the heavy cream and simmer 5 to 10 minutes more, then discard the bay leaf and thyme.
Purée the soup until smooth using a blender, food processor or hand-held immersion blender, then pass it through a fine-mesh strainer. At this point, you should have about 2 quarts of soup. If you have more, or if you think the soup is too thin – the soup should have the consistency of a velouté or light cream soup – simmer it over medium heat until thickened. Taste and, if necessary, adjust the seasoning. (The soup can be cooled completely and stored in a covered jar in the refrigerator for 3 to 4 days or frozen for up to a month. Bring the soup back to a boil before serving.
Place a few chestnuts in a pan and let cook on a medium heat. Add some soup (about 2 tablespoons) and let the mixture cook with the chestnuts (about 5 minutes). Top the soup with the chestnuts and enjoy!u
To serve: Reheat the soup, if necessary – the soup really needs to be hot – and ladle it into warm bowls.
What soups will you be making over the holidays?