We often grill sirloin steaks for dinner. When I don't have the ingredients to make  Mom's Mystery Marinade we use on our flank steaks, I've started making a new favorite  pesto variation as our replacement topping.
I always have plenty of containers of slivered almonds in my pantry(for Mom's Mango Chutney Chicken Salad and her awesome Venezuelan Cole Slaw) so I decided to add them to the original basil pesto recipe, in addition to some plum tomatoes.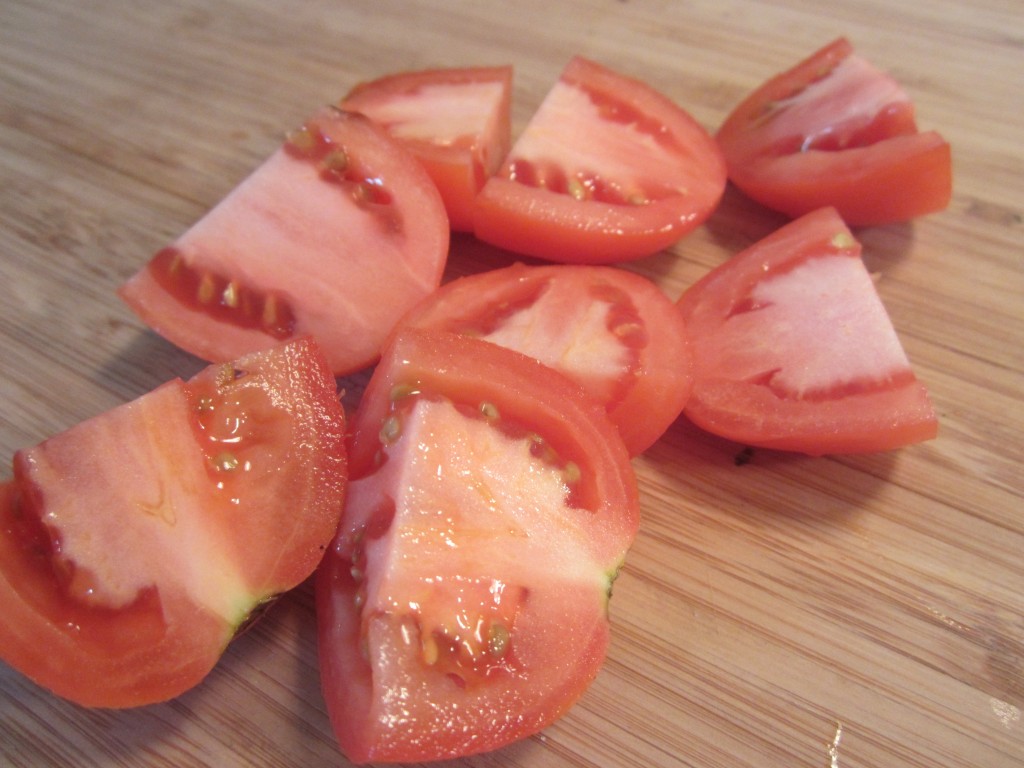 Tomatoes sliced and ready
The tomatoes and almonds add a subtle fruity flavor and slight crunch to the pesto base.  And, the best part is that the sauce  sauce freezes WELL so we've got at least another 3-4 servings in our future.
While my son still says he prefers the plain pesto, surprisingly, my finicky husband LOVED the sauce.  I'll take that!
Tomato Almond Pesto Sauce 
Adapted from A Little Bit Country A Little Bit Rock and Roll
Ingredients:
4 plum tomatoes, quartered
3/4 cup slivered almonds
1/2 cup freshly grated Parmesan
1/3 cup extra virgin olive oil
1 large handful basil, washed
2 cloves garlic
Instructions:
Toast the almonds in a little bit of olive oil and cool.  Place them in a food processor and pulse until the size of orzo pasta.  Place the almonds in a bowl and set aside.
Place the basil, garlic, and salt n the food processor.  Give it a quick blend.
Add the almonds, quartered tomatoes and cheese.
Turn on the food processor and add the olive oil in a steady stream.  Season with salt and pepper to taste.
Note: for a richer reddish appearance and a more intense tomato flavor, add in MORE tomatoes.