My garden is VIBRANT right now and my basil plants are leading the charge.  There's no better feeling than to be able to pick veggies and herbs fresh from your garden and then to use them in a recipe.  And, thank god I wised up and learned that making homemade pesto is actually easy and a lot cheaper than any store-bought variety.
I now make about one full Ball jar of pesto a week to keep up with the rapidly growing basil plant.  These jars line my freezer shelves like trophies.  We've been enjoying pesto on everything from scrambled eggs to grilled chicken to grilled cheese and tomato sandwiches.  It's like the gift that keeps on giving.
With more kitchen confidence, I find myself taking more challenges.  Last night for dinner I decided to grill some sirloin steaks.  I didn't have any sort of marinade and, while I love Mom's Mystery Marinade we use on our flank steaks, I decided to try a new pesto variation and use it as a topping for the steaks.
I always have plenty of containers of slivered almonds in my pantry(for Mom's Mango Chutney Chicken Salad and her awesome Venezuelan Cole Slaw) so I added them  to the mix as well as some of the left over plum tomatoes.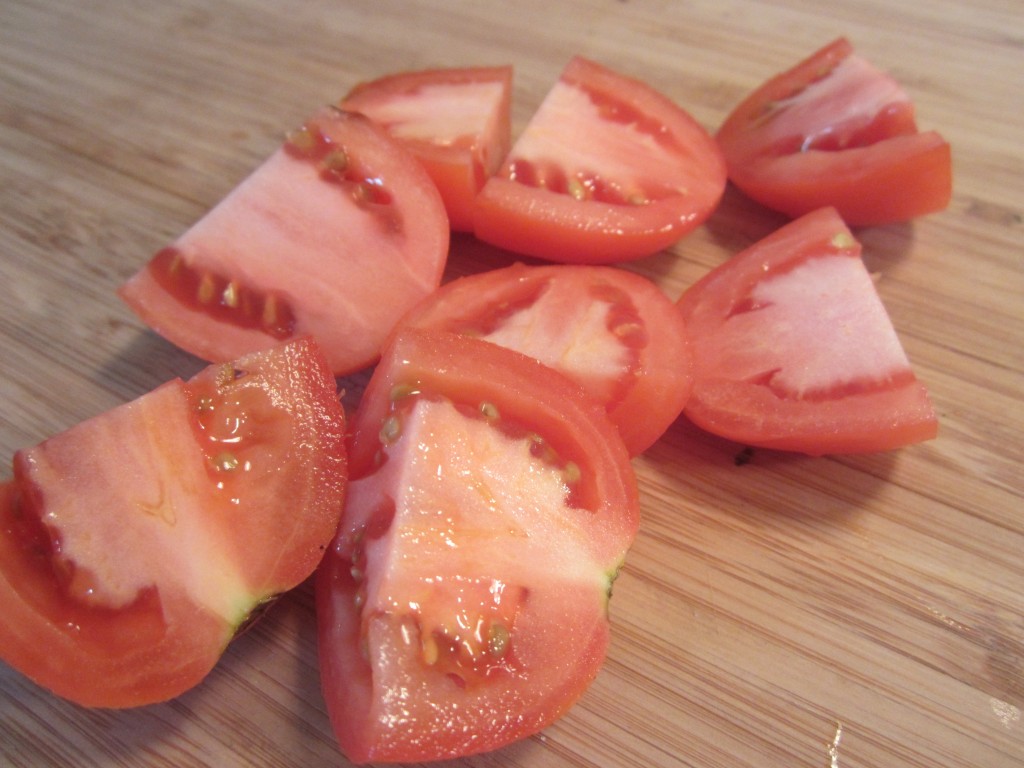 Tomatoes sliced and ready
The tomatoes and almonds add a subtle fruity flavor and slight crunch to the pesto base.  And, now that I'm more knowledgeable about pesto, I knew the ways in which I wanted to tweak the recipe to my liking!  It was the perfect compliment to our steaks and I can't wait to use the left overs again and again and again (this sauce freezes WELL).
While my son still says he prefers the plain pesto, surprisingly, my finicky husband LOVED the sauce.  I'll take that!
Tomato Almond Pesto Sauce 
Adapted from A Little Bit Country A Little Bit Rock and Roll
Ingredients:
4 plum tomatoes, quartered
3/4 cup slivered almonds
1/2 cup freshly grated parmesan
1/3 cup extra virgin olive oil
1 large handful basil, washed
2 cloves garlic
Instructions:
Toast the almonds in a little bit of olive oil and cool.  Place them in a food processor and pulse until the size of orzo pasta.  Place the almonds in a bowl and set aside.
Place the basil, garlic, and salt n the food processor.  Give it a quick blend.
Add the almonds, quartered tomatoes and cheese.
Turn on the food processor and add the olive oil in a steady stream.  Season with salt and pepper to taste.
Note: for a richer reddish appearance and a more intense tomato flavor, add in MORE tomatoes.