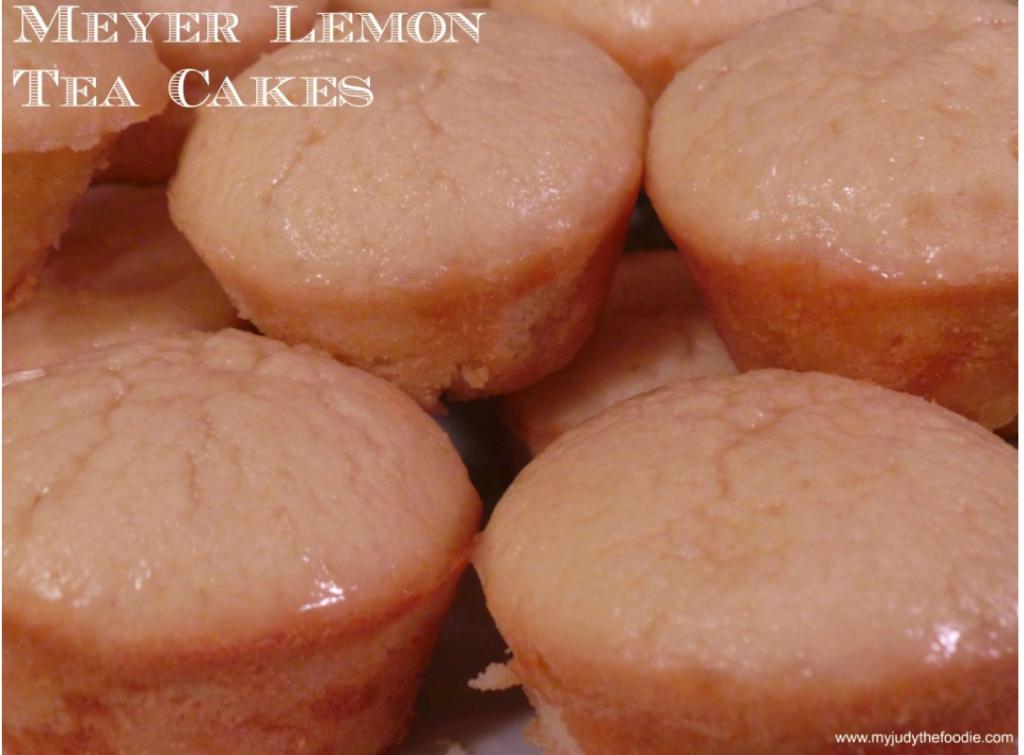 I found this recipe for Meyer Lemon Tea Cakes, crumpled up in the trashcan on a street in Manhattan.
I'm convinced that my radar to detect recipes is always on its highest frequency. Funny enough, the recipe was tattered and stained, quite like most of my mom's authentic ones.  It's become one of our favorites.
I've made Mom's Lemon Squares that were a big hit with the kids.  By nature they're very tangy and goey in the center with the consistency of an under-cooked triple fudge brownie.
This tea cake recipe uses crème fraiche that creates little muffin-sized cakes that are quite dense.
I love that you can make these cakes in a cupcake tin, without the liners.  I did have to go out to purchase some Pomegranate juice for the glaze but, after baking, I'm not sure it's necessary.  Powdered sugar and lemon juice would suit the cakes just fine!
After only 18 minutes of baking, your tea cakes should be baked to perfection.  Mine popped out of the tins easily and, after they've cooled, a simple swirl of the glaze adds a delicately sweet, fruity coating to the top.
This recipe made 36 tea cakes which we took to a weekend brunch, to school, as a snack for a class field trips, etc.  In other words, get ready for lots of mini cakes.  If packaged in an airtight container, they should stay fresh for up to 4 days.
These are perfect treats to your Mother's Day brunch and beyond!
Enjoy.
Mother's Day: Meyer Lemon Tea Cakes
Prep time:
Cook time:
Total time:
Tasty tangy tea cakes perfect for any brunch or snack!
Ingredients
3 ½ cups flour
¾ teaspoon baking powder
¾ teaspoon kosher salt
3 ¾ sticks unsalted butter, softened
2 ¼ cups sugar
½ cup crème fraiche
6 large eggs
⅓ cup grated myer lemon zest
½ cup meyer lemon juice
2 cups powdered sugar
2 tablespoons fresh lemon juice
1 tablespoon unsweetened pomegranate juice
Instructions
Heat oven to 350 degrees.
Coat 24 large muffin cups with nonstick baking spray or butter.
Sift together the flour, baking powder and salt in a medium bowl.
In the bowl of a stand mixer, cream the butter and sugar on medium speed until light and fluffy, about 3 minutes.
Mix the crème fraiche, eggs, lemon zest, and juice together in a small bowl with a fork or small whisk. With the mixer on medium speed, alternately add the dry and wet ingredients in batches and continue beating until the batter is smooth, occasionally scraping down the sides of the bowl, about 3 minutes.
Using a large ice cream scoop or a large spoon, scoop approximately ½ cup batter into each prepared muffin cup. Bake for 18 minutes, or until the tops of the cakes appear matte and the shiny center has disappeared. Do not bake until the cakes turn golden. Let the cakes cool in the pans for 5 minutes before removing them. Cool the cakes completely on a cooling rack before glazing- about 1 hour.
Sift the powdered sugar into a medium bowl. Add the lemon juice and pomegranate juice and stir with a small spatula until completely smooth. Let the glaze sit at room temperature for 10 minutes before using.
To Glaze the Cakes:
Pour the glaze into a wide shallow bowl. One at a time, pick up each cake, rotate the cake so the top is facing down, and dip it into the glaze. Carefully move the cake in a slow circular motion so the entire surface is coated with glaze, then shake the cake gently so any excess glaze falls back into the bowl. Place the cakes in a cool dry area and let stand until the glaze loses its sheen and sets, about 20 minutes.