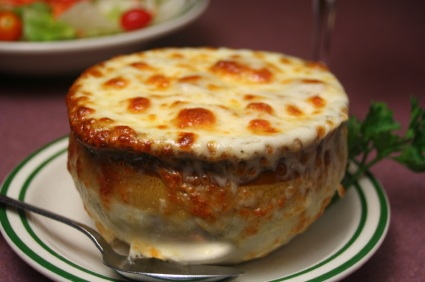 For my inaugural weeks of slow cooking I've tried beefs, spreads, chicken, sauces, chili.  The only obvious absence to my crock hit list is a soup.  And, the first soup that came to mind is French Onion Soup. Since I know my cooking venture focus group is my 6 and 9-year old kids, I figured the hardened cheese crust should be an easy bribe to get them to at least try the soup.  When I was a kid, that's the only reason I ate French Onion soup.  Soup isn't part of their daily diet.  How many young kids do you know who would opt to take their time eating soup at a meal instead of scarfing down a solid food? But, what could be better than hot, melted Mozzarella cheese and mushy pieces of french bread with some tasty beef broth?
I remember Mom making French Onion soup at home during the cold winter months.  I know she didn't make her own beef stock so, I decided, neither would I.  (Phew, that was easy).  Instead I went on a mission to find homemade beef stock. Like I always used to say, "it's homemade, just not in my home."  The first store surprisingly only had boxed beef stock in lieu of fresh.  Again, every time I'm in a food store, it's become a teachable moment.  While the boxed stock doesn't have to be refrigerated until opening, I soon learned (from a very gracious employee) that it has a much higher sodium content than homemade and it's often higher in carbohydrates because of "fillers" that are used like flour and sugar.  On the contrary, homemade beef stock is bursting with natural ingredients like veggies and herbs and water.  It has much fewer carbohydrates with plenty of taste.  It's also rich in vitamins and minerals!
And,  just a couple blocks from my apartment, I found some amazing homemade stock.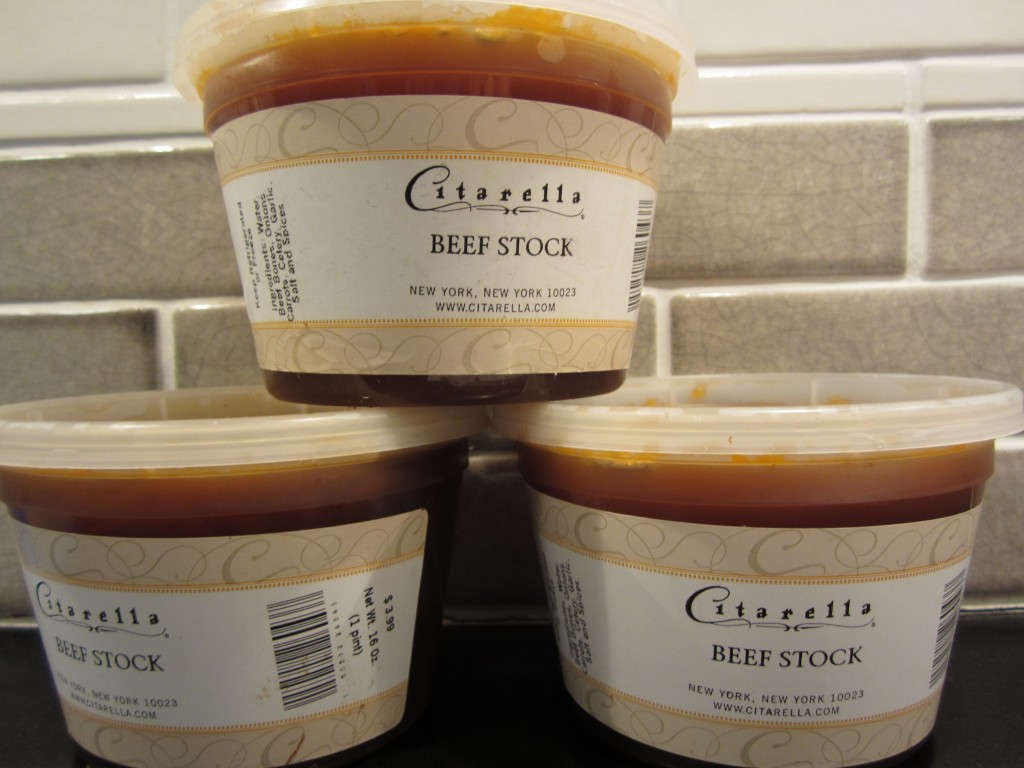 Like many insecure cooks, I'm superstitious too.  I remember Mom serving the soup in those awesome brown onion soup bowls that had the handle jutting out on one side.  Even though my soup would probably taste just fine served in our normal bowls, I needed to try to replicate Mom's kitchenware.  Another benefit of living in the big city, I found them right around the corner!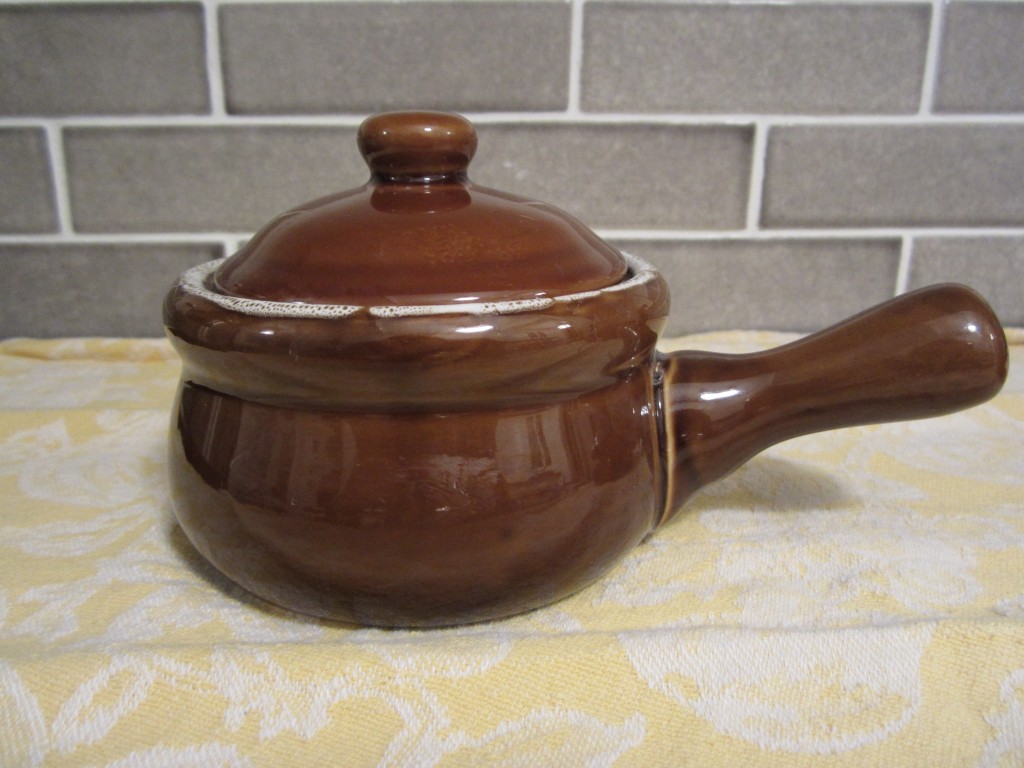 I was ready to crock.
I cried the whole time cutting up the onions.  It was actually quite cathartic for me. However one concerned follower of @MyJudytheFoodie on twitter actually suggested I purchase "onion goggles."   That seemed a little hypochondriacal.
Once the onions were thrown in the skillet to soak up the butter, I stopped crying and started smiling as I welcomed the pungent aroma of sauteeing onions.
Look at those onions glistening
And, that's really all there is to onion soup prep folks.
I swear.
The slow cooker does the rest.  Just combine the onions with the beef stock and turn that porcelain pot on!
Three hours later, the soup smelled restaurant-worthy.  I carefully lined up my fancy bowls, ladled in the aromatic broth, sprinkled on some fresh Mozzarella cheese and let the oven bake it until the cheese started to bubbled on top.
Ready for the oven to bake the cheese
Was I cheating by using 2x as much shredded cheese than the recipe called for and by purchasing those beautiful bowls so the soup could look as good as possible?  Probably.  But, I was determined to get my kids to not just try the soup but to eat the soup.  I wanted them to enjoy breaking through the cheesy crust, scooping the french bread in the bowl, and letting the bread soak up the soup so they could suck it and eat it.
After three attempts and one burnt thumb later, I still couldn't figure out how to get the cheese to perfectly melt over top the bowl to create that hardened shell. My versions simply looked like soup with floating islands of scrappy melted cheese.  I was really bummed.  The cheese was my selling point to my kids! I would definitely recommend using whole slices of either Mozzarella or Muenster cheese on top of the bowl to insure that cheesy blanket.
Either way, the kids really didn't mind.  They had a blast "eating" the soup and admitted that it was very hearty ( a new vocabulary word we've been using in conjunction with our slow cooking adventures).
My son wanted to know if we could have "dinner-for-breakfast" tomorrow and reheat the soup (with more melted cheese).
I considered that a good sign.
Slow Cooked French Onion Soup (adapted from about.com Southern Food)
serves 6
Ingredients:
4 large white onions, sliced
1/2 cup butter
1 teaspoon flour
6 cups beef broth
Mozzarella or Muenster cheese (one slice per bowl)
a few drops of hot pepper sauce
French bread, toasted
Instructions:
Cook onions in butter until transparent.
Add flour; cook, stirring until flour is blended into butter.
Combine onion mixture to beef stock and hot sauce in the slow cooker.
Cook for 6-8 hours on Low setting or 3-4 hours on High setting.
When ready, ladle soup into oven-proof bowls.  Top with slice of bread and the shredded cheese.
Broil until the cheese melts.
Enjoy!
Do you make soups for your kids?  If so, which ones?