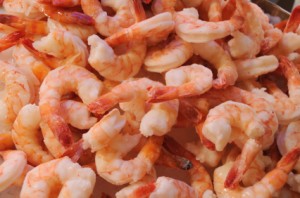 My 6-year old recently discovered shrimp.  Actually, I had no idea where or when he had even tried it.  It wasn't until we cleared out his cubby on the last day of Kindergarten and I finally got the chance to read his "Family Book" that I learned his favorite food is apparently SHRIMP!  You can imagine how surprised, skeptical and excited I was about his declaration.  Most other classmates responded with the generic hot dog or pizza or chicken fingers but, SHRIMP?  How interesting….
Growing up not far from the Eastern Shore of Maryland, I felt like I was exposed to some of the best fresh caught seafood in the Mid-Atlantic.  We had plenty of crab feasts at my house where Mom would set up the picnic table in the back, lay out the newspaper and dump a bushel or two of the freshest steamed crabs with shrimp cocktail appetizers.  I remember many hot, sticky summer nights where we were cracking crabs and eating shrimp dimly lit by Citronella candles.  For the week's Friday-Food-Frenzy, celebrate summer and SHRIMP with two quick and very easy recipes.  Print them, test them and let me know if I should try them out on my 6-year old shrimp lover.
Shrimp and Cheese Balls
Ingredients:
2  3-ounce packages of cream cheese
1lb shrimp (cooked)
1 1/2 teaspoons of mustard
1 teaspoon grated onion
dash of cayenne pepper
dash of kosher salt
1 package of salted pecans
Instructions:
Break shrimp into tiny bite-sized pieces.
Soften cream cheese and add in mustard, onion, pepper and salt.
Stir pieces of shrimp into cheese mixture and chill for up to 2 hours.
Form 1/2″ balls from cheese mixture.
Roll shrimp/cheese balls over top chopped salted pecans.
Place back in refrigerator at least 20 minutes before serving.  Enjoy!
Shrimp and Cottage Cheese Dip
Ingredients:
1/2 lb cooked shrimp
1 cup creamed cottage cheese
3 tsp chili sauce
1/2 tsp onion juice
1/2 tsp lemon juice
1/4 tsp Worcestershire sauce
4 tablespoons milk
Instructions:
Chop shrimp into small fine pieces.
Combine shrimp with cottage cheese.
Add seasoning: chili sauce, onion juice, Worcestershire sauce, lemon juice and milk to make a creamy mixture.
Add salt to taste.
Refrigerate before serving.  Enjoy!