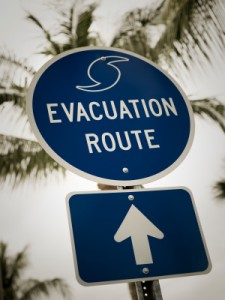 Everyone's bracing for Hurricane Irene.  I went to the grocery store to stock up like everyone else on the Eastern Seaboard.  Boy, was that stupid.  At the deli counter, I pulled ticket number 69 and they were only at number 19. After preparing a huge dinner tonight for 11 people and shopping for a weekend's worth of food for 11 people, we've now learned that our family from Baltimore isn't going to make the trip due to the weather forecast.  So, a weekend's worth of cook outs and camp outs and dinners out and birthday celebrations, with our family we see but 3 times a year, has been canceled. My kids have been making welcome signs all afternoon that they're now threatening to rip up out of sheer frustration.  Once again, I'm trying to preach to them the benefit of making lemonade out of lemons.
But, I can't let this day go by without saying, "suck it Irene."
We're going to make the best of it and suck it too (literally).
Enjoy and remember to drink responsibly!
Hurricane recipe (adapted from drink mixer.com)
Pour all but the juices, in order listed, into a hurricane glass three-quarters filled with ice. Fill with equal parts of grapefruit and pineapple juice, and serve.
Serve in: Hurricane Glass
Hurricane recipe #2
Pour gin, rums, amaretto, and triple sec into a hurricane glass with ice. Add equal amounts of grapefruit juice and pineapple juice until almost full. Top with grenadine to taste.
Enjoy and drink responsibly!