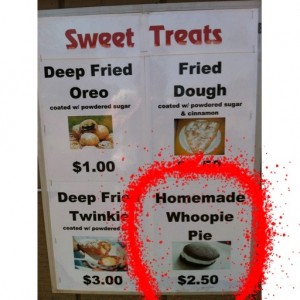 Visiting my daughter two weeks ago at her sleep away camp in Maine certainly took me down memory lane since I went away to camp for 9 summers in a row.  Of our two day trip, one full day was open-ended so I decided to take my son and husband to one of my favorite camp"Trip Day" excursions, Orchard Beach.  Orchard Beach is an old-school beach community that has an awesome old time amusement park along the beach- imagine a higher-end Coney Island. While you won't see people fishing off the piers with raw chicken on a string, the beach is jam packed with people hunkered down for a full day on the sand, doing everything from barbecuing to mixing frozen drinks.
The best part for me were the food options dotted along the streets lining the beach.  From Dairy Queen to Fried Twinkies, anything utterly unhealthy is within arm's reach on every block.  Nonetheless, my heart warmed as I walked past the frequent "Whoopie Pie" signs.
Whoopie Pies to me are synonymous with Maine and summers at camp.  We made these hamburger-sized cookie/cakes in cooking. We sought them on our beach trips.  Because they're considered a New England phenomenon, once I aged out of camp, sadly I aged out of Whoopie Pies.  While I didn't muster up the nerve to purchase this heaping, fluffy treat on our beach trip, I did have a second chance to indulge the next day at camp visiting day.  As we made our way through the cole slaws, hot dogs and hamburgers, a huge tray of Whoopie Pies capped off the camper's buffet.  My daughter was so excited to tell me about her new-found treat, like she was introducing me to a new food group.  And, like a kid in a candy shop, I grabbed one and gabbed that they too were one of my stand out desserts as a kid.
The other day, as I was reviewing MyJudytheFoodie recipes, I randomly came across Mom's recipe for Whoopie Pies she used with the campers during the camp cooking elective.  How coincidental that I had just reacquainted myself with these cookies not two weeks earlier.  And, now that my daughter is home from camp, and we're both desperately missing Whoopies, we decided we'd recreate our own, at home, with Mom's recipe.
Before I started this project, I created a disclaimer within which I pledged that I'd stay authentic to Mom's recipes even though many can use a healthy makeover.  For Mom's Chicken Salad with Mango Chutney one could substitute the mayonnaise for yogurt.  For the Judy's Garlic Chicken, I know we could cut down a bit on the butter.  But, I'm committed to Mom's written ingredients…at least for my first pass at cooking each dish (and then I'll get my buddy Lauren Slayton of  Foodtrainers to recommend the healthy upgrades).  So, (gulp), when I read that we'd need to use Crisco in the Whoopie Pies, my stomach turned.  The only experience I've ever had with Crisco was in the late 70's, watching my mom slather it on her body before she was going outside with her reflector to tan.  But, I went to the store, found the Crisco on the in the dark on the lowest shelf closest to the floor (yikes) and headed home to start baking with my family!
We had a blast baking.  Everyone had a role.  I made the sugary filler (from scratch, many recipes use Marshmallow Fluff), my daughter made the chocolate cake outsides (from scratch, other recipes cheat and suggest you just use Duncan Hines Devil's Food mix)
and my son was the assembly person; he actually combined the sandwiches when each stage was complete.
Our first venture Making Whoopie was a huge success.  Ok, maybe too huge. Everyone had belly-aches after indulging.  I'd suggest making mini-whoopies– the size of an oreo cookie– no bigger!
Enjoy!
Whoopie Pies
Ingredients:
Cake Outsides
1/2 cup Crisco
1 cup sugar
2 cups flour
5 tablespoons cocoa
1 teaspoon baking powder
1/2 teaspoon salt
1 teaspoon vanilla
1 cup milk
Filling:
3/4 cup Crisco
2 cups confectioner's sugar
2 egg whites
1 teaspoon vanilla
pinch of salt
Instructions:
Preheat oven to 350 degrees.
Cream Crisco and sugar in a bowl
Separate eggs.
Add egg yolks and all other ingredients into bowl with creamed sugar mixture.
Beat until very smooth.
Spoon heaping spoonfuls (for smaller cookies, use tablespoon) onto greased cookie sheets.
Bake at degrees for up to 15 minutes.  Chocolate "cakes" will be ready when the you press your finger in the center and the cake springs back up.
For Filling: cream Crisco and sugar and add other ingredients.
Beat until creamy.
Refrigerate until ready to fill the cookies.
Enjoy!
Have you ever had Whoopie Pies?  Have any dessert favorites that take you back to those summer days of your youth?  Share them with us!