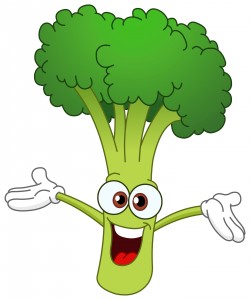 At My Judy the Foodie, I've got mayonnaise on the brain. And that's a good thing!  After participating in the Hellmann's Chicken Challenge on Tuesday, where I learned many new mayonnaise-y ways to shake up chicken-for-dinner-dishes, I got to thinking.  Surely in Mom's treasure trove of recipes there must be some other fun food combinations that use the most celebrated condiment in the world?   While Judy's Chicken Salad with Mango Chutney is one of these faves, so is her Broccoli Casserole – especially for veg-a-phobic kids!
Mom was very intuitive.  She knew she had to find creative ways to attempt to serve her kids vegetables. Unlike Jessica Seinfeld, she never pulled the wool over our eyes- she always provided full ingredient disclosure with all her dishes.  I remember one of the first times I tried Mom's broccoli casserole, like a typical picky eater, I turned up my nose and refused to eat.  If there was anything green staring back at me on the plate, my lips went on strike until dessert.  Always unflappable, Mom smiled and promised me that I would probably like the casserole. She had a flair for taking something very simple, like broccoli, and turning it into something that could even appeal to the most finicky eaters.
With Mom's casserole, the unusual confluence of mayonnaise, Parmesan cheese and creamed mushroom soup succeeds in dwarfing the broccoli taste.  Throw a little butter and bread crumbs on the top and the  dish tastes too good to be vegetable-based (according to my 6 and 9 year olds). Thirty five years later and I am still proud to admit, Mom's casserole was the impetus to my broccafair.  Behold, another Judy dish capable of transforming all different types of palates. Even our old neighbor from over forty years ago, celebrated baker across the pond at The Yummy Yank, has the fondest childhood memories of another version of Judy's Broccoli Casserole, stating, "she was the first cook I know that simplified cooking, something every chef tries to do now.  Judy in my eyes was the start to this fashion of cooking!"  It's simple to prepare (even for the most kitchen-challenged like me), it only takes 40 minutes total prep and cook time, and it tastes delish.
As my kids came barreling through our apartment door from school, my daughter's eyes opened wide. "Wow, it smells great in here, what is that smell?" I told her I'd made one of Meema's casseroles for dinner.  "A chicken casserole?" she asked.  While I was tempted to fib and say yes, knowing that response would give her the assurance she needed to actually try the dish, I told her it was broccoli based. "Really, and it smells that good?" "I'm definitely trying it."
And so begins my daughter's love affair with broccoli.  No fooling.
Enjoy!
Do you have any vegetable (broccoli) dishes that are so tasty you (your kids) forget they're eating veggies?
Judy's Broccoli Casserole
Ingredients:
2 package frozen chopped broccoli (or obviously fresh too)
1 tbsp water in pan over fire until melted
Mix together 2 eggs lightly beaten.
½ cup mayonnaise
½ Parmesan cheese
12 water chestnuts sliced thin
1 can cream mushroom soup
1 cup Panko bread crumbs
Instructions:
Mix above ingredients together.
Add broccoli and put in casserole dish.
Sprinkle bread crumbs and pats of butter.
Bake about 30 minutes or longer at 350 degrees.
Enjoy!