Yesterday morning MyJudytheFoodie took part in the Hellman's Mayonniase Chicken Challenge.  We were right at home as My Judy the Foodie uses mayonnaise in many of the celebrated recipes, most importantly the critically acclaimed Chicken Salad with Mango Chutney – it boasts some nice heaping spoonfuls of the mayoey goodness!
So, what happens at a Hellmann's Chicken Challenge you rightfully ask?  Well, Hellmann's Parmesan-Crusted Chicken is one of the most downloaded recipes from the Hellmann's website.  Our friends at Hellmann's are on a mission to see if any other mayonnaise-based chicken dishes can compete with the long-time chick champ. The Hellmann's Chicken Challenge gives everyone a chance to vote. Each week, two other Hellmann's® chicken recipes will challenge Parmesan Crusted Chicken.  We get to print them, cook them, taste them and vote as many times as we'd like for a chance to win prizes.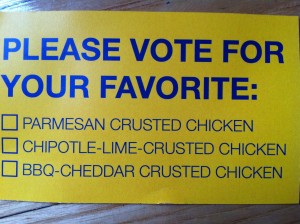 At the first-ever event, which streamed live yesterday on Hellmann's Facebook page www.Facebook.com/Hellmanns, three well-known hosts took to the kitchen to cook their favorite chicken recipes, taste test the audience with samples of each, and have us vote for our fave.   I have to say that each recipe, while different from one another, is extremely simple to make.  The prep time is minimal and the flavor is bountiful.  That's one of the many benefits of cooking with mayonnaise, it helps preserve the rich chicken flavor without the use of salt and pepper or keeping on the skin.
Ok.  Back to the juicy stuff.  We welcomed our first adorably handsome host, Mark Conseulos, celebrated actor, producer, dad-of-three.  While an avid griller, he admitted he's never cooked chicken indoors!  He also mentioned one of the many challenges parents face at mealtime: picky eaters!  He also preaches the importance of changing up our childrens' meals to give them variety.  Naturally, he prepared and cooked the reigning recipe: Parmesan-Crusted Chicken.   There is no degree of difficulty in this meal prep.  It's too easy to pass up! There are only four (4) ingredients and chances are, you have all of them in your pantry and fridge right now: Parmesan cheese, Italian-flavored bread crumbs, Hellmann's Mayonnaise and chicken (breasts of cutlets).
For someone who's never cooked inside, Mark seemed at ease and quite honestly, surprised by the recipe's simplicity, let alone, taste.  Not to mention the entire audience seemed to ooh and ah when we were served our bite-sized samples.  We guesstimated that we could eat at least 5-6 of the sample pieces without feeling glutinous and guilty.
Next up in the kitchen, Tim Love, celebrated Fort Worth, Texas chef, author and lover of all foods-foods-with-a-kick.  Tim challenged the Parmesan Chicken with a Chipotle Lime Chicken.  He enjoys this recipe and is a proponent of involving family in meal prep citing there are always teachable moments and it keeps kids vested in their meals (I've recently learned this too). Since this recipe calls for chipotles (smoked jalepenos) and Tim grows them his backyard garden, the kids get to witness farm-to-table in action.   As samples were being passed,  there's no doubt in my mind that the crowd still longed for the chicken's juicy Parmesan version (can you tell where I cast my vote)?
Last up, Sissy Biggers, the nationally-recognized television host and lifestyle expert, full of inspiring advice on a variety of topics. Sissy's also a momma to two grown girls so she feels like she's been on the front line in the kitchen and knows how challenging it can be for busy moms to find the time and patience to break meal monotony.  However, when a recipe calls for only four (4) ingredients and one is Hellmann's, it's guaranteed to be bursting with taste. She defends that the BBQ Cheddar Crusted Chicken appeals to the kids because of the clever combination of the sweet BBQ flavor and the sharp cheddar flavor.  And, of course, the mayonnaise helps seal in that great taste.
Besides getting an awesome swag bag (MyJudytheFoodie loves any free/practical cooking-related baubles), and a signed cookbook from Tim, the event certainly accomplished its mission.  I walked back into my apartment no longer a frustrated meal-challenged mom but rather, a mom-on-a–chicken-mission. I whipped up some Parmesan Crusted Chicken Breast in under 20 minutes flat. No joke.  The kids gave the new tasty meal a very rare two thumbs up approval rating.
We were all thrilled to have a new dish added to our dinner rotation!
Can you share any mayonnaise-based recipes?