I'm learning through my adventures in the kitchen that you can't give up on a dish.  You need to slowly muster up confidence and continue to test out different versions of the same dish.  Yes, it seems repetitive and boring and a big time suck but, when you're dealing with young kids, sometimes just a slight change in ingredients will create the desired result. In my case, it's two thumbs up from smiling braced and toothless faces.  And, that's exactly what happened when I baked another sweet potato recipe.  Admittedly, I knew that anything containing a coating of melted marshmallows would illicit at least one thumb up from my kids – even before any formal tasting.
While my kids claimed they liked the Sweet Potato Casserole from Monday's meal, it wasn't until they tried the marshmallow-laden version that my daughter came clean and said it was "hands down better than the first."
"I was worried I would hurt your feelings because you're working so hard in the kitchen," she said to me a bit defensively.  "Plus, the other version was just too sweet."
I wasn't about to tell my daughter that a topping consisting of an entire bag of marshmallows is inevitably sweeter than one containing brown sugar but, I kept my mouth closed.  Honestly, I was just happy that we broke into a new food territory: sweet potatoes.  And, now I have leverage to try other recipes with sweet potatoes since I'm assuming my daughter has gotten over her issue with its baby food-like texture.
Mom always baked this sweet dish throughout the fall and winter months, not just around Thanksgiving (and I hope I do the same).  I remember regarding it as a "bonus."  Remember, sweet potatoes are technically a vegetable.  Therefore, the dinners containing the yummy sweet potato and marshmallow casserole in lieu of the dreaded green vegetables were designated 2-dessert-dinners!  I'm fairly certain my kids feel the same way and don't want to me to catch on that the sweet potato dish might as well be regarded as dessert.
Sweet Potatoes awaiting their mash up
Part of the fun in the casserole preparation was watching it bake to perfection through the tiny oven window.  My kids were  intrigued with the rising and ballooning and then light browning of the marshmallows as it finished baking.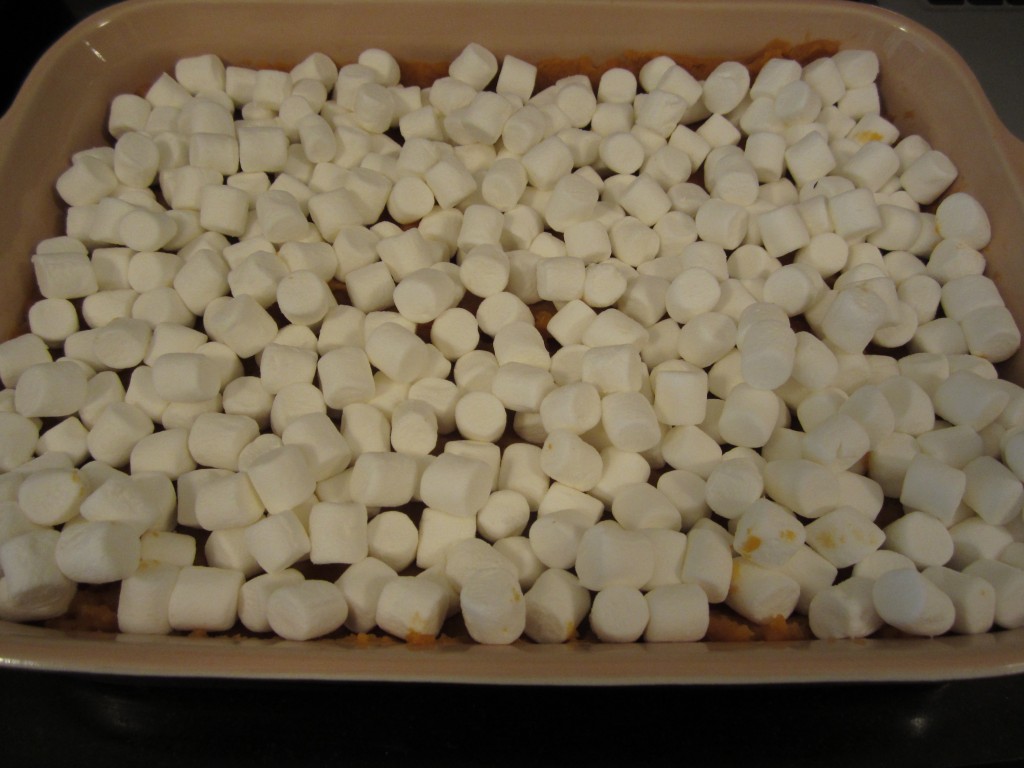 The sea of marshmallow pre bake
Fresh from the oven – is there really a vegetable in there?
Oh, and watching the marshmallows slowly deflate as the dish sat on our dinner table was cool (for everyone) too.
Mom used orange juice in her recipe to add some tangy zest and to offset some of the incredible sweetness.  And, I've learned that other versions use pineapples too.
Either way, the melted marshmallow crust on top creates an easy opportunity for any parent to try pushing a new (vegetable) dish.
Enjoy.
Sweet Potato with Marshmallow Casserole

Ingredients:
5 medium-large sweet potatoes
1/3 cup orange juice
3/4 cup flour
1/2 cup sugar
1 teaspoon cinnamon
1 pinch salt
1/2 cup butter
1 bag of miniature marshmallows
Instructions:
Preheat oven to 350 degrees.
Boil sweet potatoes for 15 minutes or until tender with fork.
Mash potatoes and combine orange juice, flour, sugar, cinnamon, salt and cut butter.  Mix until perfectly blended.
Spread in 10×6 inch baking dish.  Bake for 30 minutes.
Remove from oven, sprinkle with marshmallows and broil until perfectly browned on top.
Have your kids tried marshmallow and sweet potatoes?  Well, what's their feedback?  If they haven't, what are you waiting for?