With Thanksgiving only a few days away, it's logical to start planning and cooking from your holiday menu.  Whether you're the host(ess) of the evening (which I've never been) or whether you're simply bringing a dish (that's me), Sweet Potato Casserole should be on your hit list.  In fact, I've never been to a Turkey Day feast that didn't offer sweet potato "something" as a side dish.  I decided to attempt to bake a sinfully sweet Sweet Potato Casserole with a nice struedel-like crumble on top.
Lucky for me, I had a meeting Friday at Chelsea Market and arrived early.  I was able to wander through the amazing market area filled with the most incredible variety of food stores from: Eleni's Cookies to Fatwitch Bakery to Jaques Torres Chocolates to Amy's Bread to Lucy's Whey Artisinal Cheeses, to Sarabeth's.  As I meandered through the warehouse, the explosion of smells emanating from each shop was enough to satiate any level of hunger.  I then found myself in Manhattan Fruit Exchange, an awesome market bursting with fresh varieties of fruits, pastas, vegetables and everything else you can imagine.
In the Exchange, I immediately started snapping up pictures of the many fruits and vegetables I've never seen or handled before.  Later that night I would try to find any of Mom's recipes using these ingredients.  It's a little exercise I started as My Judy the Foodie came to life. I always post the pictures to the MJTF Facebook Fan Page to try get people guessing.  I find it simply amazing that I had allowed myself to become so sheltered in all ways concerning food.
I went on a frenzy snapping up pictures of Persimmons and Quinces (I have had Quince paste with Robiola cheese), and Pepino Melons and Chayote.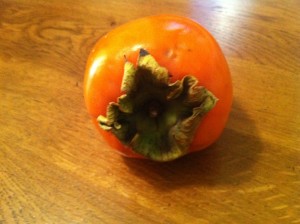 Persimmon – first one I've ever purchased
Pepino Melons – never eaten these either
I think I even startled the store manager because he came over and nervously asked me if everything was ok.  "Everything's GREAT!" I proclaimed.  He walked away but still kept his eye on me as I inspected the store.
I found my way to the potato area and was totally overwhelmed. I had purchased yams that morning for the Sweet Potato Casserole recipe but, after speaking to a sales person, I learned I really should use sweet potatoes.  I had no idea that sweet potatoes are sweeter, lower in calories, have a lower glycemic load, and are much higher in beta-carotene than their cousin the yam!  10 minutes later and I was juggling a bag full of 10medium-sized sweet potatoes for my two dishes this week.
I've never (gulp) handled sweet potatoes.
And, my son only mentions sweet potatoes with reference to Qtips and "cleaning out the sweet potatoes" in his ears.
So, you can understand that I wasn't even certain if I needed to peel the potatoes prior to boiling them.  I merely threw them in the pot with the skin on and figured I'd deal when they were ready.  Luckily, just by placing the boiled potatoes in the sink under very cold water was enough to get the skin to just peel off, as easily as that of an onion. While I didn't have a proper masher, my son and I enjoyed mashing the potatoes with regular forks.  The bright orange color made the process much more interesting – apparently it was "better than playing with play dough."
It didn't take long before we were spreading out the mixture in the baking dish and having fun sprinkling on the sugary topping of brown sugar, butter and pecans!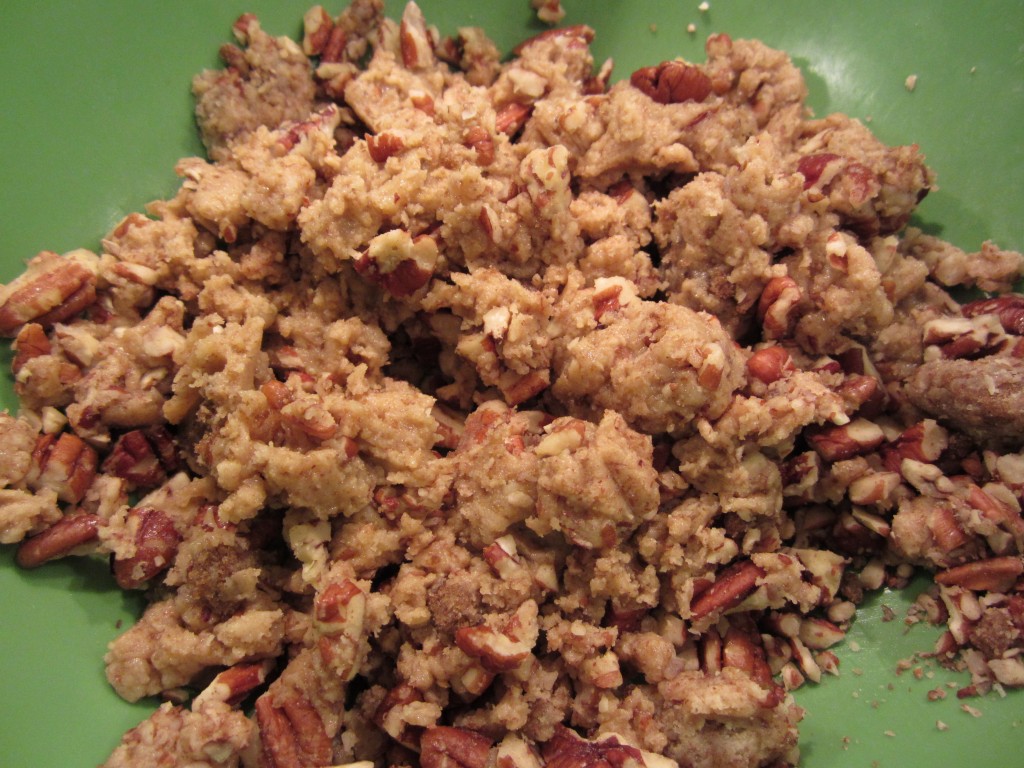 Sugary Nut Crumble for the Topping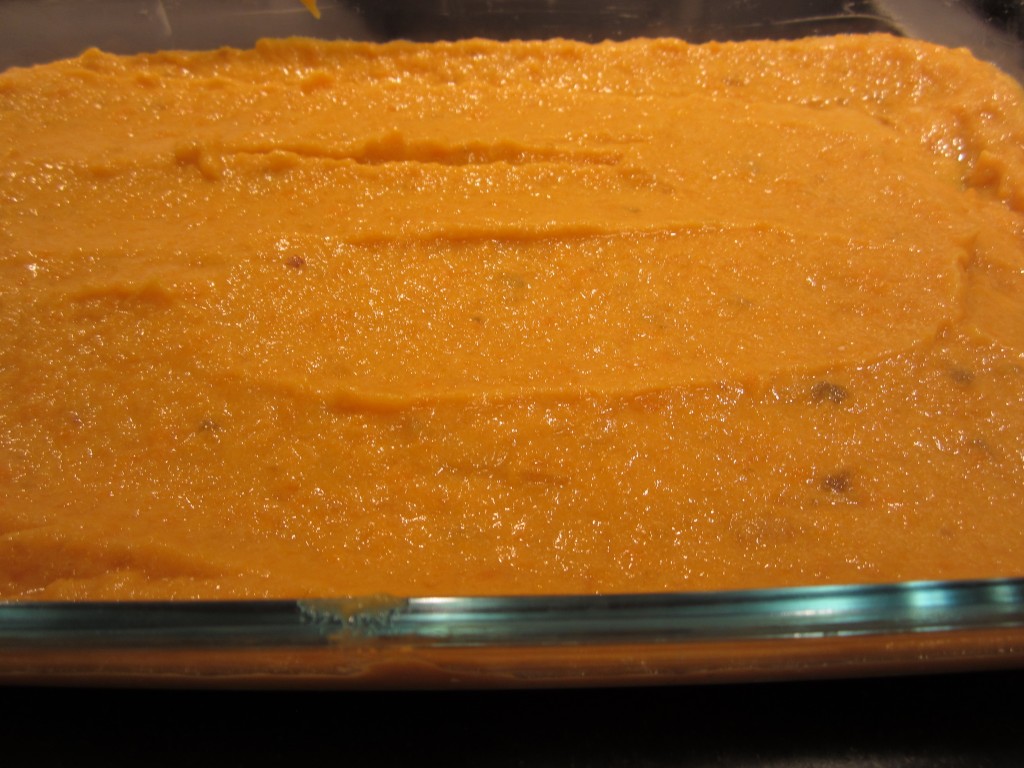 Naked Sweet Potato Spread Awaits Topping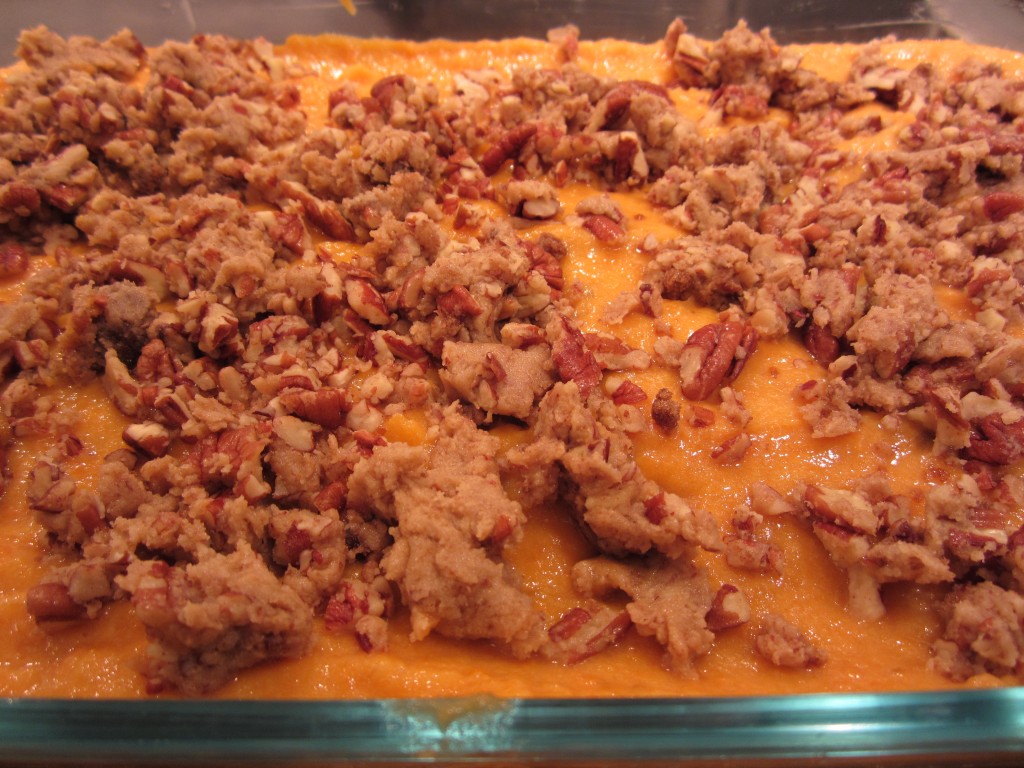 The Marriage of Sweet Potatoes and Topping
I knew the double whamy from the sweetness of the potatoes and the topping would win my son's heart.  My daughter?  Well, she didn't love the consistency of the pumpkin pie I baked, citing it reminded her of "baby food."  I suspected I'd get the same tepid response.
Between the prep work and cook time, the baking project from start to finish only took 50 minutes.  Not bad for a Friday afternoon activity. Plus, the apartment reeked of buttery, sugary goodness.  While this dish is the perfect compliment to any Thanksgiving table full of meats  and stuffings, its sweet taste didn't receive nearly as many accolades as a side to our slow cooked French Onion Soup on Friday night. In fact, the two dishes just didn't go well together.  It's true.  We needed something meaty and chewy to eat in between the soup and the sweet potato.
Good thing though, I was able to stretch those sweet potatoes all-weekend-long and the kids really did like them.  Plus, the dish is good either cold or heated and it is sweet enough to take the place of a dessert.
Although, my kids would never permit that in my house!
Sweet Potato Casserole (adapted from Vicky Arrington)
Ingredients:
3 cups cooked, mashed sweet potatoes
1/2 cup butter
1/2 cup evaporated milk
2/3 cup sugar
2 eggs, beaten
1 tablespoon vanilla
Instructions:
Boil, drain and mash sweet potatoes
Add milk, sugar, eggs and vanilla
Beat with mixer until smooth
Pour into a buttered 10×10 or 9×12 baking dish (do not cover)
Sprinkle topping evenly over top of potatoes (recipe below)
Topping
Ingredients:
1/2 cup brown sugar
1/2 cup flour
1/3 butter, room temperature (don't melt)
1 cup Pecans, chopped
Instructions:
Cut butter into flour and brown sugar until crumbly, mix in pecans and sprinkle over top of potatoes.
C'mon, you've got to have some holiday Sweet Potato dishes to share?