I couldn't wait to take part in the Great Food Blogger Cookie Swap last week; my first cookie swap ever!  Selfishly, I also wanted to try to find the recipe and bake the celebrated cookie from my hometown. It was the one cookie that Mom always had aplenty in our freezer : Baltimore Berger Cookies.
Nowadays, most people from the Maryland region (and definitely all Baltimoreans) will smile when you mention its name. People outside the area? Not so much. Berger Cookies are a product of Baltimore's DeBaufre Bakeries (the sole manufacturer) and consist of vanilla wafers topped with a thick layer of chocolate ganache.  They are a cultural icon of Baltimore and have been decorated with numerous notable "Best Of" awards from the area.  We really have Henry Berger to thank.  He's the modest baker who developed this recipe and brought it to the US from Germany way back in 1835.  He set up a tiny bakery in East Baltimore with his sons, never anticipating that his cookie treats would become so desired they're now shipped internationally.
The closest cookie resemblance to the Berger Cookies are the infamous New York Black and White Cookies yet, they don't hold a flame. Berger cookies are lauded for their ridiculous cookie-to-frosting ratio: 1/3 vanilla wafer to 2/3 chocolate icing and, as I learned, the more frosting piled on top, the better.  In fact, unless it's consumed fresh from a freezer, this cookie will melt immediately in your hands.
Mom always stock-piled these cookies around our house. She liked them room temperature and would eat the chocolate tops and leave the vanilla bottoms. I'd only eat them frozen, direct from the freezer, as the chocolate was just too overwhelming any other way.
As I started baking, I quickly realized that the wafer part of the cookies isn't difficult to make but, the process gets tricky when applying the chocolate tops.  After the vanilla wafer bottoms bake very briefly in the oven, I had to turn the cookies upside down and, by hand, carefully dip the flat bottom into the sea of chocolate ganache.  I know I must've looked more like a mad artist than a baker.  My kitchen table was strewn with cookie sheets full of pre-dipped wafers, post dipped wafers and wafers awaiting their final dollop of the chocolate ganache add on.
Pre-baked wafer dough…post-baked chocolate top
The wafer bottom of my Berger cookie version looked absolutely perfect. The trick is to flatten the raw dough with the bottom of a glass so that they are perfectly smooth going into the oven. They should be baked until they became lightly marbled looking on the bottom but, the tops shouldn't change color.  Since the cookies are supposed to be soft and cake-like, I made sure not to over-bake them. When applying the chocolate top, it's really important to make sure the chocolate literally overwhelms the vanilla wafer.  If you feel like you're adding on way too much chocolate, that's perfect! The cookies should look like there's a solid inch of dark, creamy chocolate layered on top. And, don't worry, there's no way to avoid a mess all over the kitchen and on your fingertips too.
I'll be the first to admit my chocolate tops definitely didn't look perfect. Even though I thought I layered on a ton of chocolate, they could've used a lot more! But, they did taste exactly how I remembered.
It wasn't until I completed all of the baking (4 dozen cookies to be exact, each carefully hand dipped) that I panicked about the shipping and feared the chocolate melting in transit.  LuckiIy I had days before the cookies needed to be distributed so I decided to keep them in the freezer as long as possible.
When shipment day came, I realized that my family and I had eaten at least a dozen of the frozen cookies over 3 days.  Thank god I anticipated our collective sweet tooth and baked extras.  They really are addictive.  After the wild goose chase to find the perfect holiday storage containers (thank you Michael's) I spent at least an hour trying to figure out how to properly pack my labor of berger cookie love. I wasn't about to let my hard work melt into a chocolate mush en route.  I purchased bubble wrap, packing peanuts and went on a wild goose chase throughout Manhattan to find dry ice pellets.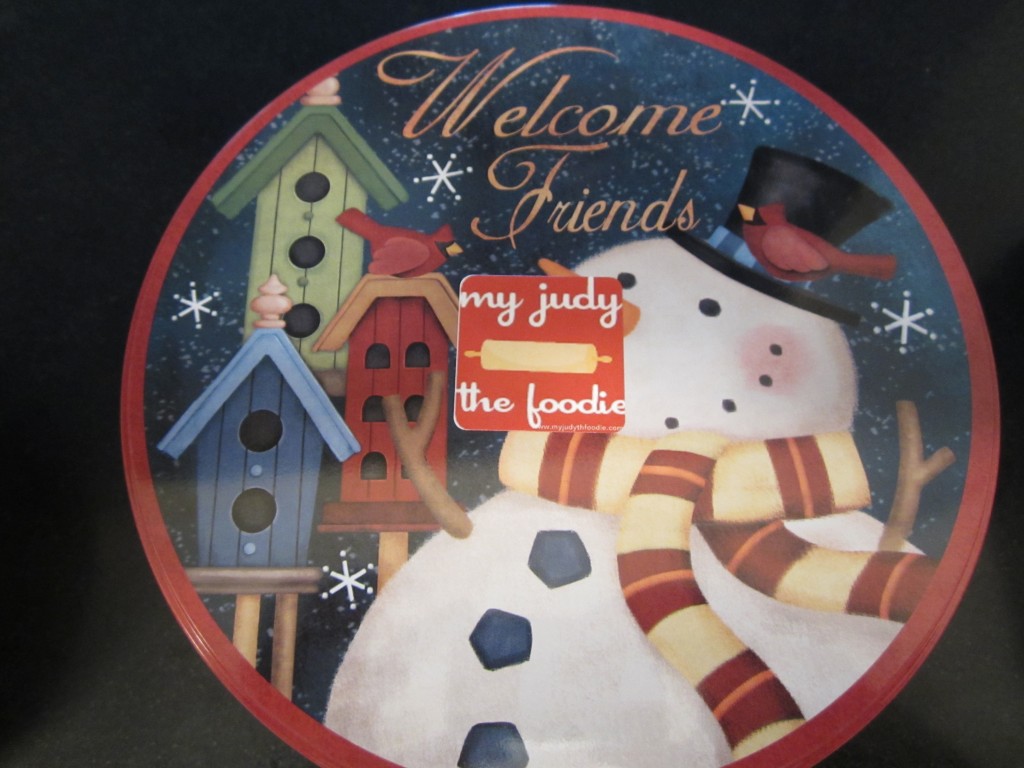 Cookie tin, packed full of Berger cookies and ready to go
Like a sherpa, I ventured to my local UPS center with bags and tins and cookies and ice pellets.  I felt so relieved and accomplished. I was in the home stretch. I was exasperated to find out that I wasn't authorized to use dry ice- argh.  Oh well, that's the way the cookie crumbles. I guess the Bergers would have to fend for themselves in their cozy, warm holiday tins.  They had long journeys ahead of them from New York City:  Montana, Atlanta and Indiana.  I knew I baked my best.  I'd just have to wait.
And, the waiting killed me.  I was dying to reach out to my cookie matches but, wanted to play by the rules.  Each day that passed without any feedback, my confidence started to wane.  I'd imagined the cookies arrived at their destinations melted and sculpted into one unrecognizable mound.  I'd forever be known as that cookie swap partner who screwed up.
But, what I got in return was better than anything I had ever hoped.  I received the most positive feedback from each of my matches.  Everyone raved about their "first" Berger cookies:
Megan Foley from Stir and Scribble tweeted they were so good she "even had even two for breakfast."
Maggie Wescott from Kitchie Coo wrote on the MJTF fan page, "They came and they were perfect! Nice job with the packaging, it was perfect! The cookies were divine…my daughter and I gobbled up quite a few before sticking them back in the fridge for later. Thank you, so much fun to get your package!"
Deb Morgan from My Simple But Blessed Life said they were delicious!
I smiled knowing I will forever have a cookie-bond with these three women whom I've never met –simply because I shared a cookie that is full of such meaning and love to me.
I now know Mom must've felt this way all the time.
Enjoy the Baltimore Berger Cookie!
Baltimore Berger Cookie (adapted from King Arthur Flour website):

Ingredients:
Rich Chocolate Icing
2 cups (12 ounces) semisweet chocolate chips (another version uses unsweetened baking squares, this has more flavor)
1 1/2 tablespoons (1 ounce) light corn syrup
1 teaspoon vanilla
¾ cup (6 ounces) heavy cream
1 1/2 cups (6 ounces) confectioners' sugar, sifted
Wafer Cookies
1/3 cup (5 1/3 tablespoons, 2 5/8 ounces) unsalted butter
1/2 teaspoons salt
1 teaspoon vanilla extract
1 teaspoon baking powder
1/2 cups (3 1/2 ounces) sugar
1 large egg
1 1/2 cups (6 1/4 ounces) King Arthur Unbleached All-Purpose Flour
1/3 cup (2 5/8 ounces) milk
Instructions:
Preheat the oven to 400°F. Lightly grease (or line with parchment) two baking sheets.
To make the icing:
Place the chocolate chips, corn syrup, vanilla, and cream into a large microwave-safe bowl, or into a large saucepan. Heat the mixture till it's very hot; the cream will start to form bubbles. Remove from the heat, and stir until smooth. Beat in the confectioners' sugar. Let cool to warm room temperature while you make the cookies.
To make the cookies:
In a large mixing bowl, cream together the butter, salt, vanilla, and baking powder. Beat in the sugar, then the egg.
Add the flour to the wet ingredients alternately with the milk, beginning and ending with the flour. Do this gently; there's no need to beat the batter.
Using a teaspoon cookie scoop, drop the dough onto the prepared cookie sheets. Flatten each mound of dough to a circle about 1 ½" across; I greased the bottom of a small glass to do this. Leave 2″e; to 2 1⁄2″ between each cookie, for expansion.
Bake the cookies for 11 to 12 minutes. Cool the cookies on the pan for 5 minutes, then transfer them to a rack to cool completely.
Dip the flat bottom of each cookie into the icing; swirl the cookie around to completely cover top. Set cookies back on the baking sheet, or on a rack. Generously spread remaining icing evenly atop the cookies. Pile it on.
Allow to set, then store airtight in a single layer.  Freezes very well.
Yield: Twenty-eight 2 ¼" cookies.