During the holiday season, I've suffered from homemade gift envy.
My children's schools have always had a "no gift" policy for the teachers.  They try to enforce the idea of homemade cards from the kids rather than store-bought items.  While I'd try to adhere to this highly-debated policy, I'd always find myself sneaking in a nominal gift card to Barnes and Nobles or iTunes alongside my kids' artwork. I  just had to reinforce my "thanks."
However, I never really felt satisfied.  I felt generic. I was envious when, year after year, I'd see my good friend drop off her eagerly-anticipated box of homemade fudge.  She followed the rules AND her gift was homemade. I  could never imagine doing that. It was simply out of the realm of my thinking.
Until this year…
Since I've been baking a lot more in the kitchen, so I decided I'd muster up my confidence and finally bake treats for the teachers.  After all, baking and packing the Berger Cookies from The Great Food Blogger Cookie Swap made me realize the genuine halo effects from homemade items.  When you take time to make something with your own hands from scratch, your gesture goes a long way.  In fact, even if the food doesn't taste that great, isn't it always the thought that counts?
Of course I had to over think the project before I even started.  I wondered: does this sweet treat  have any Christmas connotations?  After all, the peppermint colors can be red and green. I'm Jewish and I've never seen peppermint bark exchanged for Hanukkah – just chocolate gelt. Knowing one of my kids' teachers happened to be Jewish, I did go searching for blue and white candy canes. With no luck, I eventually made myself assume Peppermint Bark is construed as a "holiday" gift signifying snow in the "wintertime." I purchased one little snowman cookie tin accordingly .
The best part about Peppermint Bark?  It's extremely easy to make but, it tastes so sinfully extravagant.  Honestly, it's just melting chocolate, crushing candy canes, layering them together and then refrigerating the chocolate until it hardens into a "bark."  Any 4-year old has constructed something similar in nursery school.  No excuses.
Lucky for us we had a ton of candy canes left over from our apartment building holiday party the night before.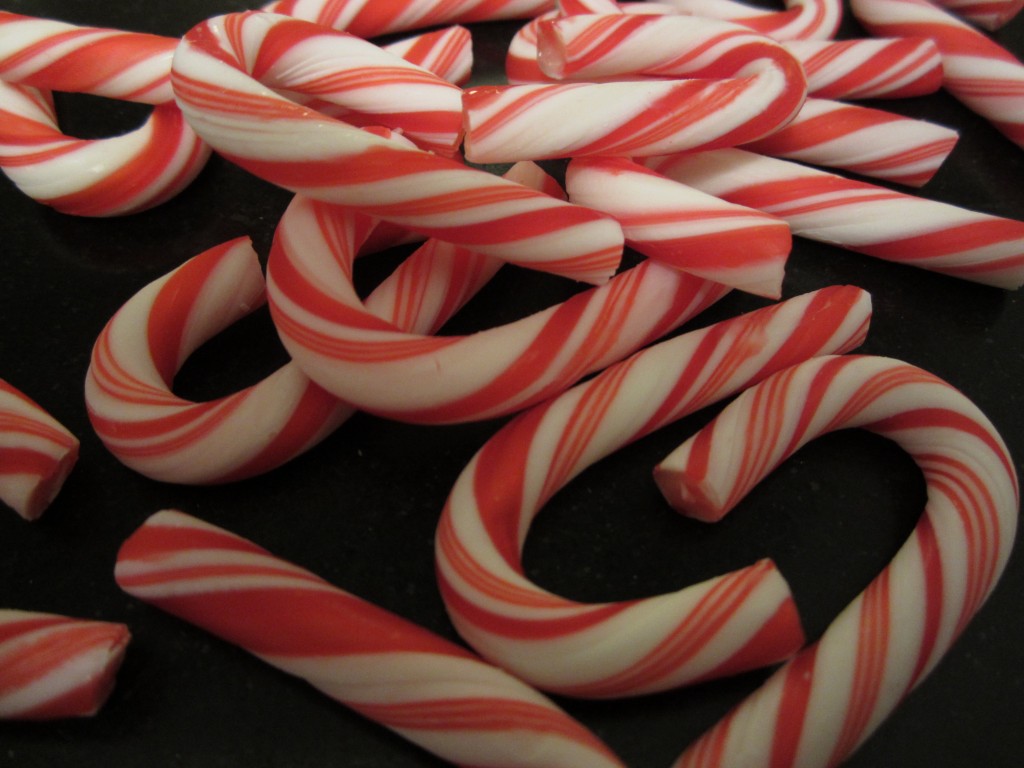 Beautiful candy canes….before getting CRUSHED
We had a blast placing the canes in a zip loc bag and jumping up and down on the bag until the canes were broken up. (I wouldn't recommend this if you live in an apartment with neighbors below.  The bag broke open in mid stomp and peppermint bits flew all over our kitchen floor).  Simply chopping the canes up in a food processor would suffice.  Just make sure you don't chop them to much or the canes will turn into powder.  You want to use chunks to make your bark top nice and pretty and 3-D.
I noticed that many Peppermint Bark recipes recommend different forms of chocolate.  I decided to sample three different kinds.  I had Baker's Semi-Sweet Chocolate Baking Squares in the pantry so I used them for my first batch.   The recipe calls for a double boiler to melt the chocolate.  I don't have a double boiler nor was I about to buy another vessel to cram into my kitchen cabinet.  So, I made a make shift boiler with a sauce pan and a pyrex bowl that fit snuggly on top and was ready to melt away.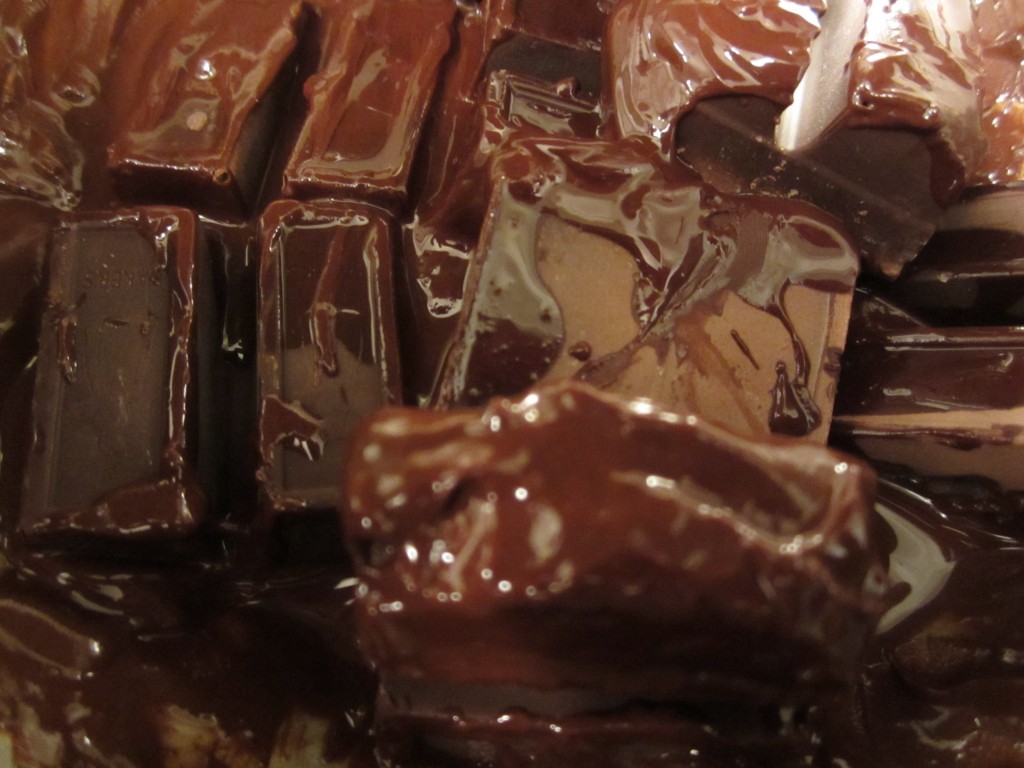 Chocolate melting in the make-shift double boiler
The Baker's Chocolate melted perfectly, spread easily in the dish and hardened within 15 minutes in the fridge (contrary to the 1-hour suggested time in the recipe). I laughed when I read the recipe calls for "fine quality" white chocolate.  I simply picked up a container full of Vahlrona white chocolate disks on sale at Whole Foods.  These too melted easily, spread easily and hardened quickly. Make sure you don't spread on the white chocolate layer until after the base chocolate layer has completely hardened or else the chocolate and white chocolate will mix together and your bark top won't have that solid white contrast against the bright red swirls from the crushed canes.  When sprinkling the broken canes on top, my 6-year old said he felt like he was sprinkling glitter over a glue canvas.  I sure hoped it tasted better than that!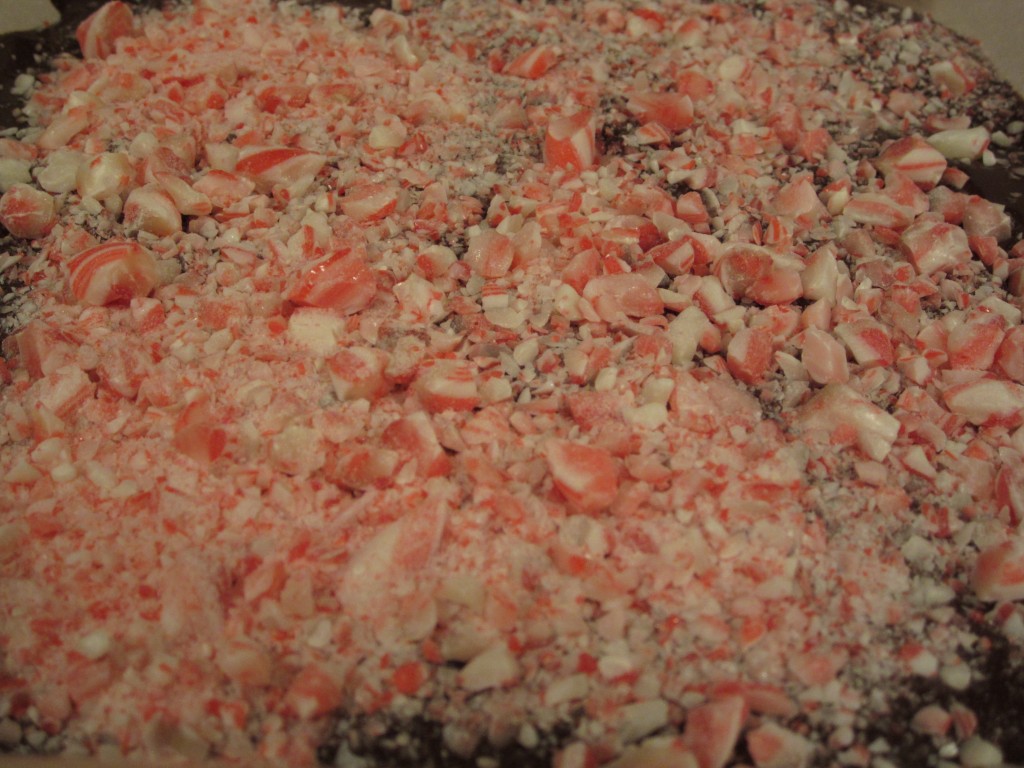 Sea of crushed peppermint canes atop melted chocolate
The next two batches weren't as successful because I used regular chocolate and white chocolate chips.  They didn't melt well and they created a thicker bumpier consistency in the double boiler.  I know people use the microwave, but, as my baking teacher recommended, it's more reliable to  stick with the double boiler to insure even heat distribution in your chocolates.
I kept the final bark in the fridge for a long time (over an hour) just to be safe.  When we were ready to break the bark, we flipped it upside down so that we were actually breaking with the bottom on top to try to preserve as many candy canes pieces as possible.  It's a really messy job but, really fun.  Actually, it's an ideal stress reliever if you've had a rough day.  We started breaking and breaking and breaking and the thicker the chocolate, the harder it was.  It did feel little strange to be so aggressive with the food.  But, the goal is to produce jagged pieces in a variety of sizes.
We sampled the bits that had spewed across the counter.  So good!  The batches with the peppermint extract had that extra zing of flavor.  We also agreed the batch with the milk chocolate morsels was too sweet; we'd stick with the semi-sweet chocolate.
The final product, packed and ready to go
We then packaged the bark pieces in little tins as if we were hastily throwing puzzle pieces back in their boxes. Organized chaos.
Our final product looked beautiful, and well thought out; like a true labor of peppermint bark love.
We felt accomplished and proud to be sharing homemade treats made from our very own home.
Enjoy!
Peppermint Bark (adapted from AllRecipes.com)
Ingredients:
8 ounces high-quality semisweet chocolate, broken into pieces (can substitute with dark chocolate or milk chocolate)
2 teaspoons canola oil, divided
1/2 teaspoon peppermint extract, divided
8 ounces high-quality white chocolate, broken into pieces
25 peppermint candies, crushed
Instructions:
Lightly grease a 9×9 inch pan and line with waxed paper, smoothing out wrinkles; set aside.
Place the semisweet chocolate and 1 teaspoon of the canola oil in the top of a double boiler over just barely simmering water, stirring frequently and scraping down the sides with a rubber spatula to avoid scorching.
When the chocolate is melted, stir in 1/4 teaspoon of the peppermint extract* optional
Pour the melted chocolate into the prepared pan, and spread evenly over the bottom of the pan. Sprinkle half of the crushed peppermints over the chocolate layer. Refrigerate until completely hardened (could be as little as 25 minutes – depends on fridge temp)
Place the white chocolate and the remaining 1 teaspoon canola oil in the top of a double boiler over just barely simmering water, stirring frequently and scraping down the sides with a rubber spatula to avoid scorching.
When the chocolate is melted, stir in the remaining 1/4 teaspoon peppermint extract.
Pour the white chocolate directly over the semisweet chocolate layer; spread evenly.
Sprinkle the remaining crushed candy over the top and gently press in.
Refrigerate until completely hardened. Remove from pan; break into small pieces to serve.
Well, do you bake and distribute your goods for holiday presents?  If so, what do you bake?
I am linking this recipe over here:
A Southern Fairytale
We Are That Family
Day2Day Joys
Not Just a Housewife
Lollipops Cards
Someday Crafts
Sew Much Ado
This Chick Cooks
Someday Crafts
Fireflies and Jellybeans
Today's Creative Blog