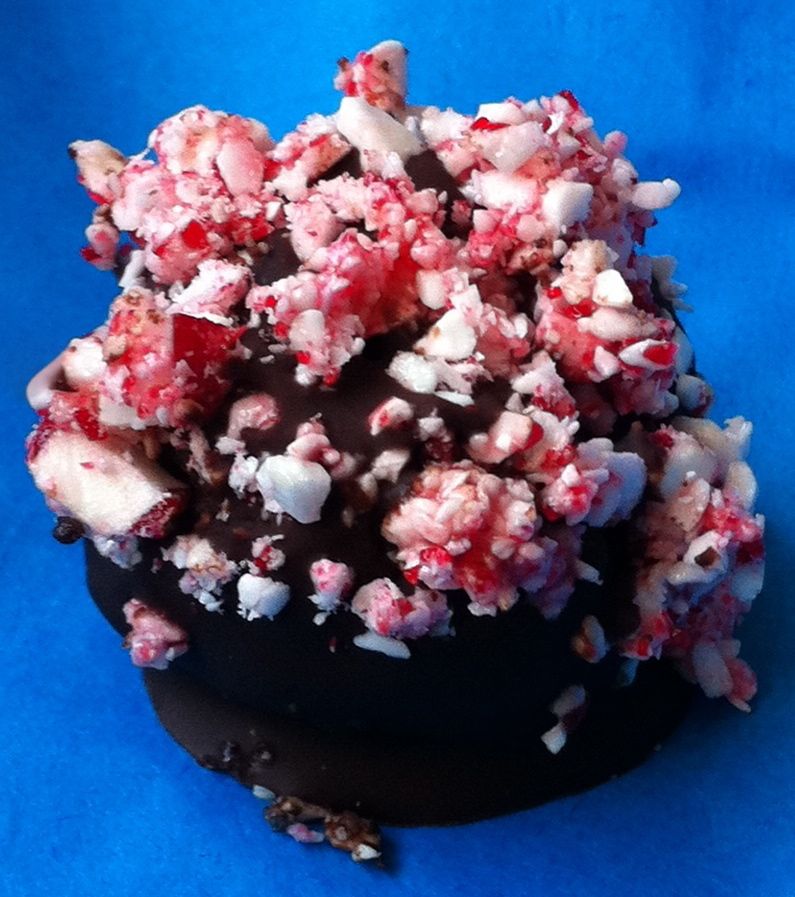 I'm not sure if it's the cold weather or the fact that I have A LOT of idle time with my kids this winter vacation week but, we've loved making "No Bake" sweets in the kitchen.  Don't get me wrong, I've been cooking a bit but, it's more enjoyable constructing delectable treats that are simple to make. Today we made Chocolate Cake Truffles.
I'm not sure where I got this baking itch.  Mom was celebrated for her seemingly complicated desserts, save the Earthquake Cookies and Banana Chocolate Chip loaf.  She'd whip out the three-layer tortes or the hazelnut roles, but I don't remember her ever being interested in the festive, kitschy no-bake treats.  Don't get me wrong, she could resign herself to bake brownies-from-a-mix once in a while but then she'd always add her special twist.  I'm realizing that, in the 70's-80's without the benefit (or interest) in surfing the internet for some fun recipes ideas, Mom stuck to the basics and enhanced the recipes herself.  For us, with one click, we're opened up to a world of baking possibilities, with pictures, videos and step-by-step instructions to boot.  That's where I got the idea for the Cake Truffles, when I stumbled upon Kristen Knook's blog.
Ok, there is a small part to this recipe that requires actually turning on the oven and baking (but, you only have to use pre-made cake mix, I promise). You can use any cake boxed mix you desire, we chose Duncan Hines Chocolate Fudge Cake. The baking soon becomes a distant memory when you get to literally take the freshly-baked cake and rip it to tiny pieces.  Let me repeat.  You get to tell your kids to take the cake and RIP IT TO PIECES!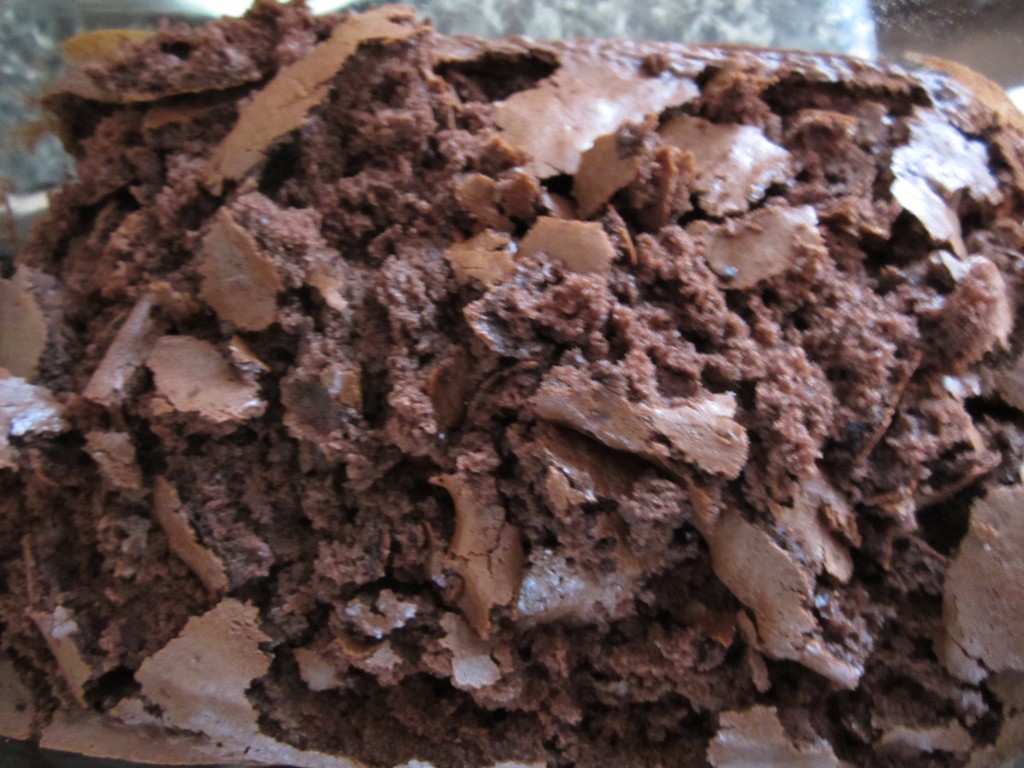 Chocolate cake post-tear session
Isn't this every kids' dream?  That was probably the highlight to this project.
Once the chocolate cake was completely unidentifiable, we scooped in some vanilla icing and mixed everything together to make a batter consistency. Again, you can use whatever flavor icing you desire.
We rolled out the cake into little balls and carefully placed them on a cookie sheet for some overnight freezing.
The next morning, it was time to experiment with different chocolates to determine the ideal consistency in which to roll the cold cake balls!  We tried melting and using semi-sweet Baker's Chocolate which proved to be a bit too clumpy and it hardened fairly quickly (not to mention insanely messy).  It was difficult to roll the balls around in that chocolate without having them tear apart or stick to our fingers.
Next up, the Ghiradelli semi-sweet chocolate chips.  They melted very quickly and spread easily because we became resourceful and used some s'mores campfire roasting sticks from the pantry.  We decided to poke the balls and roll them around in the chocolate so we wouldn't have to use our fingers (although I'm certain my kids would have opted for fingers).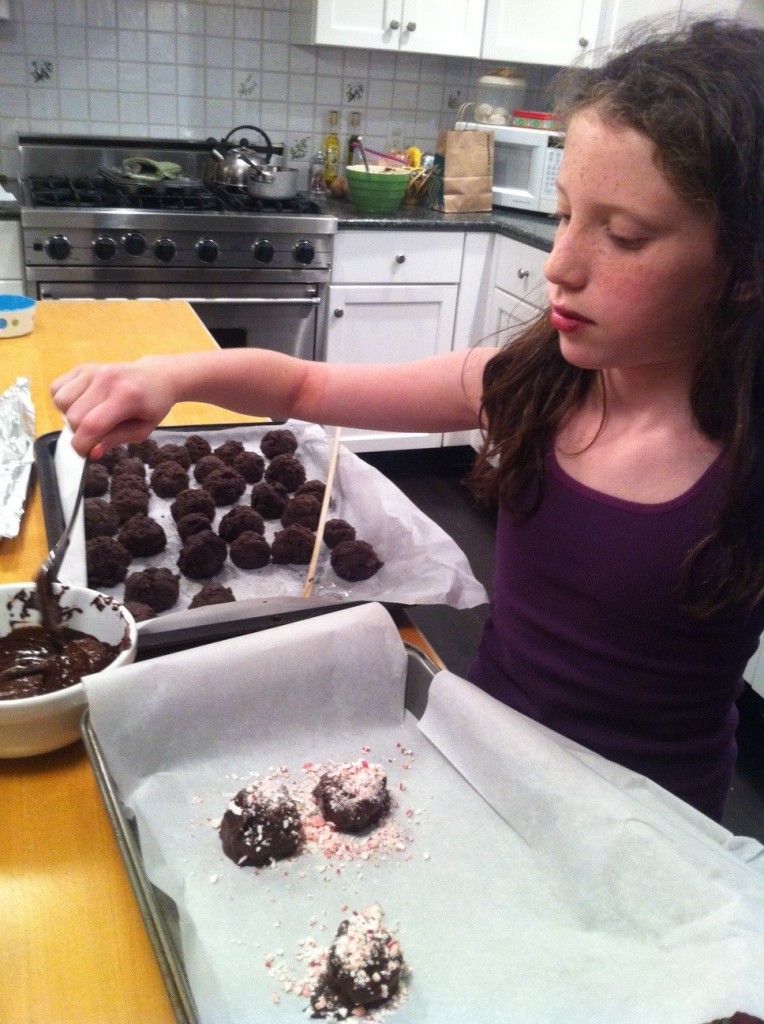 using sticks to cover balls with chocolate
For the topping, we crushed up the leftover peppermint sticks from the Peppermint Bark we made two weeks ago.
We sprinkled the balls with tiny pieces and, satisfied with our results, popped the completed balls back into the freezer to let the chocolate harden.
Only twenty minutes later, we celebrated our dazzling Chocolate Truffle Balls!
The texture variations between the hard peppermint and crusted chocolate outside against the spongy cake-like centers are quite pleasing.   But, beware, this is one insanely sweet treat.
Eat just one truffle and you'll be bouncing off the walls…
Chocolate Cake Truffles
Ingredients:
One box of cake mix
1 can of frosting
1-2 bags chocolate chips
1 cup crushed peppermint
Instructions:
Follow the instructions on the cake mix box regarding additional ingredients and baking temperatures. You can use whichever cake mix you desire.  I used Duncan Hines Chocolate Fudge.
After cake has baked, let cool.  Once cool, rip up cake to pieces.
Combine one can of frosting (again, whichever flavor you desire) to cake pieces, forming a batter-like consistency.
Roll out cake/frosting batter into balls and place on parchment-lined cookie sheet.
Place sheets in freezer overnight.
After cake have chilled in freezer overnight, take out.  Melt chocolates either on stove or in a microwave in a microwave safe bowl.
Crush peppermints so that they're in tiny little pieces.  If you crush too much, they'll turn into a powder.
Roll balls into chocolate, place on cookie sheet and add crushed peppermint pieces before chocolate begins to harden.
Place back in freezer for 20-30 minutes or until chocolate exterior is fully hardened.
Enjoy!