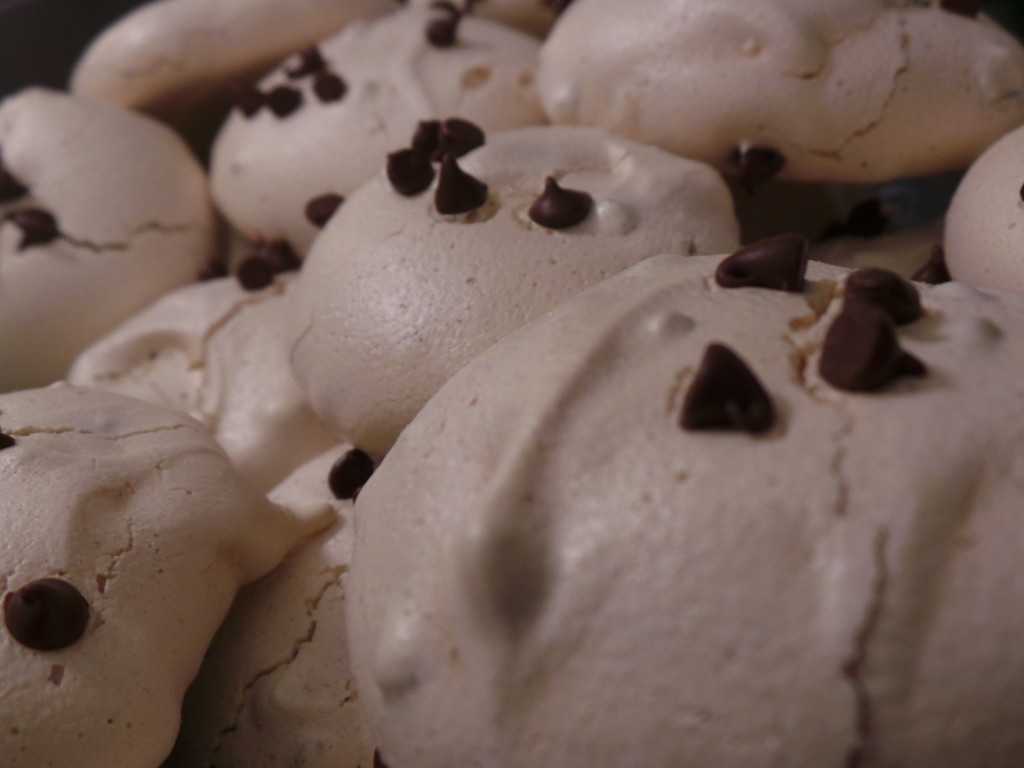 I had a craving to make Mom's Meringue Cookies.
Maybe that's because the landscape in the northeast resembles the white colorless batter—thanks to the blast of arctic weather we've had the past few weeks.
As I watched the electric mixer beat the egg whites and sugar into stiff peaks, I envisioned the mounds of icy snow that still hug every street corner (days after the last snow storm). In just five minutes, I had a mixing bowl filled with the purest looking batter I've ever seen.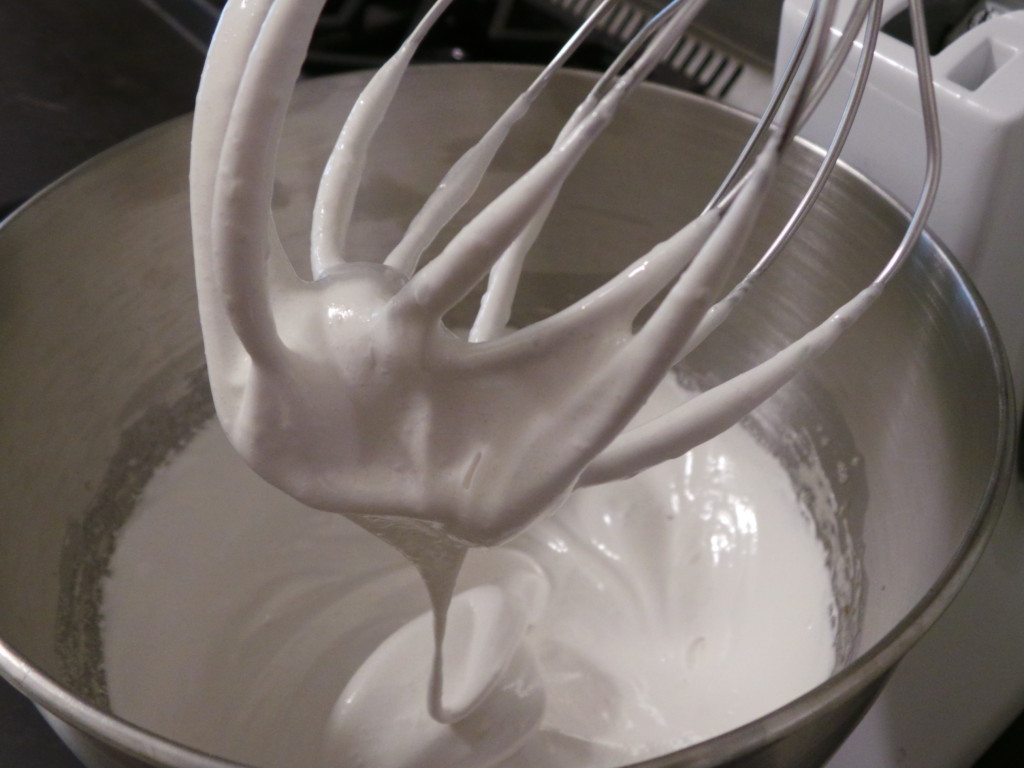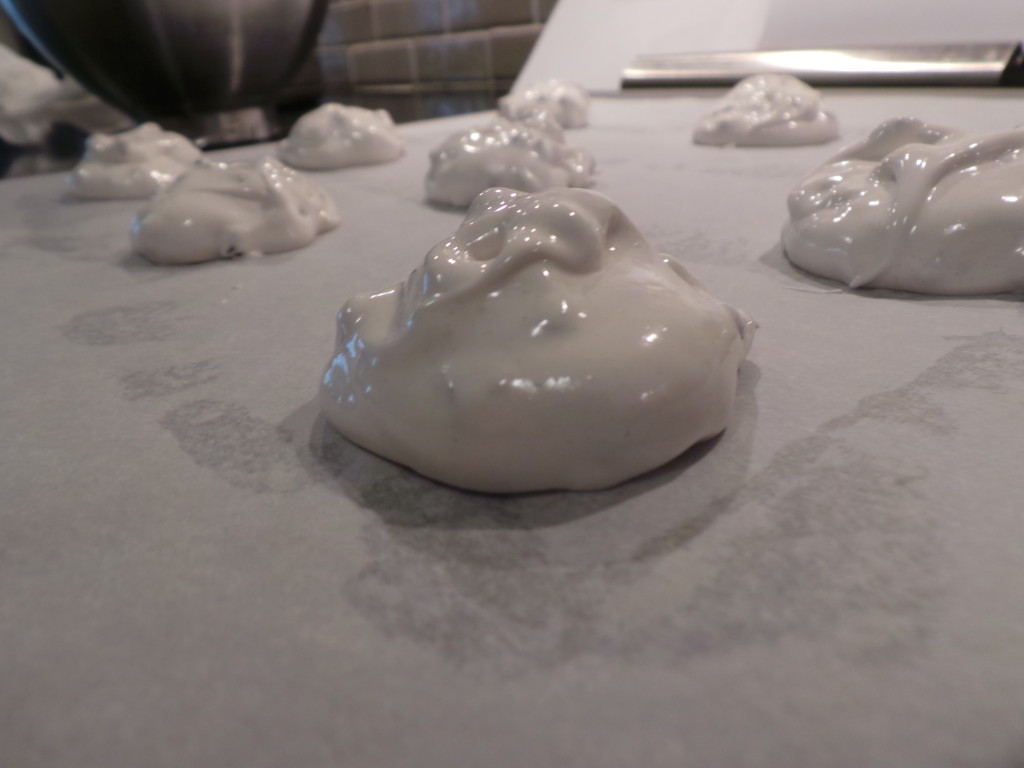 I love the crispy exterior and hollow interior of the cookies. They're light and airy and almost guilt-free as they're very low in calories and fat. Mom used chocolate chips in her recipe that adds a welcomed rich creaminess to the sweet cookies.
My first few batches of cookies didn't turn out exactly as I had expected. Each cookie had cracks running through the middle. Remember that your egg whites need to be room temperature and it's also imperative to leave the cookies in the oven to cool at least 20-25 minutes after they're finished baking.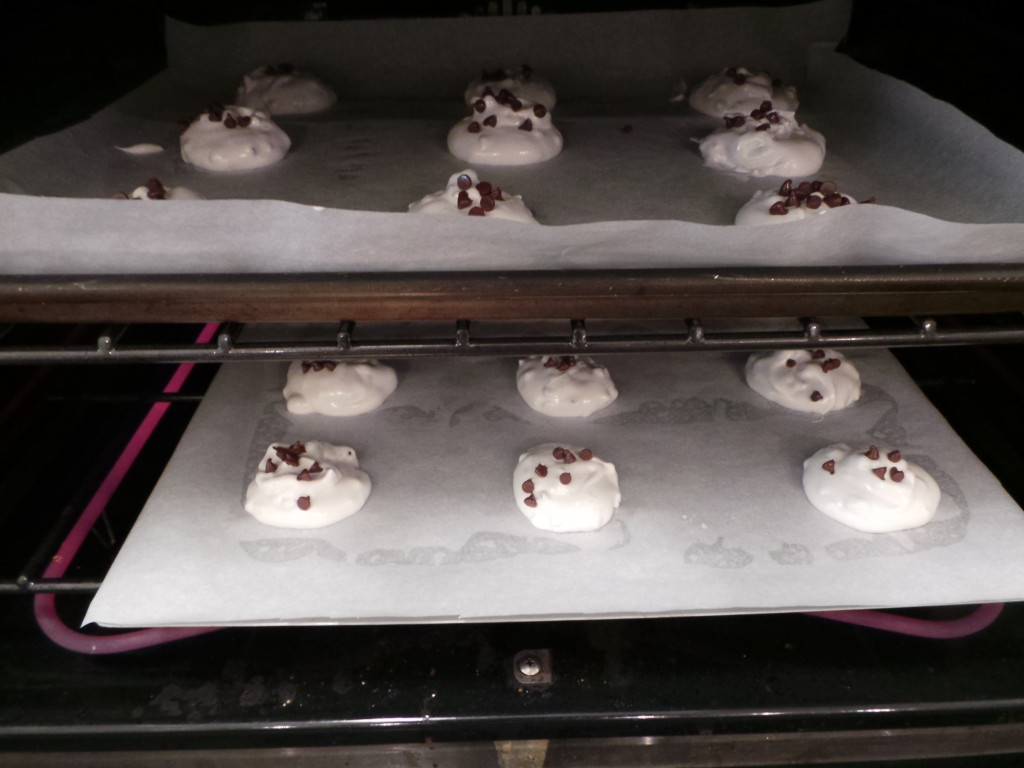 And, once you're done snacking on your first cookies, make sure to immediately store them in an airtight container so the cookies don't start to soften. The crunch and then crumble is part of its appeal.
If you want to be festive you can add a little food color to your batter.  We love them bright white with chocolate chips.
Hope you enjoy!
Chocolate Chip Meringue Cookies
adapted from GimmeSomeOven
Makes 12-18 cookies
Ingredients:
4 egg whites
¼ teaspoon salt
¼ teaspoon cream of tartar
1 tablespoon vanilla extract
1 ¼ cups granulated sugar
1 cup mini semi sweet chocolate chips
Instructions:
Preheat oven to 300 degrees. Line baking sheets with parchment paper.
 Beat egg whites, salt, cream of tartar and vanilla on medium until soft peaks form. Add sugar slowly and beat another 5 minutes until stiff peaks form.
 Gently fold in chocolate chips.
 Use ¼ batter for each cookie. Drop onto cookie sheet.
 Bake at 300 degrees for 30 minutes or until cookies are fully cooked and start to turn light brown.
 Turn oven off and let cookies sit in oven for at least another 30 minutes.
 Serve immediately or store in an airtight container.