My kids love fruit. Every morning for breakfast they're either eating strawberries, bananas, blueberries or sliced apples.  However, I realized one fruit conspicuous by its absence from their diet: pears.  We don't eat oranges regularly but we drink orange juice daily.  We never eat apricots but we love apricot jam on a toasted bagel and applesauce with apricots.  When watermelon is in season we eat it cubed or in an awesome watermelon, mint, feta salad.  When did pears become so elusive?  I think the last time my kids had pears was when they were eating pear mush as infants.
I was des"pear"ate to find an easy dessert that I could make.  The Rustic Pear Tart over at The Comfort of Cooking is my kind of recipe: minimal ingredients, minimal directions, delicious, tasty results in under 45 minutes!
Growing up with a mother who cooked meant growing up with a mother who got a thrill out of making homemade breads, crusts, rolls.  She would not deny herself any challenge in the kitchen.  I, however, peruse a recipe searching for degree of difficulty.  The easier the better.  The Rustic Pear recipe seemed so simple, I was almost skeptical.   It's essentially cutting up pears, mixing them with some spices, folding the pears into a crust, and then baking it.  And, the best part, you can just buy the pre-made pie crust.  My kids could make this recipe with their eyes closed.
Luckily, I had all the pear tart ingredients in my pantry or fridge except for the pears.  One quick trip to the local store and again, I was bombarded with information, this time about pears.  I had no idea that there are approximately 5,000 different varieties of pears in the US but, only around a dozen are available commercially.  In fact, I could only name three varieties when quizzed at the store.  The recipe indicates Bosc pears which are apparently available year-round.  Their sturdy dense flesh make them ideal for cooking, sauteeing, baking.  While in the food store, I learned the "pear ripeness test" pressing my thumb at the pear's stem to have it yield to my slight pressure.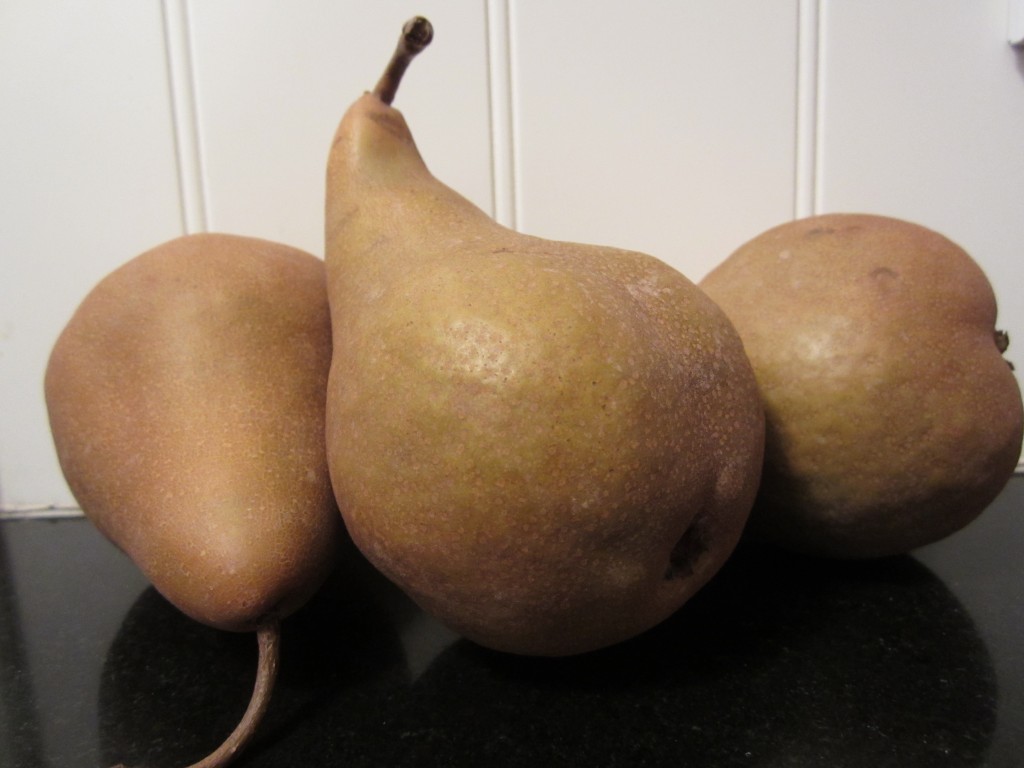 Ripe Bosc pears ready to be sliced for the tart
 I sliced the pears and the pie crust was unrolled and placed in the dish (remember, I cheated and brought a pre-made crust).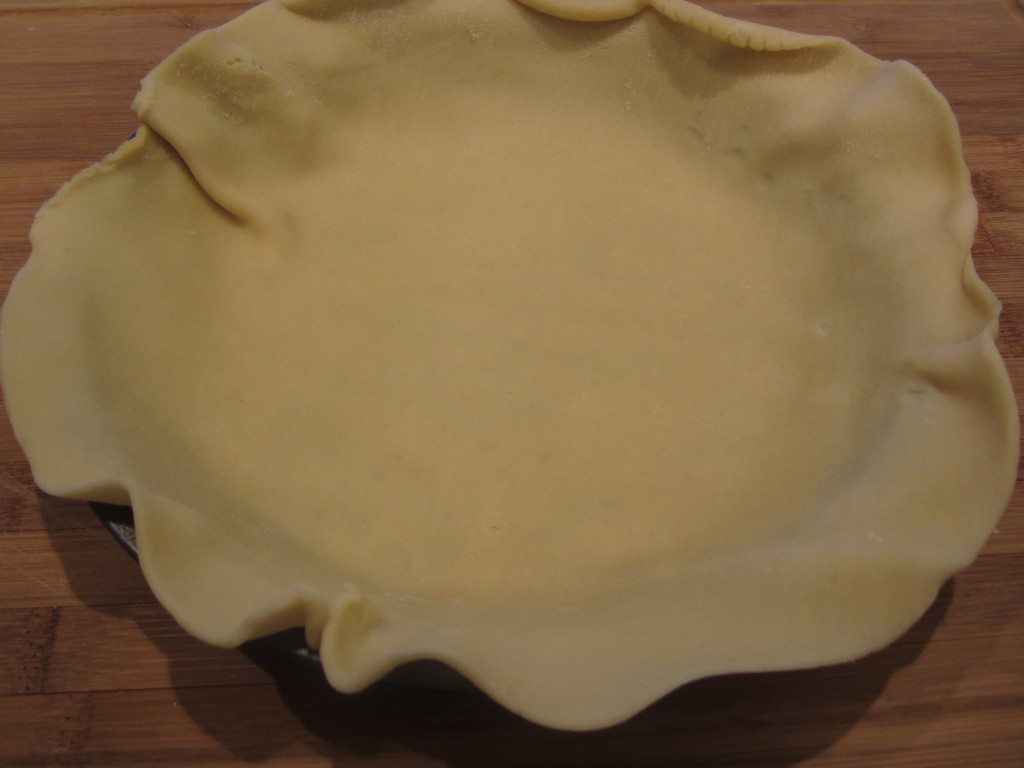 Pre-made pie crust awaiting the pear filling
I combined the spices and ginger, substituted the corn starch for potato starch left over from last Passover (that's all I had on hand and it's healthier and Gluten-free friendly too, right?).   Ten minutes of prep time and I conquered the once intimidating notion of making and baking a tart.
Pear tart drizzled with sugar, brushed with cream, ready for the oven
I know I sound like a broken record but there's nothing more inviting than the fragrant smells and heat emanating from a baking oven on a cold winter morning.  After only 25 minutes, the pie baked to perfection.  The pears softened, absorbed the ginger and cinnamon and the heavy cream baked into the crust.  Having to wait at least 10-15 minutes until the pie cooled seemed torturous.
Then, when it was ready, we generously added two dollops of vanilla bean ice cream and gave in to temptation.
It's beyond delicious.  Too easy to pass up.
Rustic Pear Tart (adapted from The Comfort of Cooking)
serves 4-6
Ingredients:
1 9-inch pie dough, store bought or homemade
3-4 Bartlett or Bosc pears, peeled and sliced 1/4-inch thick
2 teaspoons cornstarch (or tapioca pudding or potato starch)
1 tablespoon fresh lemon juice
1/2 teaspoon grated fresh ginger
2 teaspoons ground cinnamon
1/8 teaspoon allspice powder
1/8 teaspoon ground nutmeg
3 tablespoons plus 1 teaspoon granulated sugar
2 Tablespoons heavy cream
Instructions:
Heat oven to 400° F.
On a lightly floured surface, roll the pie dough into one 9-inch circle. Transfer to a parchment-lined baking sheet.
In a large bowl, toss the pears, cornstarch, lemon juice, ginger, cinnamon, and 3 tablespoons sugar.
Pour filling onto the pie crust, leaving a 2-inch border. Fold the edges of the crust over the fruit mixture.
Brush the heavy cream on the crust and sprinkle with the remaining teaspoon of sugar. Bake until the crust is golden brown and the fruit is tender, 25 to 30 minutes.
Notes:  I used potato starch instead of corn starch.  You can use any fruits for the fillers. Feel free to sprinkle any type of sweetener on top of the fruit after the baking has completed (sugar, honey, maple syrup, nutella).
Enjoy!