My husband grew up with a strange eating "disorder."  He only ate cheese for the first 12 years of his life.  No joke.  He'd go to McDonald's and order a "cheeseburger hold the meat." He'd eat grilled cheese for breakfast, lunch and dinner.  At a young age, he was offered $100 just to eat part of a Maryland crab cake and he flat out refused.  Lucky for him (and me) he outgrew his cheesy love affair before he went to college.   However, that didn't stop me from spotting cans of Cheez Wiz spray cheese in his dorm room closet.  He's come a looong way and I'm willing to take much of the credit for his expanded palate.  Fish and vegetables and grains have become his diet staples.
But, like a kid in a candy shop, his ears still perk any time cheese is on the menu. And, like food, his cheese repertoire has certainly matured over the years too.  While our refrigerator still houses his 64-pack Kraft American Cheese Singles, he is open to trying new cheese – natural, stinky, not stinky, goat, cow, soft, hard–you name it, he'll try it. So this summer, we're all about feta.  On any given day, there are three different feta containers in our fridge.  We love it because it's light and flavorful and compliments a variety of our favorite foods, from summer fruits to grilled shrimp and everything in between.
So, for Friday-Food-Frenzy, we're going to have fun with feta.  These recipes are way too easy to pass up. Print them.  Try them.  Tell us what you think.  Enjoy summer.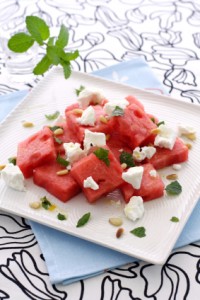 Watermelon Mint Feta and Balsamic Vinegar Salad
Ingredients:
Instructions:
In bowl, place watermelon cubes (without seeds).
Sprinkle in mint and feta cheese.
Keep in refrigerator 30 minutes before serving.
Drizzle balsamic vinegar over top prior to eating.  (for best taste, use Olescea's Dark Chocolate Balsamic Vinegar).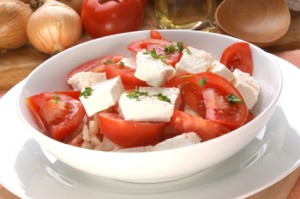 Tomato and Feta Salad
Ingredients:
2 1/2 tablespoons balsamic vinegar
1 1/2 teaspoons fresh basil (minced or finely chopped)
1/2 teaspoon kosher salt
1/2 cup coarsely chopped vidalio onion
1 pound grape or cherry tomatoes, halved
2 tablespoons extra virgin olive oil
1/4 cup crumbled feta cheese
Instructions:
Combine all the ingredients above in a bowl.  Chill 30 minutes before serving.
Enjoy!
Any feta faves you'd like to share with us?