Disclaimer – I was compensated for writing this post by Prego®. However, all opinions expressed within are, as always, my own.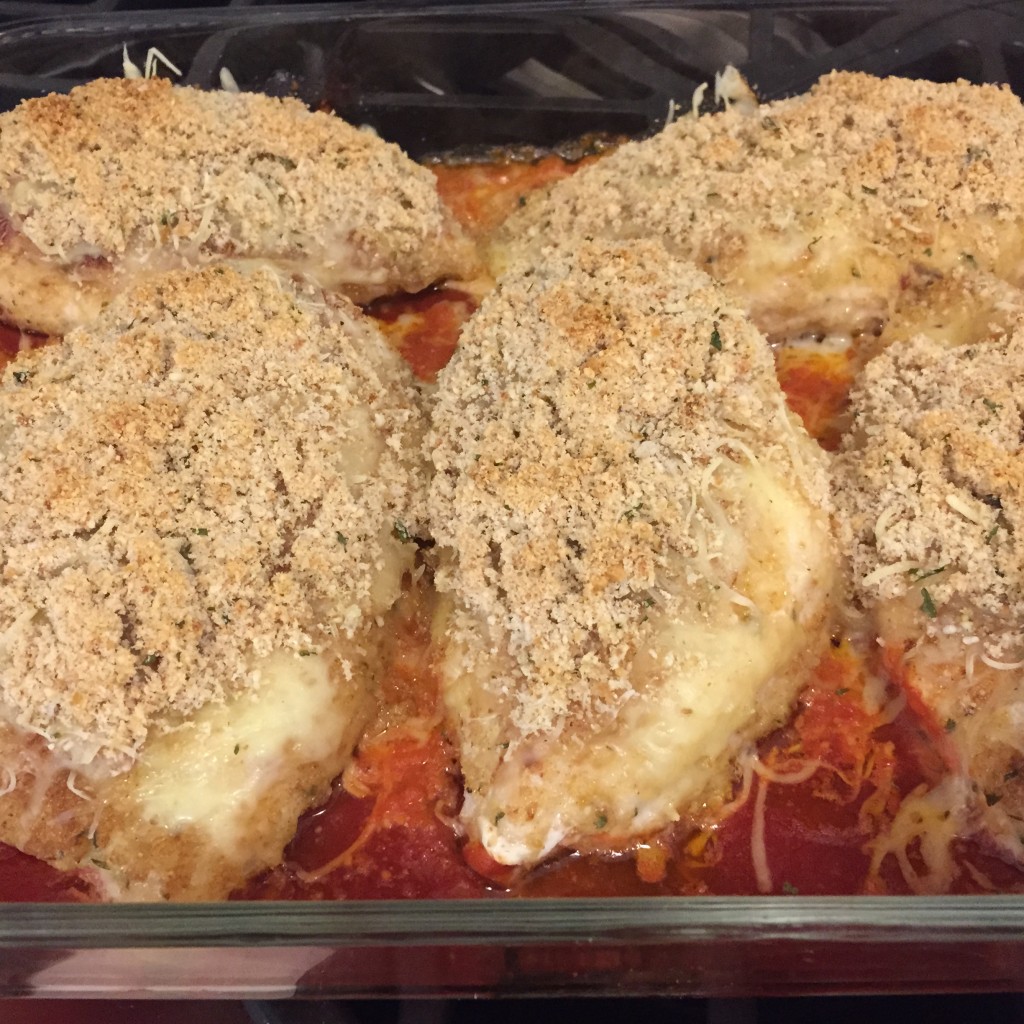 Back-to-school means back-to-craziness.
Getting into a routine is always a family goal but, with my children going in different directions after the school day dismisses, often the idea of a home-cooked dinner can be the first to fall by the wayside.
I've been committed to having one set dinnertime for everyone, regardless of which sports are being played where or who has more homework to get started. Also, I'm determined not to be a short-order cook. Translated, this means one meal for everyone- like it or leave it.
So, I'm apt to cook dishes that are universally appealing. While I do yearn for my children to have very adventurous palates, I'm also determined to get them fed and nourished after a long day.
Our family-favorite dish, one in which everyone will undoubtedly ask for seconds but also, one that requires little prep and cook time, is Chicken Parmesan.
For a long time, Chicken Parmesan seemed totally out of my league as a burgeoning cook. Perhaps I was fraught with images of the critically acclaimed Chicken Parm dishes served at many of the local New York City restaurants– just a stone's throw from our apartment. It wasn't until I was totally in a bind one day that I surveyed what I had on hand in my fridge and realized that in fact, I could attempt bake Chicken Parm in my own kitchen, without a hefty price tag.
If you're not a vegetarian, chances are you should have all of the simple main ingredients for this dish in your stocked fridge and pantry- chicken breasts/chicken cutlets, tomato sauce, mozzarella cheese, Parmesan cheese, eggs, breadcrumbs and Prego® Traditional Italian Sauces.
tomato sauce to coat pan and chicken breasts
 grated Parmesan and Italian breadcrumbs
bottom of baking pan generously coated with tomato sauce
ready for the chicken breast
The breaded, fried chicken smothered with zesty tomato sauce and oozing hot cheese is the perfect combination for a hearty meal.
pre-baked cutlets
And, feel free to make substitutions to the recipe. You don't have to use breaded chicken if you're trying to save even more prep time or trying to cut out some carbs.
Bottom line, this dish is the perfect comfort food and it's impossible to mess up.
It's ideal for an enjoyable mealtime around the table. And, guess what? It's just as good for leftovers too.
Enjoy.
Chicken Parmesan
serves 4-6
Ingredients:
4-6 chicken breast cutlets
2 eggs
1 cup breadcrumbs (I like to use Italian breadcrumbs for some extra flavoring)
1 cup freshly grated Parmesan cheese
1/4 cup olive oil
1  23 ounce jar Prego tomato sauce
1  6 ounce bag shredded mozzarella cheese (you can used sliced mozzarella if you prefer)
Instructions:
Preheat oven to 400°F.  Pound or roll the chicken breasts to an even thickness.
In a shallow bowl (large enough to dredge the cutlets), mix together the breadcrumbs and 1/2 cup of the Parmesan. In separate shallow bowl, whisk together the eggs.
Heat 1/4 cup of olive oil in a large sauté pan on medium-high heat until the oil is shimmering (if you drop a piece bread into it, it will sizzle). Dip the chicken cutlet into the egg mixture and then into the breadcrumbs. Place the dredged cutlets into the pan (work in batches so as not to overcrowd your pan). Lower the heat to medium and gently fry the chicken cutlets until they are golden brown on each side, about 3 to 4 minutes per side.
Spread enough Prego tomato sauce to thickly coat the bottom of 9×13 casserole pan or baking dish. Arrange the browned cutlets them on top of the tomato sauce in the baking dish. Spoon more tomato sauce over each of the cutlets. Generously sprinkle the shredded Mozzarella over each cutlet and then sprinkle with the remaining 1/2 cup of Parmesan cheese.
Bake in the oven at 400°F for 10-12 minutes, or until the mozzarella begins to brown.
Enjoy.