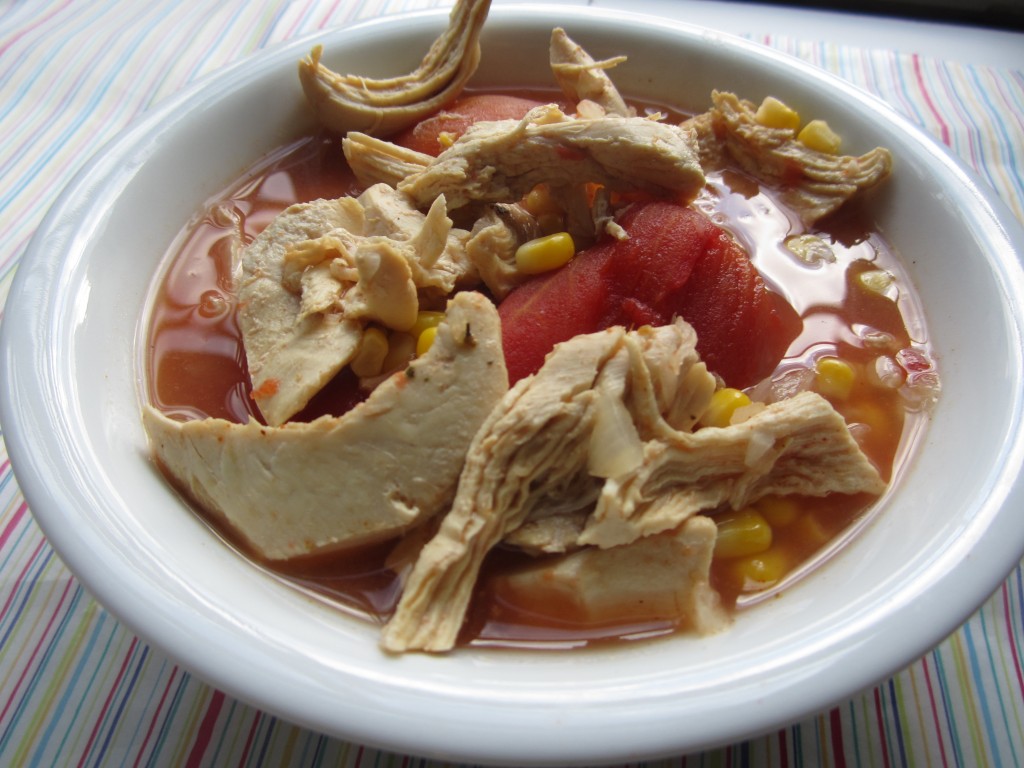 It's been so mild out, who's thought about soup?  Today is literally the first day I've worn a hat and gloves and a winter coat to combat the freezing cold temperatures.  Making Chicken Tortilla soup in my slow cooker seemed like the perfect indoor remedy.  I haven't used the slow cooker since my last whirl with French Onion Soup and I was looking forward to the smelling the soupy aromas all day long.  In my book, any dish containing chicken broth means comfort and warmth and lots of flavor.
I found a soup recipe from Mom's chaotic collection but, again, it was missing some key ingredients and I was skeptical to try the recipe without cross-checking it with another one.  It seems Mom often cooked with dark meat chicken, usually thighs.  Although dark meat is juicier and more flavorful, my family only eats chicken breasts.  The Chicken Tortilla soup recipe I used calls for shredded chicken.  Luckily I've become an expert at Mom's Chicken Salad with Mango Chutney so I've learned that boiling chicken is the best method to produce the perfect shreds.  With boiled chicken you can literally tear pieces off.
As with many slow cooker recipes, once the chicken is shredded, all you need to do is dump all of the other ingredients together into the porcelain crock pot and let it work its magic.  This particular soup combines so many great flavors and spices to create a nice southwestern kick:  cilantro, garlic, cumin, parsley, chilli powder, bay leaves, green chilli peppers.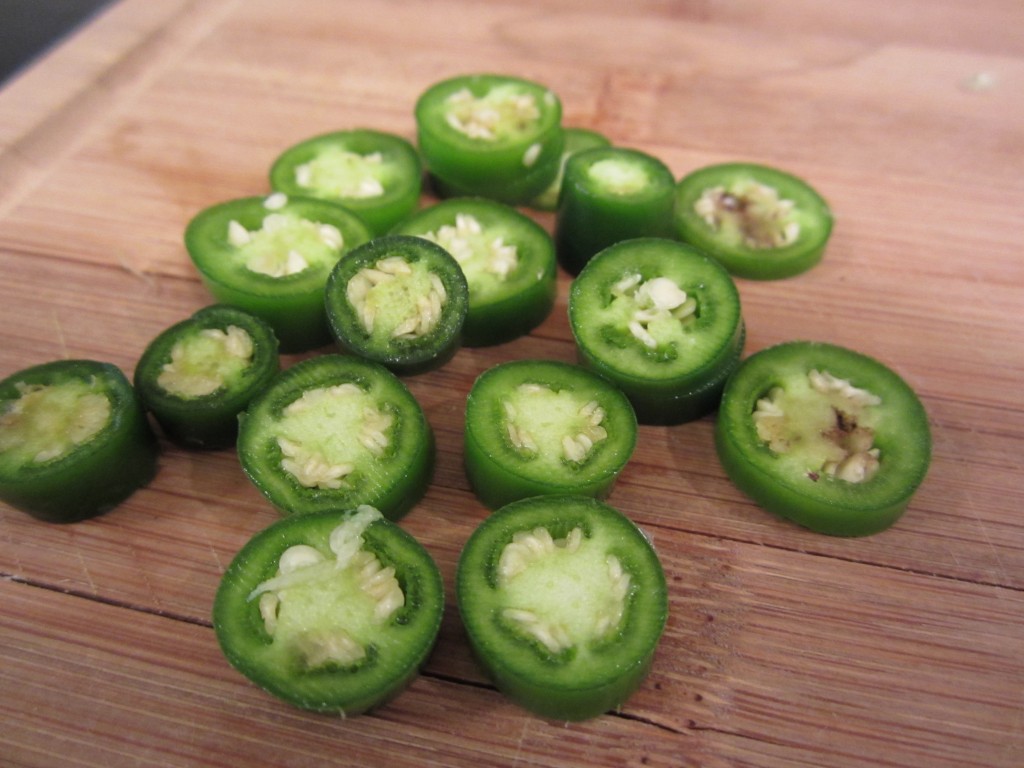 Green Chilli Peppers ready for the crock pot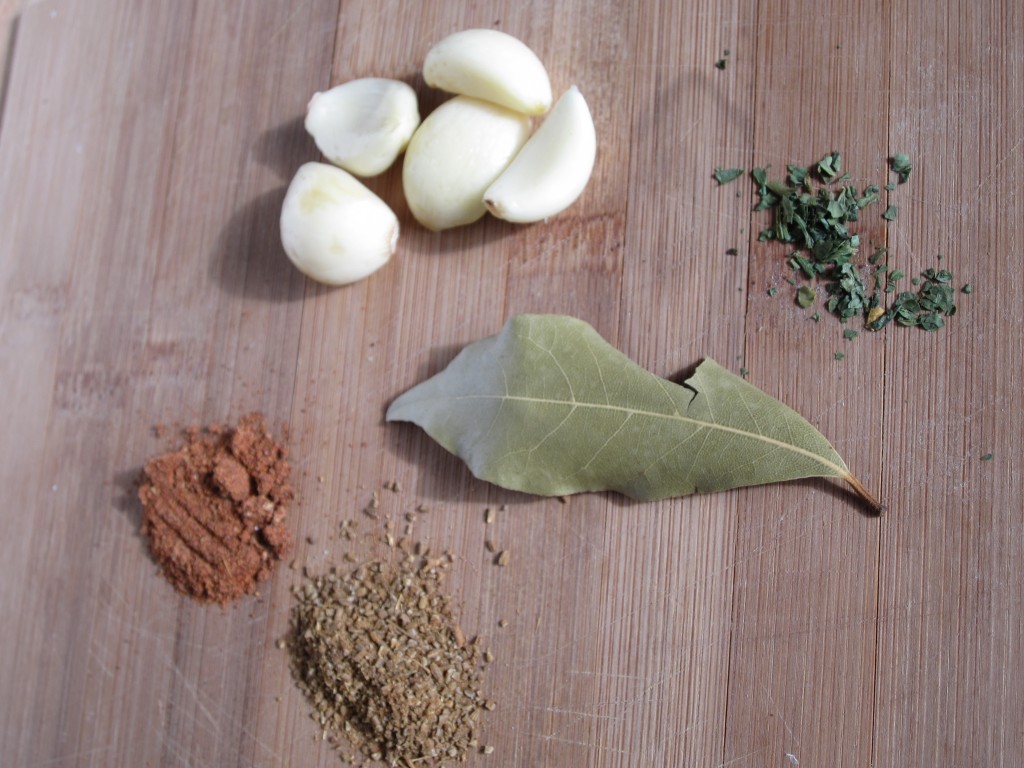 The spice and flavor palette for the soup base
Whole tomatoes in the crock pot awaiting spices
I even followed the directions and made my own corn tortilla strips for the top of the soup!  Who knew it's as easy as cutting the corn tortillas in strips and then baking them with some sea salt and oil for ten minutes?
corn tortilla strips baking in the oven
After 4 hours of cooking on high, the soup was ready to be sampled amongst my ornery panel of judges: my 9 and 6 year old children.  They seemed a bit skeptical when all they saw on the table were bowls on top of the place mats.
"We're only having soup for dinner?" my daughter asked, mildly whining.
"Well, it's got a ton of chicken, it's really filing," I defensively barked back.
I anticipated their resistance to this meal, so I had purchased a big piece of pretzel bread that I warmed in the oven and placed on the table before they could whine some more.  The plan worked, they first used the bread as a crutch to sponge up the broth.  Then, when they were comfortable enough with the broth, they experimented with the chicken chunks and abandoned the bread all together!  I should've added the suggested cheese and avocado garnish but, I forgot.
While I didn't get two full thumbs up, I was told I got an A for effort since I made the tortilla sticks from scratch.
Whatever it takes….
Keep warm and enjoy.
Chicken Tortilla Soup
Ingredients:
1 pound shredded, cooked chicken
1 (15 ounce) can whole peeled tomatoes, mashed
1 medium sweet onion, chopped
2 chopped green chile peppers
2 cloves garlic, minced
2 cups water
1 (14.5 ounce) can chicken broth
1 teaspoon cumin
1 teaspoon chili powder
1 teaspoon salt
1/4 teaspoon black pepper
1 bay leaf
1 (10 ounce) package frozen corn
1 tablespoon chopped cilantro
7 corn tortillas
vegetable oil
Instructions:
Place chicken, tomatoes, onion, green chiles, and garlic into a slow cooker. Pour in water and chicken broth, and season with cumin, chili powder, salt, pepper, and bay leaf. Stir in corn and cilantro. Cover, and cook on Low setting for 6 to 8 hours or on High setting for 3 to 4 hours.
Preheat oven to 400 degrees F (200 degrees C).
Lightly brush both sides of tortillas with oil. Cut tortillas into strips, then spread on a baking sheet.
Bake in preheated oven until crisp, about 10 to 15 minutes. To serve, sprinkle tortilla strips over soup.