I have spent the past eight months trying to undo what I characterized as bad meal-related habits.  I now plan out my meals for the week, I only have one big shopping excursion to the food market before the start of the week and, I've not once opened a pre-packaged meal as a last minute fix for my kids.   I made a commitment to prepare every meal fresh for my kids.
I believed any purchased boxed dish requiring microwave preheating before serving was an unhealthy shortcut to meal prep. And, my track record with prepared frozen meals was not favorable either.  Straight from the box they look like frozen relics from prehistoric times! And, I could never figure out how to effectively heat up a dish evenly.  Parts would still be almost frozen while others were over done and bubbling.  The meals always seemed to shrink in size after I was done "nuking" them.  The whole experience was totally unappealing.
However,  I was just introduced to a new product that has proven everything wrong.
This week I was invited to attend a private tasting of Stouffer's extension to their ever popular Farmer's Harvest Line: Stouffer's Farmer's Harvest Steam Meals for One.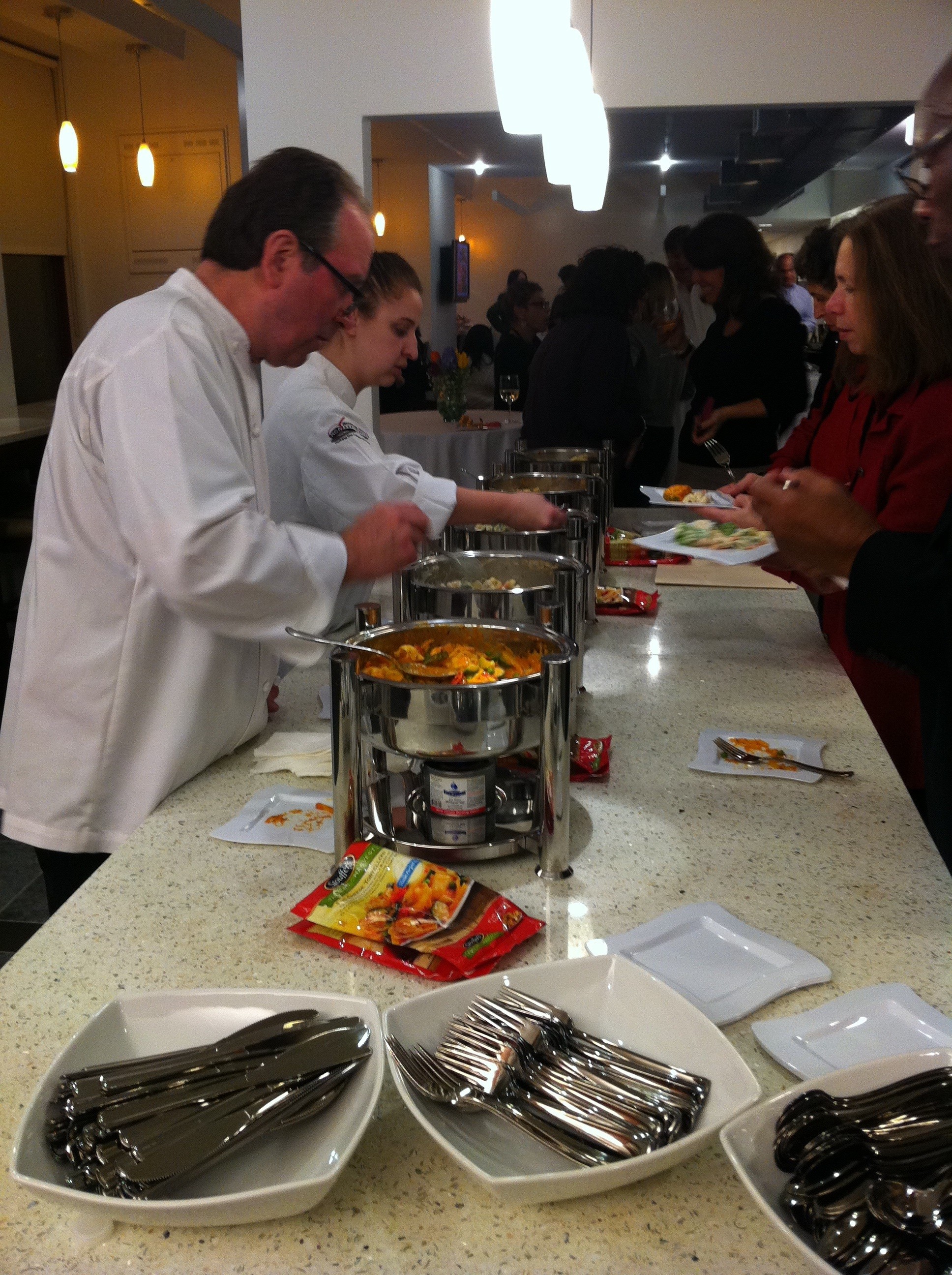 Sampling the new Stouffer's Harvest Steam Meals!
That's right, you heard correctly, it's the amazing taste of Farmer's Harvest but this time, there's a steam perfect bag to help seal in the indulgent sauce flavors and keep the meats fresh and tender.
I admit, I was beyond skeptical walking in to this event.  Given my past experiences, the idea of eating meats and vegetables straight from a bag that came out of the microwave seemed so unappealing. It was going to be a hard sell to get me to believe that somehow the meals' flavor wasn't sacrificed too.  But, after eating just two out of the five new dishes, I was amazed. They tasted as if they came freshly picked and fresh from the oven, except they just came picked fresh from a bag in the microwave!
What makes this product far superior than others is its innovative steam technology that locks in the great taste of the high-quality ingredients:  crunchy vegetables, al dente pastas and fresh, premium meats.  And, each bag contains one individual serving so it's beyond easy to prepare and transfer from microwave to plate in mere minutes!
I feasted on all 5 new varieties:  Chicken Florentine, Creamy Shrimp Scampi, Five Cheese Tortellini, Garlic Chicken, and Cheesy Southwestern-Style Chicken.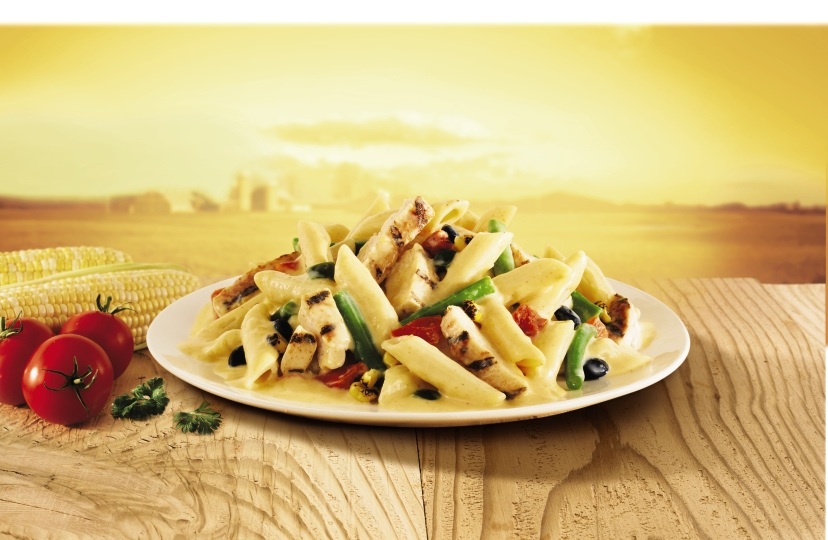 Cheesy Southwestern Style Chicken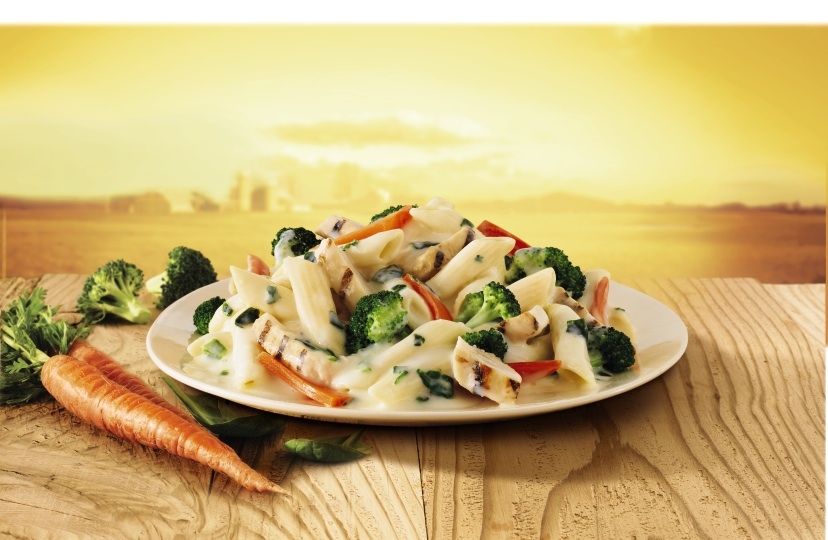 Chicken Florentine
    Garlic Chicken
 One was better than the next (although my personal fave is the Chicken Florentine with its grilled white meat chicken, penne pasta, spinach, carrots and broccoli AND the creamy parmesan sauce–oh my).  The meals only retail for $3.89  a bag and will be available nationwide beginning March 2012.
So, does it sound like I'm a hypocrite?  I swore off boxed dinners yesterday and today I've rekindled a new love affair?
I would be a hypocrite if I were serving any of the many calorie-laden frozen boxed meals containing little redeeming nutritional value.  But, knowing that I'm using farm-picked vegetables and premium quality meats that are being steamed to peak perfection, I feel very satisfied.
We all know sometimes our days become unpredictable. Although we have high hopes of preparing and serving fresh dinners for our family, sometimes that's just physically impossible.  These meals are perfect for those nights when you're in a rush to get a healthy meal served on the table in 5 minutes flat.
And, the best part about Stouffer's Farmers' Harvest Steam Meals?
They're good enough to be served even when you're not in a dinnertime bind!
What are you waiting for?
Disclosure:  I was not compensated for writing my post.  I was, however, treated to nice heaping portions of the five new steam meals-for-one.  As always, opinions expressed in the post are my own!