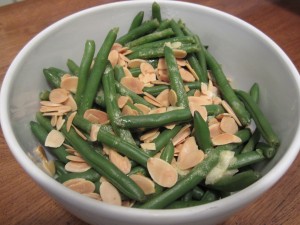 My family is on Spring Break right now.  We decided to head out west on vacation and explore the desert as well as the natural wonders of the Grand Canyon.- which I must say is truly breathtaking.  The word Grand does not do this scenery justice. While the nature hikes and the horseback rides and the desert exploration have all been invigorating, the food has been underwhelming. Forget about the vegetable selection.  If you count dry iceberg lettuce slathered with ranch dressing or coleslaw swimming in oil as vegetables, then you'll be right at home.
Even my children were tired of eating steak fries with their meals. And forget about the potato salad- drowned with mayonnaise.  Completely unsolicited, my little guy said he wanted some of  Mom's Green Beans with Shallot Dressing.  Besides being thrilled that he was pining away for greens, I knew exactly what he craved: freshly-cooked veggies that crunch to the bite.  A light, tasty sauce to compliment the greens and not drown them to the point of mistaken identity.
I have to admit (biased or not) Mom's Green Beans with Shallot Dressing recipe is quite simple and tasty.  I know, nothing about the name sounds terribly exciting, but I promise, the sauce's tang really transforms the green bean dish. Even my kids, both of whom had never ever liked green beans and swore them off the minute they tasted the limp replicas in their school cafeteria, gave it at least a thumbs up. And, it can be your year-round go to side dish: using steamed beans and warm sauce in the winter or cold raw green beans and a chilled sauce for the summer.
The best part? With a stocked pantry, you're not going to have to run to the market (save for the shallots).  You can make this recipe in real time, no menu planning required.
And, feel free to add in any other enhancements—we loved sprinkling some baked almond slivers on top for some added crunch.
Enjoy.
Green Beans with Shallot Sauce:
Ingredients:
 2 packages green beans (haricot verts)
3 tablespoons olive oil
2 teaspoons Dijon mustard
2 teaspoons white wine
1 shallot minced
Instructions:
Steam green beans for your desired amount of time (you can choose to eat them raw too).
Combine remaining ingredients in bowl.
Pour mixture over top greens just prior to serving.
Mix green with sauce.
Shallot sauce is as good served hot as it is served cold – you decide.