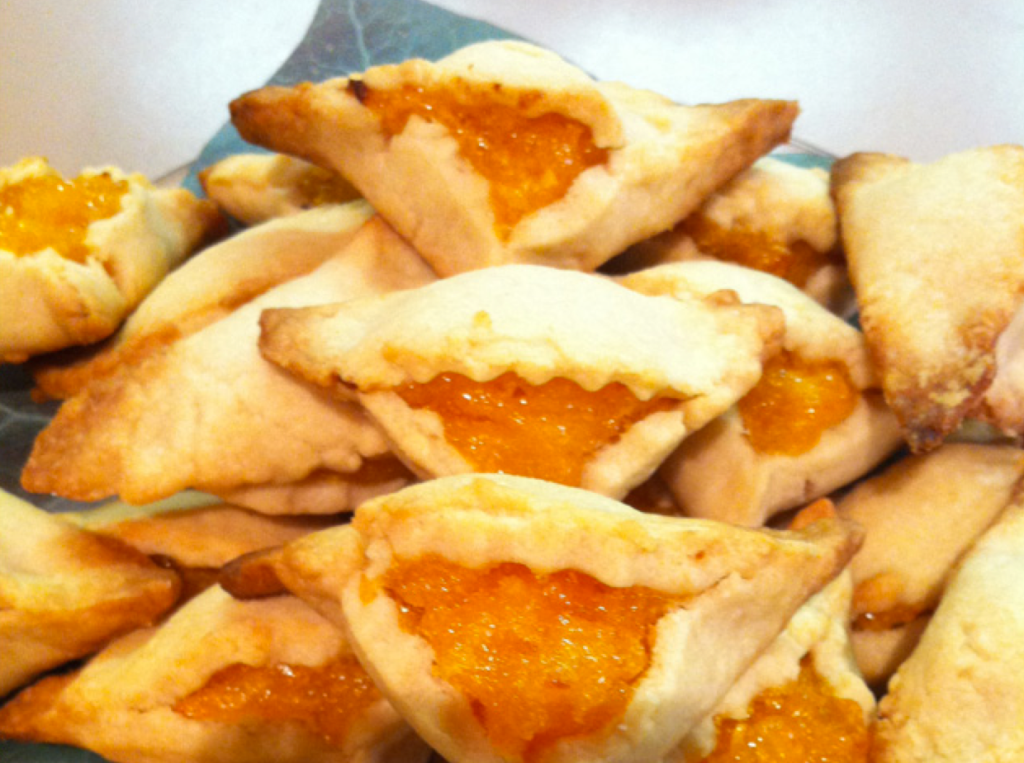 The Jewish holiday of Purim begins on Wednesday.  One of my fondest memories as a child was delighting in the vast array of Hamantaschen cookies: a filled-pocket cookie or pastry recognizable for its triangular shape.
My mother used to make her version with prune and poppy seed and, while I sadly could not find the recipe in her archives, I'm so thrilled to be able to share an original recipe from our resident Kosher food expert, celebrated cookbook author, and creator of the Kosher Cookbook app for iPhone- Gloria Kobrin.
I do hope you'll give Gloria's recipe a try as it's delicious.
And, remember, you don't have to be Jewish to enjoy these delicacies at any time of the year (not just on Purim).
Here's what Gloria has to say:
We only make Hamantaschen once a year. These delicious triangle shaped cookies-made so to resemble Haman's hat-can take on a myriad of fillngs. They can be iced and sprinkled; and they can  be turned into savoury hors d'ouevres.  There is no end to the number of innovative and creative ways Hamantaschen can be treated. I love looking at all of them. Kudos to all the creativity out there. That being said, my family, and group of Purim guests who have been coming to me for over 15 years, look forward to being served the traditional Hamantaschen fillings of prune, poppyseed (mohn) and apricot. I use the same recipe I used when I used to ship Hamantaschen to some of our young Moms when they were still in college. Now they come back to me for Purim with their children. Same old, same old-but they make us happy.
Hamantaschen
Prep time: 15 minutes to make dough
45-60 minutes to shape and fill dough circles
Yields: 36 cookies
Ingredients for cookie:

3 cups

flour

plus extra for rolling dough

1/2 cup

sugar

1/4 teaspoon

salt

1/2 teaspoon

baking powder

1/2 pound

Non-dairy Margarine

1 large

egg

1 teaspoon

Vanilla Extract

2 teaspoons

water
Ingredients for filling:
1 pound

dried apricots

1 pound

dried pitted prunes

1/2 cup

sugar

1 teaspoon

almond/vanilla extract

1 medium

orange

zest and juice

1/4 cup

orange juice
Instructions for Apricot/Prune filling:
Apricot Filling: Soak apricots in warm water for 15 minutes. Drain. Puree them in processor with sugar and either almond or vanilla extract. Scrape into a bowl.
Prune Filling: Soak prunes in warm water for 15 minutes. Drain. Puree prunes in processor with orange juice and zest.
Instructions for cookie:
Combine dry ingredients in bowl of processor. Pulse processor three or four times. Cut margarine into tablespoons and add to flour mixture. Pulse several times until the mixture resembles small crumbs.
Beat egg with vanilla and water. Turn on processor and pour liquid through feeding tube. Dough will form in less than a minute. Add one tablespoon more water if mixture seems to dry. Scrape dough onto a sheet of waxed paper. Wrap well and chill several hours or up to two weeks.
To form Hamantaschen: Remove dough from fridge and let it come to room temperature. Preheat oven to: 375 F.
Sprinkle flour on a flat surface. Divide dough in thirds. Take one portion and roll it out until it is about 1/8th inch thick. Cut into circles with cookie cutter. Place about one teaspoon desired filling towards the top of the circle. Fold over the top and two sides to form a triangle. Pinch corners together and place carefully on cookie sheet. Repeat process until all the dough has been used. Combine scraps and roll again to make more hamantaschen.
Before baking, seal corners with a pinch of water. Bake 10-12 minutes or until Hamantaschen are lightly browned. Cool completely before eating or freezing.