Chef Marco cooks with confidence….and Tupperware
Last week Tupperware and renowned chef Marco Canora hosted a private Tupperware product and cooking demonstration in the newly-renovated Tasting Table Test Kitchen in Soho. I not only got a sneak peak at the latest sleek line of Tupperware products but, had the rare opportunity to get up-close-and-personal to watch Chef Marco recreate some of his celebrated soulful dishes.
The event, very appropriately titled, Cooking with Confidence, echoed so many of the approaches and attitudes that I have just begun to embrace in my kitchen.  Primarily, that cooking food at home every day doesn't have to be laden with stress. And, that fancy equipment and utensils aren't what's required to cook great meals.  It's about having the right essential tools and the courage to experiment that eventually allows us to gain cooking confidence and to feel comfortable and excel in our own kitchens!
As I walked into the chic room, I couldn't believe my eyes.  Gorgeous, yet practical, Tupperware items were displayed on the tables.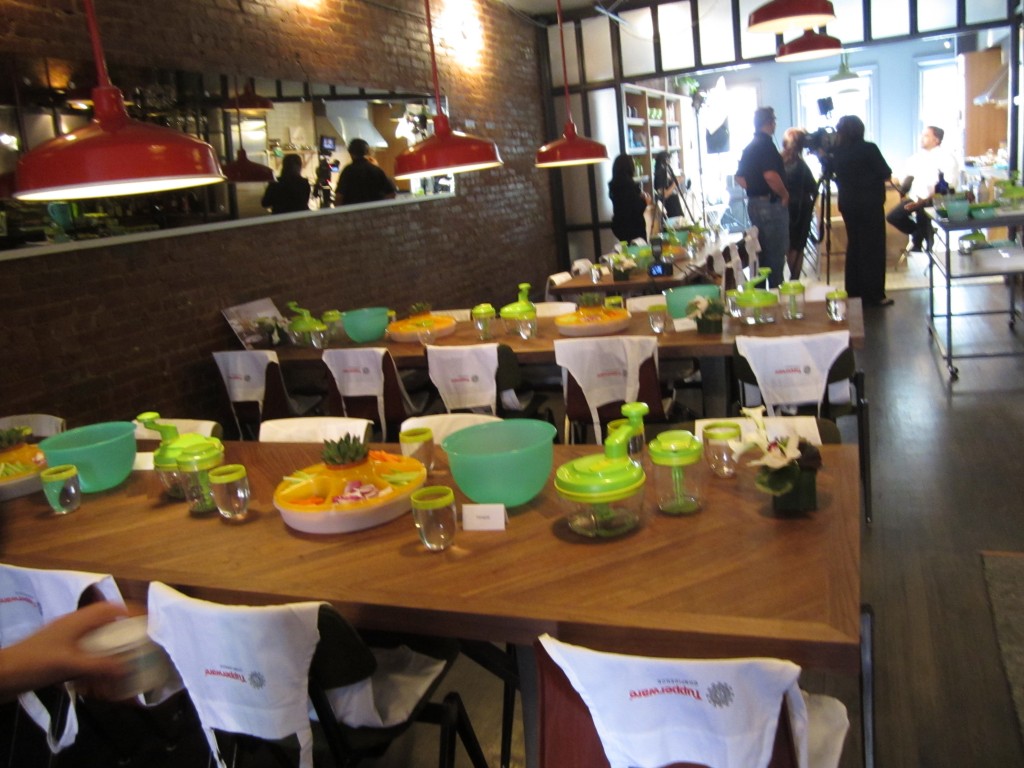 The Tupperware-adorned Tasting Table Test Kitchen Soho, NYC
Glasses and pitchers with sleek vibrant colors lined the shelves alongside a new line of easy-to-use cooking products; complete departure from those tried and true milky white storage containers synonymous with the old-school Tupperware brand!  Even this past weekend, when I was home for the holidays, my mom's kitchen cabinets are still bursting with myriad Tupperware storage relics from the 1970's and 80's – it's as if they've been frozen in time since the house was full of young kids and home-cooked meals (30 years ago.)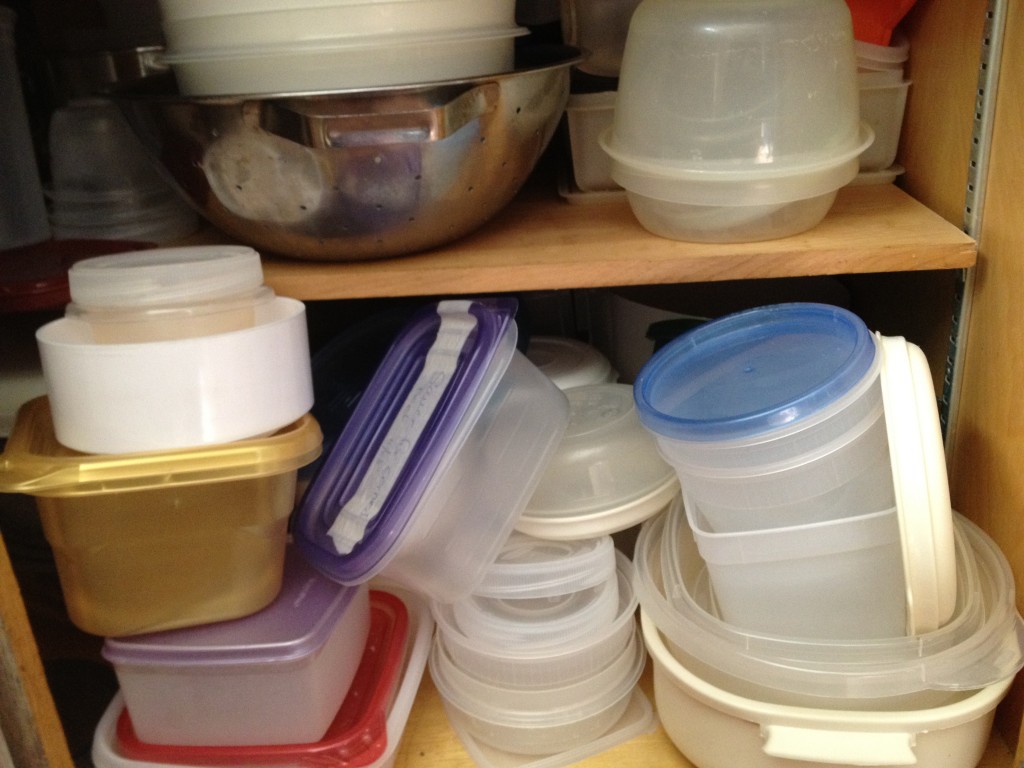 Mom's cabinets still loaded with Tupperware from yesteryear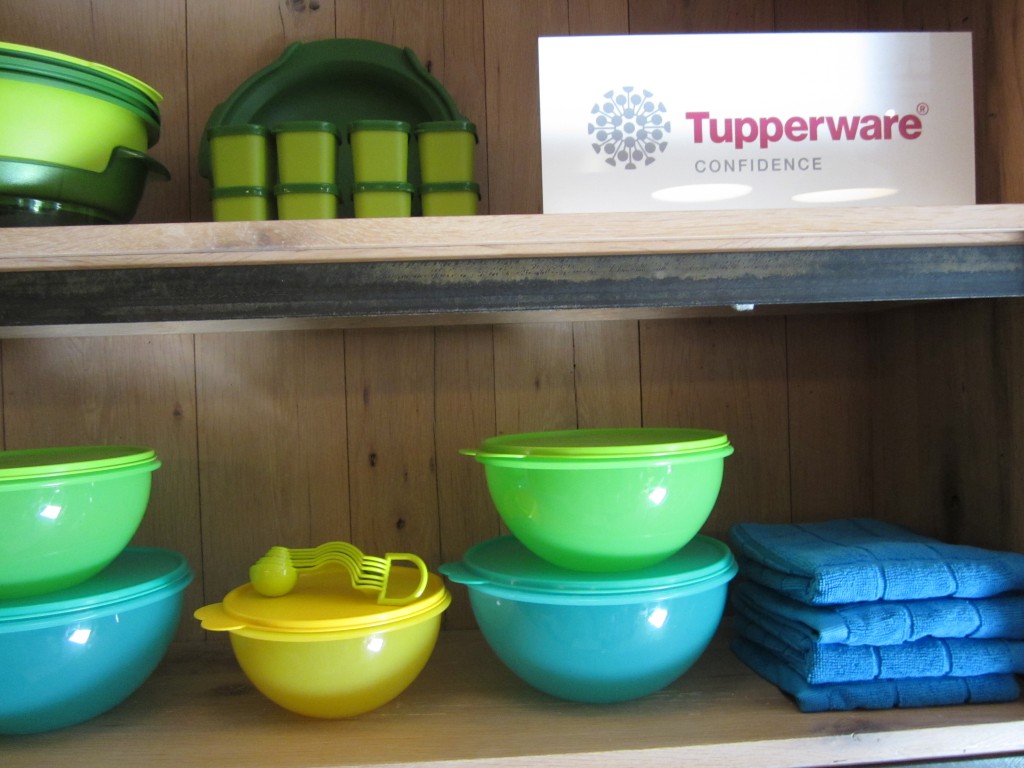 Modern day, vibrant Tupperware products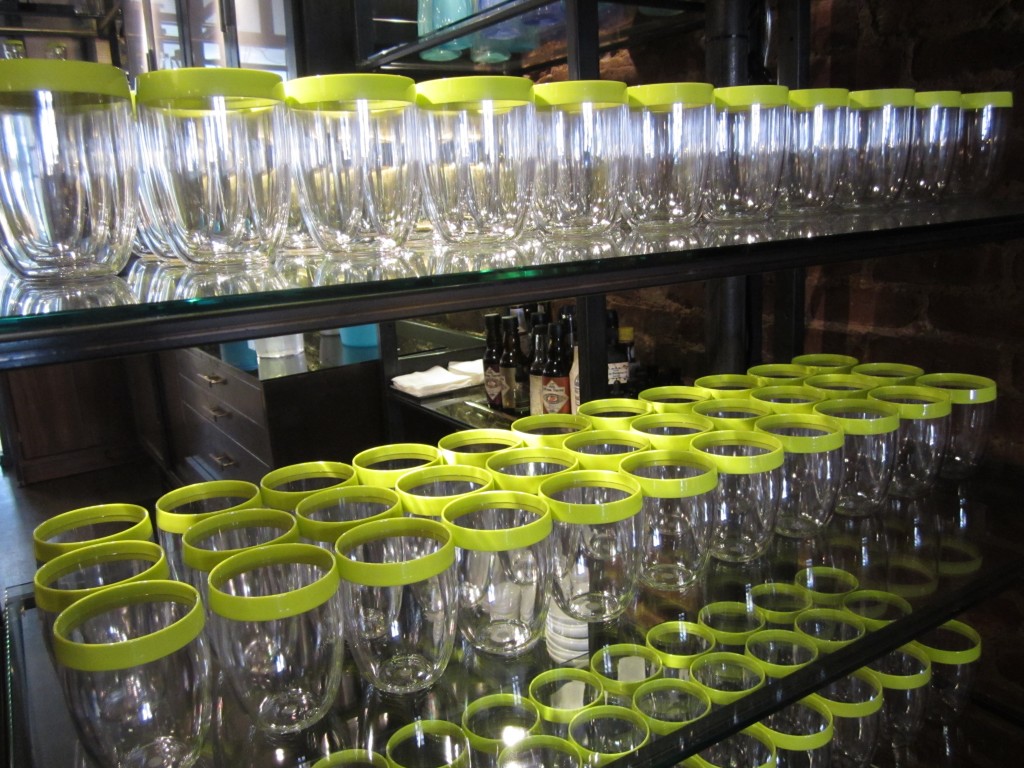 Chef Marco admitted he was a little skittish doing a "Tupperware Party."  He was worried the products weren't going to work, like a lot of those "gimics" we see on late night tv.  But, after putting the new Tupperware line of pots and knives and appliances to the test, he not only uses them in his own kitchen, but also in his restaurants.  And, these products are practical.  They're small enough to store in any cupboard, drawer, or pantry of any New York City apartment.
With Chef Marco as our guide, we got the opportunity to experiment with the products too. The easy pull chord of the Tupperware Chop n 'Prep Chef made it fun to do some seriously quick chopping to make Gremolata (which I now know is a chopped herb condiment typically made of lemon zest, garlic, and parsley).
Chop n Prep
The Quick Chef  helped us mince the veggies so small without pureeing them.  With all of my past kitchen blender blunders, it was refreshing to use an appliance where I felt totally in control.  The veggies didn't turn to mush or get watery.
In the test kitchen we watched the chef skillfully work with rabbit using the new Tupperware Boning Knife.  Besides being very thin, it's the extra 2" on the blade Chef Marco believes "makes all the difference in the world."  The knife is more pliable and bendable when working with tough meats.
He placed the beautifully sculpted rabbit pieces in the new Tupperware pots which are very large and provide a nice amount of surface area to contain all the heat.  Chef Marco believes many people stuff lots of food into small pans which significantly offsets the cooking balance.  I had no idea that foods need to have ample room to extract their liquids quickly in order to achieve the desired flavor.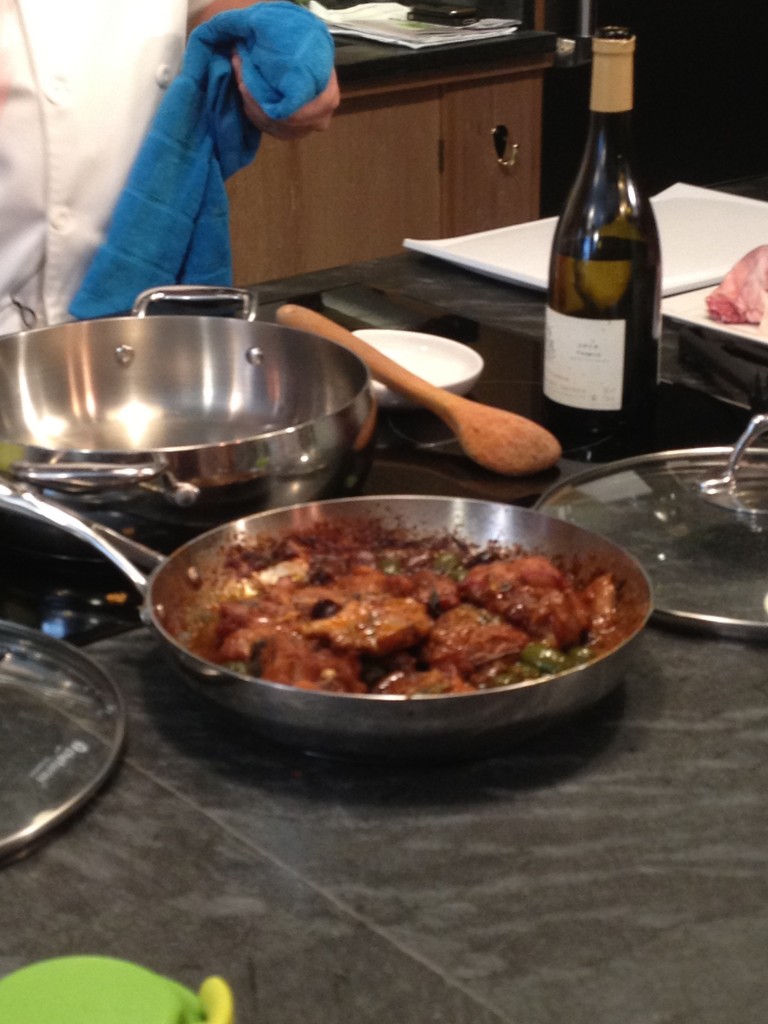 Rabbit stewing in the large Tupperware pot
We sampled amazing pieces of sautéed chicken cooked to peak perfection on the Tupperware Griddle Pan.  As the chef says, "griddle pans aren't just for pancakes anymore."  There's no risk of burning yourself with this pan since the handles stay cool over the stove and they're positioned very high.   In addition, the wide surface area of the pan makes it ideal for sautéeing.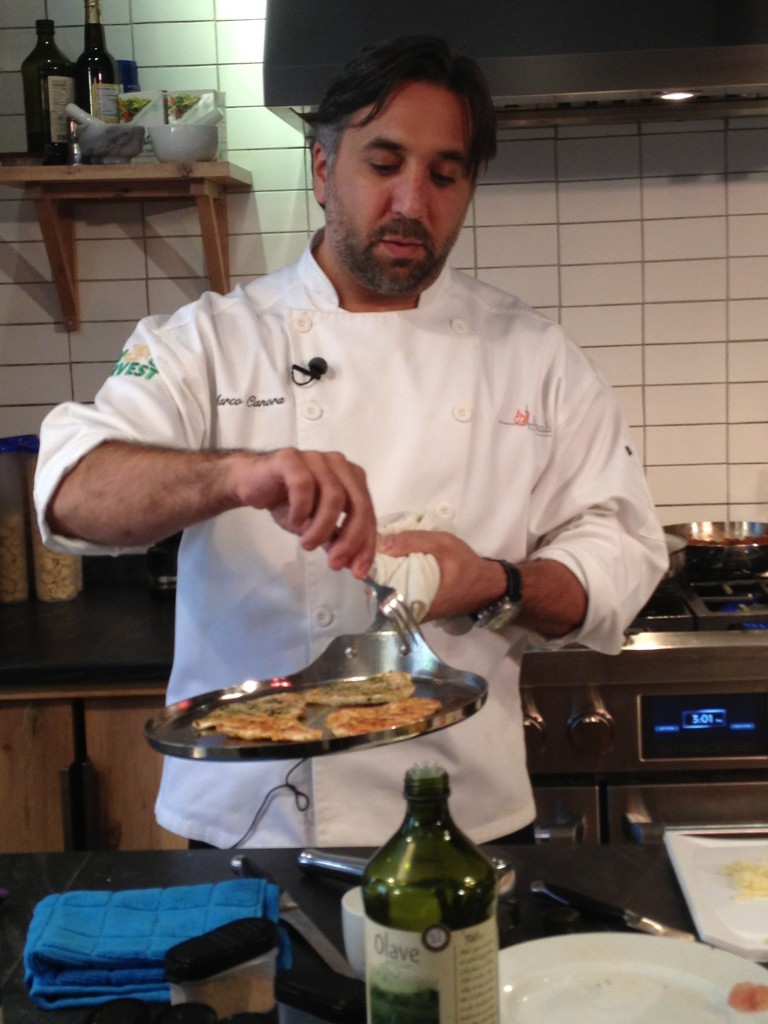 Chef Canora using the Tupperware Griddle Pan to cook chicken
However, we had the most fun using the Tupperware Whip n Prep.  We were challenged to make fresh whipped cream for the awesome arrangement of freshly-sliced fruit before us.  We effortlessly spun the handle around the top and two whisks moved in unison, easily converting the cream to the most perfectly, frothy whipped cream in a record time, without electricity.  I could just imagine my kids fighting over who could use the Whip n Prep first.  It wasn't a chore, it was actually fun.  While whipping we began rattling off all the other possible uses for the Whip n Prep (which are endless):  pancake batter, egg whites, homemade mayonnaise, sauces, emulsified vinaigrette (to name a few).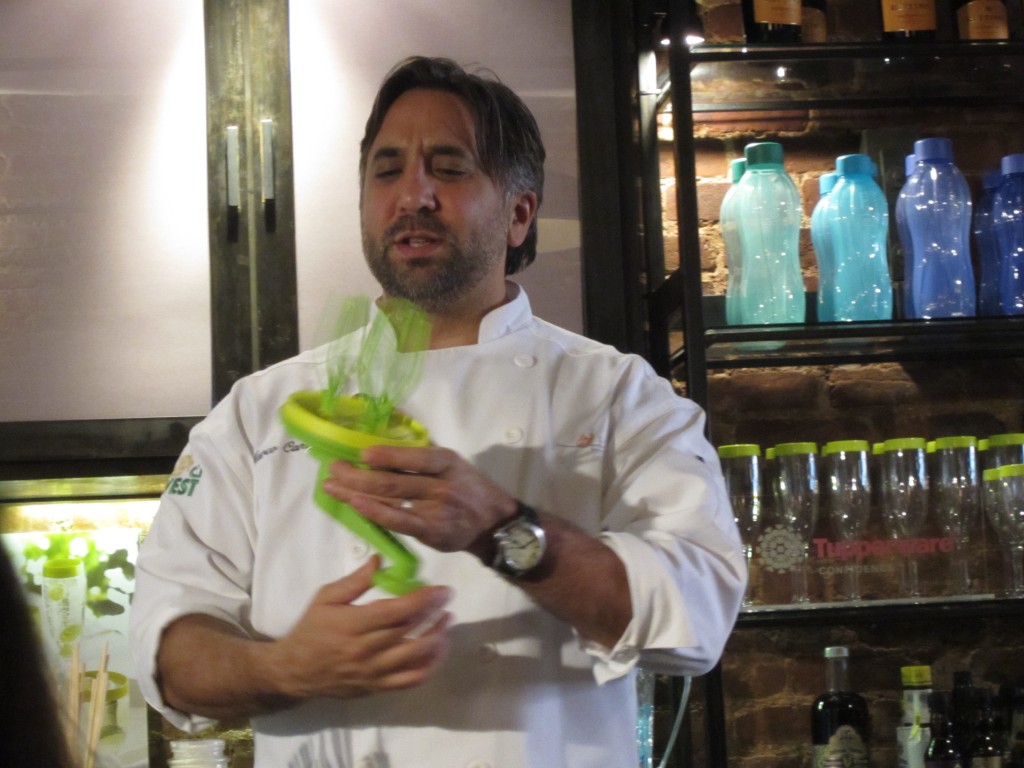 Chef Marco Canora demonstrating the Tupperware Whip n Prep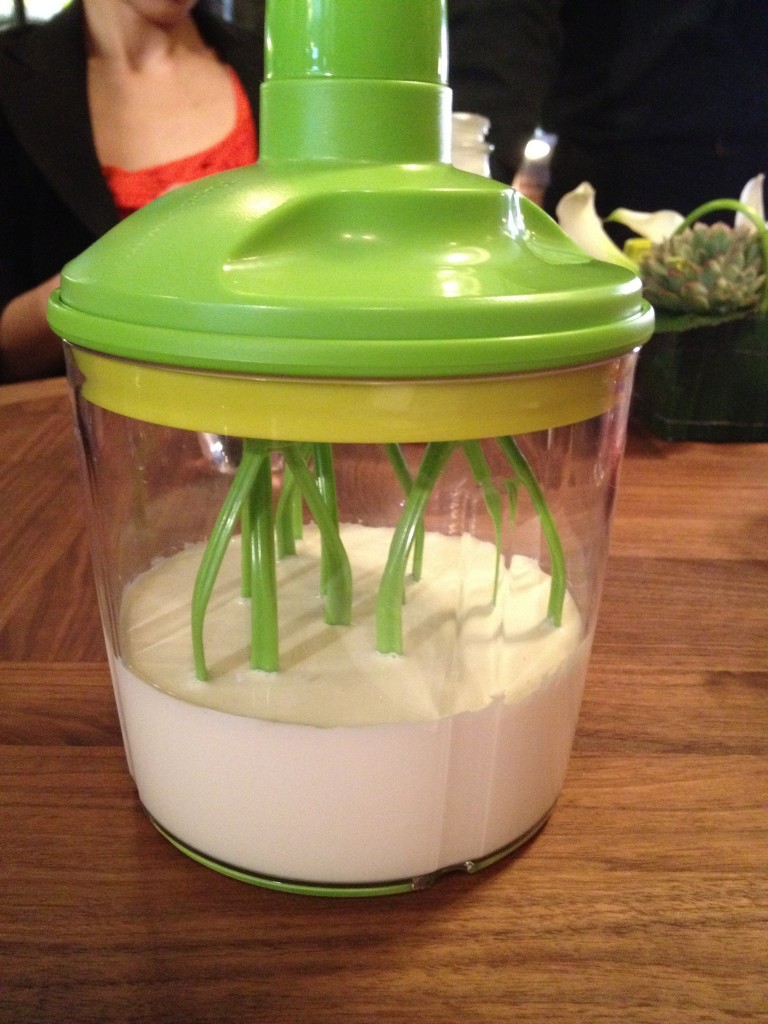 My turn to make whipped cream with the Tupperware Whip n Prep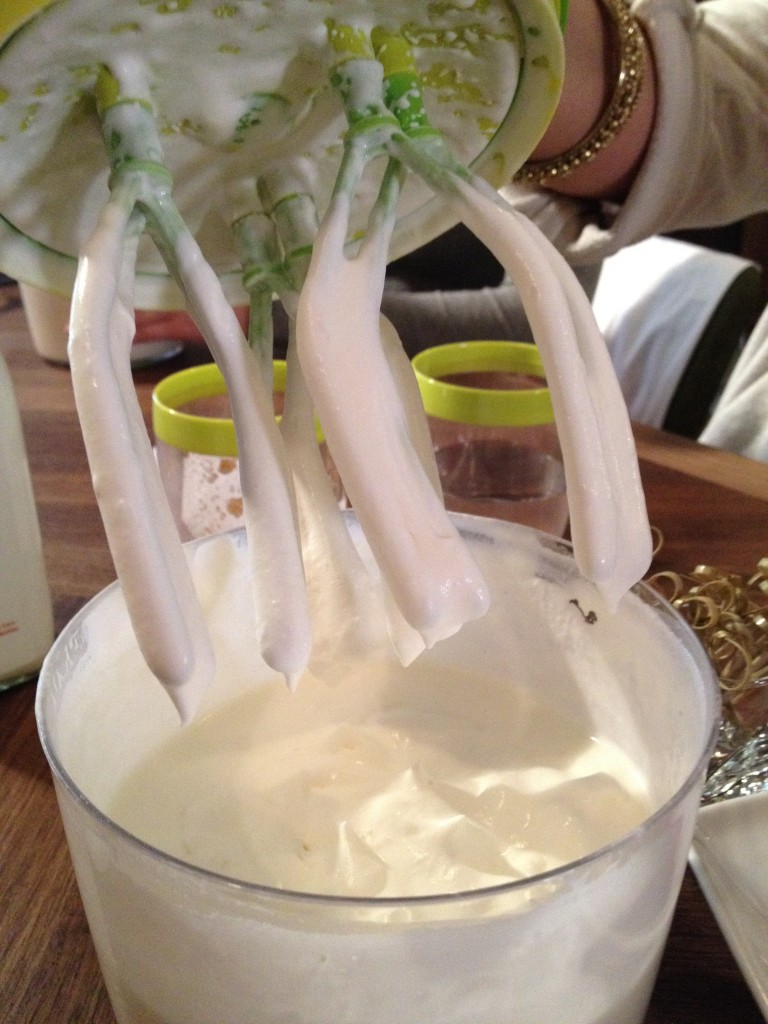 I made fresh whipped cream in 2 minutes!
The afternoon was so inspiring on many fronts.  From the valuable culinary insights and afternoon of cooking confidence delivered directly from Chef Marco Canora, to the earth-friendly, fun, and easy-to-use Tupperware products, everyone seemed energized to roll up their sleeves and get cooking.
In fact, later at home, my kids used the Chop 'N Prep to cut up apples and pears, proclaiming it's "way better than Spin Art."
Now, that's cooking with confidence….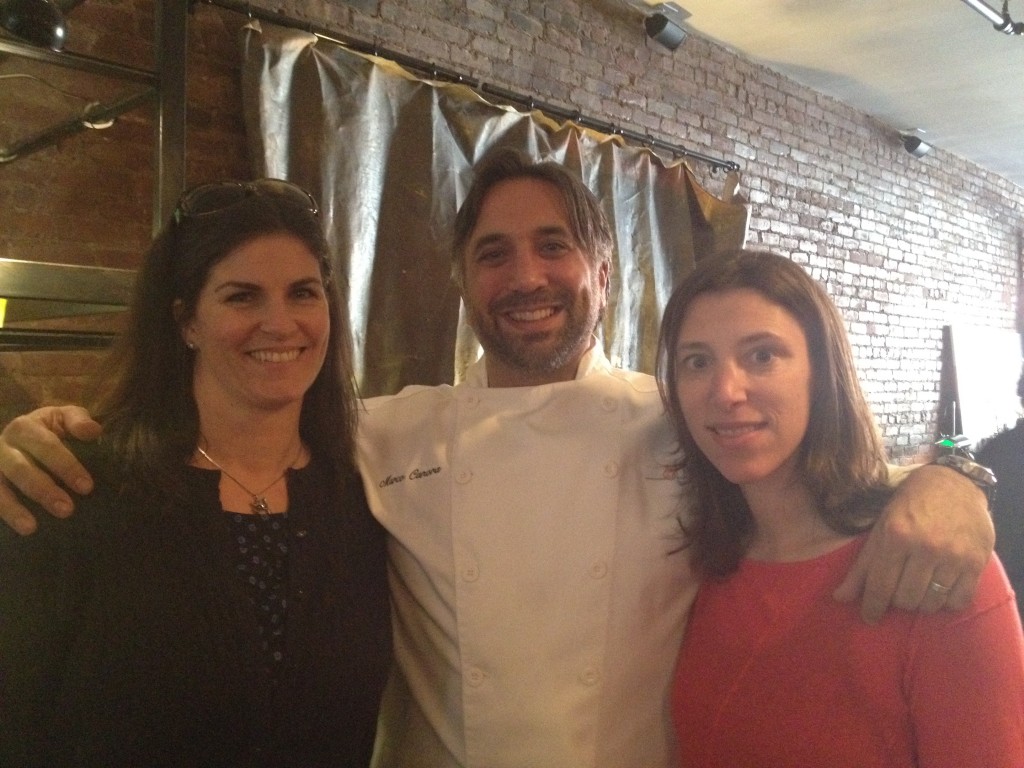 Cristie Ritz Kind, Chef Marco Canora and ME (MyJudytheFoodie)
Disclaimer:  I received no compensation for attending this event on behalf of Beccarama.com and MyJudythefoodie.com.  I was able to try the new Tupperware products and enjoy Chef Marco's amazing food. I did (happily) receive a bag full of Tupperware products as well as a copy of Chef Marco Canora's book, "Salt to Taste."  The opinions expressed in this post (as always) are my own.