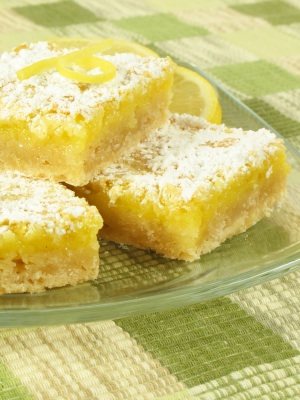 If you're craving a summertime dessert that's light, sweet and tangy, Mom's Lemon Squares recipe will satisfy your desire.
Headed to a picnic and don't know what to bring? Lemon squares will compliment any lunchtime spread.  Not to mention, their bright yellow center with powdered sugar topping makes you want to celebrate the sunny summer days!
These treats are so easy to whip up.  Trust me, you don't need any culinary skills, nor do you need to waste a lot of time in the kitchen.
Just mix the flour, powder sugar and butter and bake and then mix the eggs, lemons, sugar and flour, and bake.  That's it.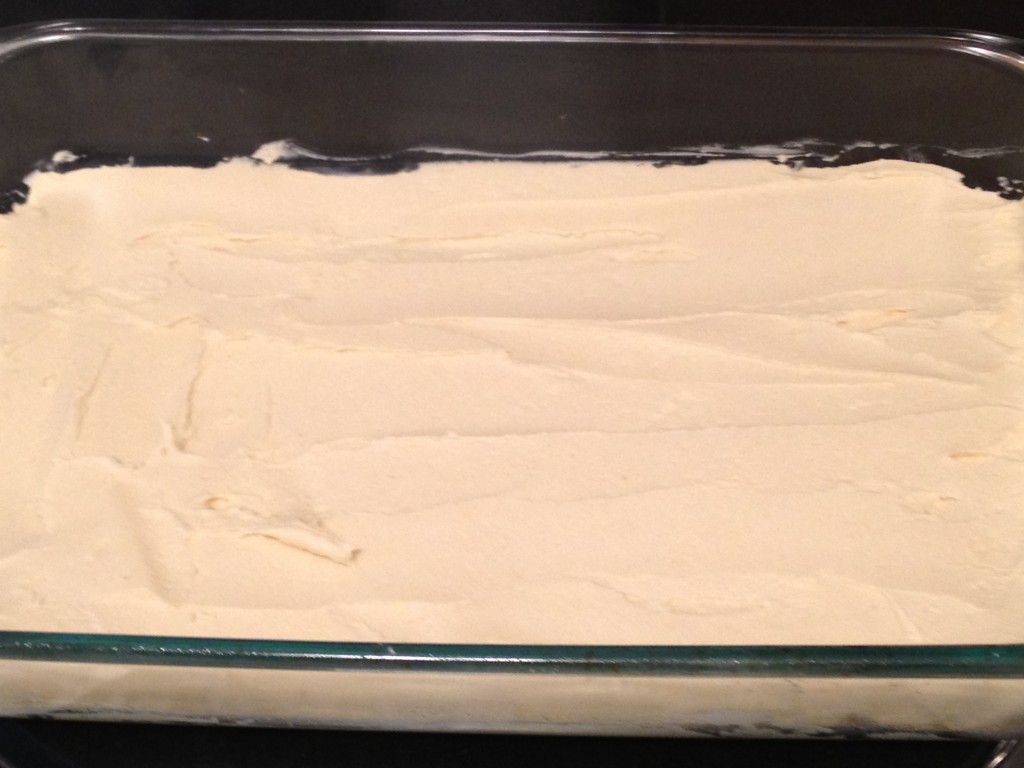 Lemon Square cookie crust, awaiting lemony topping
In less than one hour, you'll create deliciously tasty lemon squares containing a sweet and crumbly cookie crust with a soft goey lemony center.
Sprinkle some powdered sugar on top and you're ready to beat the heat and eat.
For some extra sour zing, squeeze lots of fresh lemon juice into your batter.  Don't hold back.
Want more zing?  Use more lemons.
But, be careful.  You can't just eat one…or two…
After this photo was taken, I ate all the lemon squares!
Lemon Squares
Ingredients:
1 cup butter
1/2 cup powdered sugar
2 cups sifted flour
4 tablespoons flour
4 eggs
2 cups sugar
1/2 teaspoon salt
1 teaspoon baking powder
6 tablespoons lemon juice
Instructions:
Preheat oven to 350 degrees F (175 degrees C). Grease a 9×13 inch pan.
In a medium bowl, stir together 2 cups flour and confectioners' sugar. Blend in the melted butter. Press into the bottom of the prepared pan.
Bake in oven 20-25 minutes or until light brown.
 In a large bowl, beat eggs. Combine the sugar, salt, baking powder and 1/4 cup of flour so there will be no flour lumps.
 Stir the sugar mixture into the eggs. Then, stir in the lemon juice. Pour over the prepared crust and return to the oven.
Bake for an additional 35 minutes or until bars are set.
Allow to cool completely before sprinkling with confectioner's sugar and cutting into bars.