It only took me 7 years to realize that our grill had been completely underutilized.
Sure we'd cook the generic hamburgers, hot dogs and steaks, and maybe some veggies, but that was about it.   This summer, I broadened our grilling aperture and started experimenting.
Have you ever thought to grill fruits?  At first it seemed a little absurd to me.  Fruits weren't meant to be grilled.  But then, what did that mean?  Little did I know I had already begun testing recipes with interesting food twists.
I grilled  kale leaves and it was amazing.
I made Apricot Rice Pudding pops and they were beyond refreshing and tasty.
Heck, I even made a casserole containing brewed coffee.
So, who says you can't grill fruit? It might not seem natural, but, after having just eaten an entire plate full of grilled banana, I now have my new favorite dessert recipe!
I always have a bunch of bananas sitting on our counter top waiting to be used for: smoothies, snacks, cereal, banana bread.  So, I decided to try to grill them.  After all, it is summertime and I'm trying to avoid turning the oven on.  And, why not throw in some peaches too? They were also ripening next to the bananas.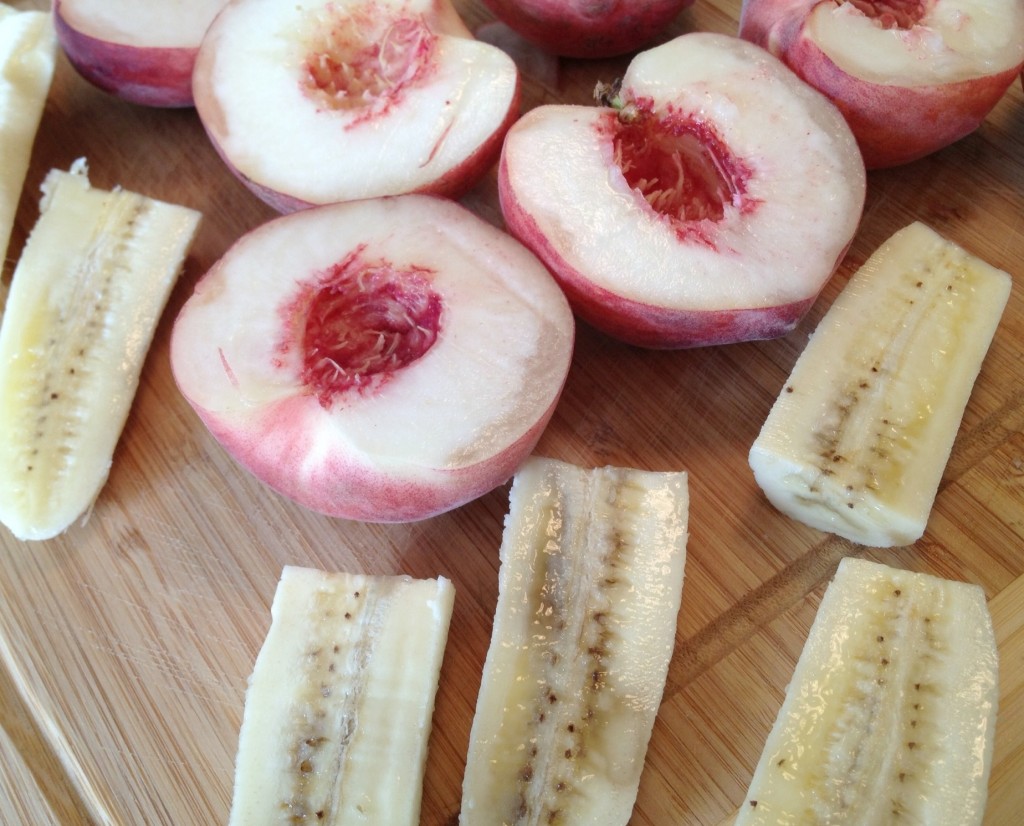 The coating for the fruits is super simple.  I made a glaze with honey and lime juice and a stick of butter.  I soaked the peaches in the mixture and then used the extra marinade to brush onto the bananas.   I also added some light brown sugar over top the bananas to enhance the sweetness.
Note: when the fruits are ready to be grilled, make sure you don't have the temperature up too high.  My first time around, I completely smoked the banana pieces and had to start all over again.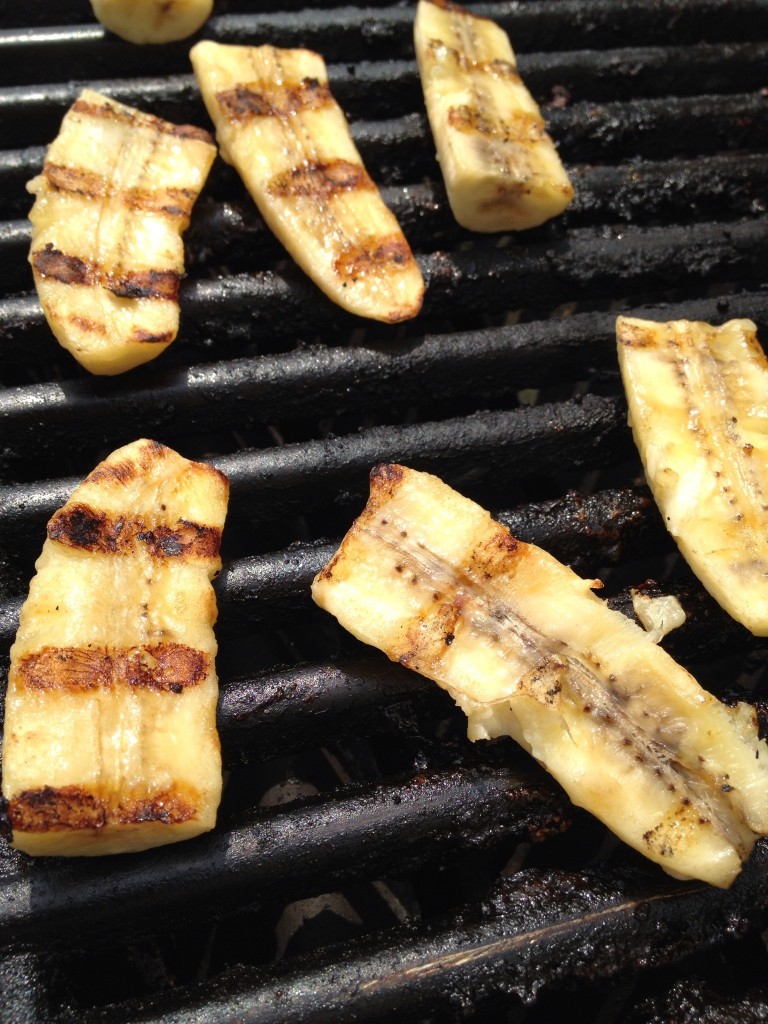 Bananas on the grill (2nd time around)

And, make sure you use the right grill equipment too. I assumed a set of tongs would help me flip the bananas over.  But, I forgot that heated bananas become mushy, and the tongs just  make more mush.  It would have been much easier to scoop the banana slices with a grill spatula.  Same goes for the peaches.  As they start to heat up, the outside skin will peel down  and expose the soft fruity flesh.  Be gentle when flipping them over. (Notice I'm not showing you my grilled peaches picture.  They didn't look as pretty but tasted great).
Within 15 minutes I had a plate full of grilled-honeyed bananas and peaches.
And, they were delicious- -warm and soft and delicately sweet and fruity in flavor.
These dishes are the perfect compliment to a summer cookout meal (and would taste amazing over top some ice cream, a pie, you name it).
But, make sure you cook these fruits just before serving.  You don't want them to cool down nor do you want the bananas to turn brown when they're exposed to air.
My family has really benefited from my subtle risk- taking in the kitchen.  Not only are we discovering new tastes but, each new recipe gives us confidence to try more!
NEXT UP-PINEAPPLE!  Who's ready?
Grilled Bananas and Peaches
adapted from Grilled Fruit Recipes
Ingredients:
Honey Glaze:
8 tbsp unsalted butter, melted
1/4 cup honey
3 tbsp lime juice
Fruit:
Instructions:
Stir together all of the honey glaze ingredients until smooth.
 For grilled bananas: Peel the bananas, and slice in half crosswise and then lengthwise.  Using a pastry brush, coat the banana pieces with the glaze. Grill over direct medium heat for 6-8 min., turning gently, until light brown.
 For grilled peaches: halve the fruit and remove the pits. Toss the fruit gently in a bowl with the honey glaze. Grill, cut side down, over direct medium heat for 10-12 minutes, turning after 7 or 8 min.
Serve immediately (topped with ice cream, whipped cream, etc.)