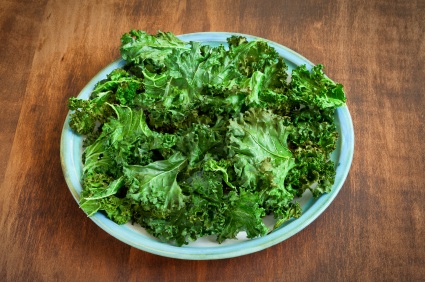 If you peruse any list of food trends from 2011, kale usually tops them all.  Once a cute plate garnish, now it's a superfood and all the rage.
Why?
Well probably because it is one of the healthiest vegetables around, containing more nutritional value for fewer calories than almost any other food.  It's also been linked to have anti-inflammatory health benefits, cancer prevention benefits and plays a lead role in detoxification, among others.
And, the best part?  It's darn tasty whether steamed or baked.
Baked Crispy Kale Chips rival any other potato chip on the market.  Except, they're much much healthier and they're easy to make at home!  Why spend upwards of $7-$8 per bag of kale chips at a specialty store when you can pay half as much for a raw bunch at your local market and make the chips at home.
Obviously back in the 70's and 80's my mom had NO recipes using kale.  She had plenty using broccoli, cauliflower and string beans but kale is completely absent from her repertoire.
However, after shelling out ridiculous amounts of money for half full bags of kale chips, I realized I should take matters in my own hands and bake the chips at home.
Honestly, there's very little work for huge reward.  I have been baking the chips at least two to three times per week and the kids love them.  They have the right ratio of crunch to flavor to salt.  They have almost completely replaced the potato chip in my house.
Just take one bunch of kale, wash it thoroughly and dry it in a salad spinner.
Toss the kale with olive oil and sea salt and place it on a cookie sheet covered with parchment paper.
Bake at 350 degrees for 10-12 minutes are until the edges of the leaves turn brown and they become crisp.
Repeat over and over again…
Kale cut, washed, coated with olive oil and sprinkled with salt – ready to bake
Crispy Kale Chips
Ingredients:
1 bunch of kale
1 tablespoon of olive oil
1 teaspoon sea salt
Instructions:
Preheat oven to 350 degrees.
Rinse kale thoroughly and place in salad spinner or paper towels to dry completely.
Coat olive oil and sprinkle sea salt over top kale.
Place on parchment-lined cookie sheet.
Bake at 350degrees approximately 10-12 minutes or until edges become browned.  Make sure not to burn.
Add additional salt or Old Bay seasoning for an extra kick.
Enjoy.