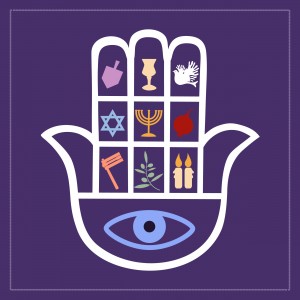 Family traditions counter alienation and confusion. They help us define who we are; they provide something steady, reliable and safe in a confusing world.
SUSAN LIEBERMAN, New Traditions
The fall Jewish holidays are so very bittersweet for me.   I have the most vivid memories of Mom slaving away in the kitchen for weeks leading up to the Jewish New Year.  She'd willingly make multiple versions of her Noodle Kugel (Noodle Pudding), her infamous Sweet and Sour Brisket, chopped liver, Matzoh Ball Soup and of course, her Banana Chocolate Chip Loaf. Lucky for her, she was able to use her extra freezer for all of the overflow dishes.  Growing up, the holidays in my household marked a time of togetherness, celebration, reflection and memorable meals around the table.
I've been trying very hard this past year to reclaim dinnertime as a coveted meal hour for my family to discuss the days' events, to share ideas, and of course, to experiment with new food. Living within blocks of Zabar's and Citarella makes it very tempting (and undeniably easy) to just pick up the phone or take a walk and order dishes off their pre-planned menus.  While certainly expensive, at least you're guaranteed the food will taste great without all the hassle of cooking, right?
These fews weeks with major Jewish holidays and meals, Mom's absence is more searing than ever. For me, cooking her dishes from her stained, handwritten recipes is just one way I can celebrate her life and the abundant love she constantly gave to me.   I want my children to walk through the door, smell the holiday food cooking, open the refrigerator and see all of the dishes I've prepared for the meaningful meal.  I don't want them to answer the doorbell for a delivery guy bearing boxes of ready-to-heat meals. I want them to sit around our dinner table and rejoice in family and food and recognize its importance.
I would give anything to have  the chance to learn from Mom directly.  I'd take notes first-hand, learning her shortcuts and relishing in her useful tips.  So much of my cooking expeditions right now are mere guessing games.  However, each new dish cooked, each new thumbs up from my kids, bolsters my confidence and challenges me to continue this journey.
I've already made both kugel versions for next week's meal because I know you can't have enough kugel on the table.  Today, I was smiling as I baked,  sensing a feeling of accomplishment and pride. I know my family will share these home-cooked faves while spending quality time together around the table.  These feelings of supreme satisfaction and ultimate pleasure Mom felt all the time.
Even though I find myself constantly looking for Mom's place setting at our dinner table, I know I'm allowing her spirit to live on in all of us.
With every new pot of water boiled, egg cracked, measuring cup used, I feel one-step-closer-to-Mom.
Enjoy…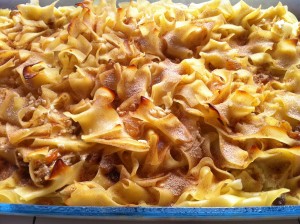 Judy's Noodle Kugel (mildly sweet)
Ingredients:
1 lb. wide egg noodles
4 eggs
3/4 cup sugar
juice of 1 lemon
1 lb creamed cottage cheese
1 tbsp sour cream (heaping)
1/4 lb. melted butter
1/4 cup yellow raisins
cinnamon and sugar to be sprinkled on top
Instructions:
Grease 9×13″ baking dish.
Pre-heat oven to 350 degrees.
Cook noodles in large pot of boiling water until soft.
Drain noodles and let cool.
Beat eggs and sugar together in large bowl.
Add lemon juice, cottage cheese, sour cream and butter.
Stir in cooled noodles.  Add raisins.
Pour noodle mixture into baking pan.
Bake for 45 minutes or until top starts to lightly brown.
Let cool and sprinkle cinnamon and sugar mixture  on top.
Enjoy!
Judy's Noodle Kugel (sinfully sweet)
Ingredients:
1lb wide egg noodles
½ lb butter, creamed until smooth
1lb cream cheese
1 cup sugar
6 eggs beat well
1 pint sour cream
2 cups milk
Topping Ingredients:
1/2 cup brown sugar
2 cps crushed corn flakes
1 stick melted butter
Instructions:
Grease 9×13″ baking dish.
Cook noodles in large pot of boiling water until soft.
Drain noodles and let cool.
Combine butter, cream cheese, sugar, eggs in a large bowl.
Fold in one pint sour cream.
Add 2 cups of milk and mix well.
Fold in cooled egg noddles.
Place in refrigerator and let sit overnight to set.
After at least 12 hours, remove from refrigerator and bring to room temp.
Bake at 350 for ½ hour.
Combine topping ingredients and spread over top pudding.
Bake at 350 degrees for another half hour.
Remove and let cool.
Enjoy!
Any holiday favorites of Mom's you want to share?