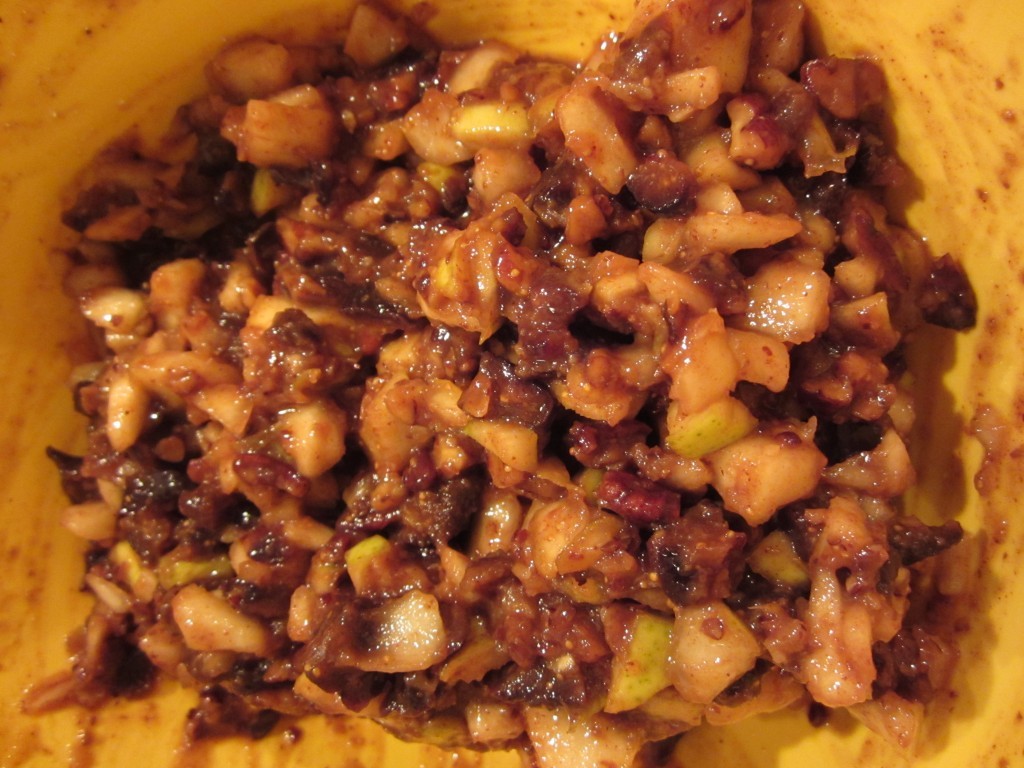 I love this Haroseth recipe featured in the New York Time a few years ago.  I make it every year for Passover.
For those unfamiliar, Haroseth is a chopped nut and fruit mixture served during the Passover Seder.  It's usually eaten between two pieces of matzoh, to represent the mortar used by Jews in building palaces and pyramids of Egypt during their slavery.
Like the other Passover recipes I've made this weekend (Chocolate Covered Matzoh, Matzoh Kugel) I cannot figure out why I eat this amazingly flavorful fruit dish only two days out of the entire year as it she not be relegated just for this holiday.  Like many other dishes I've tackled, once in the kitchen and confronted with the ingredients and the directions, I couldn't believe how easy it is to make.  Seriously, all that's required is slicing and dicing and mixing of fruits and nuts and you're done.
Once you taste this fruit concoction, there's no way you'll want to let its vibrant, flavorful culinary life get stuck between two pieces of dry matzoh.  You'll start concocting other ways to use this flavorful mixture.  My list is ever growing:  ice cream topping, cereal, pancake topping, etc…
Hope you enjoy.

Haroseth with Pears, Figs and Pecans
Author:
New York Times - adapted by Michael Selig
Prep time:
Cook time:
Total time:
Fruit mixture used during the Passover seder.
Ingredients
1cup pecans, toasted and finely chopped
1cup dried figs, finely chopped
2 cups finely diced just ripe unpeeled pears
½ cup peeled, finely diced, crisp and slightly tart apple
1 teaspoon ground cinnamon
3 tablespoons honey
3 tablespoons kosher grape juice
Zest and juice of half a lemon
Instructions
In a glass or ceramic bowl, lightly toss the pecans, figs, pears and apple.
Add the cinnamon, honey, wine, lemon zest and juice.
Toss lightly to blend well.
Cover and refrigerate for at least 1 hour before serving.
Notes
We used grape juice in place of Passover sweet wine. You can go crazy with the fruits for this dish. Feel free to add dates, apricots, etc....It's important to keep the dish refrigerated for AT LEAST one hour as it will allow time for the different juices and flavorings to soak together.
Save
Save