Maybe it's because my kids are on spring break that this recipe for homemade Challah piqued my interest.
Seriously.  Can one make homemade Challah in a bag?  It's the lazy person's way to make Challah and I LOVE IT.
I admit, I was dubious when we initially watched the video but, I set out with my son to try to recreate this science experiment, ahem, homemade Challah recipe.
Yes, we might have been using outdated yeast and, yes we only watched the video and followed the written directions on the screen.  I would recommend watching the video first and then use the full recipe of written instructions below as there are some nuances to each step for the bread prep that aren't obvious from the video (and affect the outcome of your dough)!
Our first batch of dough wasn't wet enough and very crumbly in the middle.  We were  definitely nervous as we know how obstinate dough can be. So, I had to call upon my 15 year old daughter to attempt to braid the unresponsive dough as best she could (she has daily practice with her thick unruly hair every morning).  Her finished product didn't quite resemble the perfectly-braided dough from the video but, we were ready to take our chances and live with the prospect of unrecognizable, under-cooked, Challah.
We popped our mini-braided Challah into the oven and hoped for the best.
Our first pass is pretty good!
I'm not afraid to admit that our Challah looks a little squatty, but more importantly, it tastes really good.  That gives me confidence for our second batch, which we are going to make again today.
Practice makes perfect.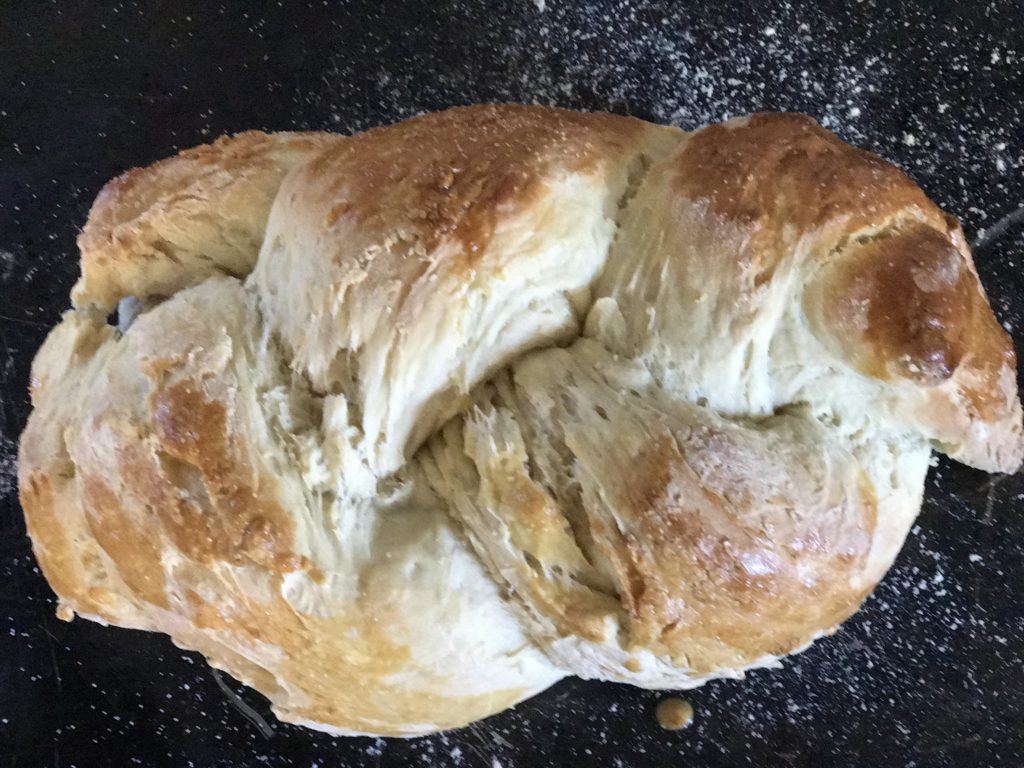 Enjoy!

Homemade Challah in a Bag
Prep time:
Cook time:
Total time:
A quick and very easy way to make homemade Challah!
Ingredients
1 tbsp. yeast
1 cup warm water
3 tbsp. sugar
½ tbsp. salt
⅓ cup canola oil
3 cups all-purpose flour + ¼ cup
1 egg for basting (optional for vegan challah, substitute olive oil)
Sesame seeds for topping
Instructions
In a 1 gallon plastic ziplock bag, add the yeast, water, sugar, salt, oil and 3 cups of flour.
Give the bag a little shake. Don't work too hard- remember, it's a lazy challah!
Place the bag in a bowl of warm water for 30 mins.
Remove from bowl, shake, release air from bag, and place on the table for 1 hour. Flip bag every 20 mins. The dough should be very wet. It will start to bubble and self-knead. WHOA.
After the 1 hour, add ¼ cup flour and give the bag another shake. This makes the dough not stick to the bag.
Leave the bag for 1 hour and 30 mins to rise. It should still be a wet dough. If it's not rising, flip it over and knock it down. If the dough is wet, the recipe will turn out amazing.
Preheat oven to 300F/150C.
On a well-floured surface, separate the dough and stretch out 3 strands. Braid.
Baste with egg and sprinkle sesame seeds (optional for vegan challah, substitute olive oil). Leave to rise for 15 mins before it goes in the oven.
Bake on a non stick tray for 40 mins or until golden on top.
Save
Save
Save
Save
Save