photo credit: when the dinner bell rings
I'm in Thanksgiving mode right now.  I've been catching myself leafing through the tab with Mom's recipes earmarked  "dishes to compliment a Thanksgiving feast! "  I was so eager and even more intimidated when I found some scribbled Pot Roast instructions.
I must admit, in the past year I've definitely gotten more comfortable handling big slabs of raw meat.  I cooked my first Flank Steak (and have cooked about 10 since).  I've braised my first brisket.  I've cleaned and roasted a whole chicken.  I've made beef stew.  Not bad for someone whose only prior meat cooking experience was thawing and browning the thinly-sliced frozen Steak-Umms in the skillet.
Like all Slow Cooker recipes, Mom's Pot Roast recipe proved to be very simple.  You just need to buy the right cut of meat.  After the meat selection, all that follows is properly seasoning it and plopping it in the porcelain pot of your slow cooker!  Then, sit back (or leave) and let it work its magic for the next 8-10 hours.
Pot Roast is an umbrella term for a certain cut of braised meat.  I finally understand (after having spoken to our local butcher at length) that there are specific cuts of beef that are ideal for Pot Roasts because they have less fat than steaks. After hours slow cooking in liquid (braising) the toughness of their fibers become tender and flavorsome, rendering it extremely SUCCULENT:
boneless chuck
brisket
top round
rump!
I must admit, the HUGE 4 lb slab of bright red raw meat looked so angry as I unwrapped it.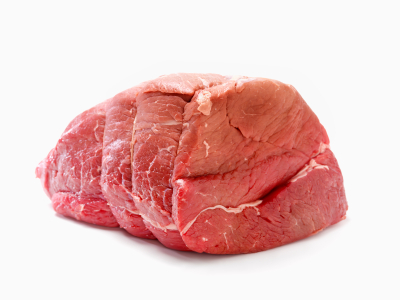 But, after coating it with seasoning and gently browning it for a few minutes in the skillet, I was ready for some slow cookery. I especially love that the marinade doesn't consist of the traditional can of condensed mushroom soup on top of a bed of sautéed onions but rather, a beef bouillon cube, some coffee Worcestershire sauce and tomato sauce!  YUM!
So, with your seasoned beef resting in the marinade in your slow cooker, you can literally "fix it and forget it" for the next 8-10 hours.
At one point, halfway through, I checked on the meat which seemed to have expanded enough in the cooker to have pushed the lid up.  I reconfigured the beef onto another side and, after another four hours, noticed the piece of meat had definitely shrunk down a bit (not nearly as much as a broiled flank steak).
The meat was so tender to the touch that it started falling apart as I was cutting against the grain.
While it certainly didn't look pretty, it tasted so wonderfully flavorful.  Typically the roast is serve with a side of potatoes and carrots.  However, I went the lighter route and roasted some shredded Brussels sprouts alongside some fresh apple sauce.
As predicted, my uber carnivoric son ate five huge pieces.  My daughter, not so much.  I just don't think she loves the consistency of any braised beef.
The best part of the entire meal?
Leftovers!
Make sure you buy enough meat for leftovers.  We happily ate more meat tonight and I know my son is planning to eat it every night until it's gone.
All in all, another hearty main dish, perfect for any Thanksgiving table or cold winter's night…
Thanksgiving Pot Roast
Ingredients:
1 4lb cut of chuck roast (or any other pot roast cut)
2 tablespoons Worcestershire sauce
2 tablespoons olive oil
2 tablespoons Montreal Steak Seasoning (or similar seasoning)
2 tablespoons oregano
1 cup black coffee
1 beef bouillon cube
1 8oz. jar tomato sauce
Instructions:
Season meat with 2 tablespoons Worcestershire sauce, steak seasoning and oregano.
Heat skillet with two tablespoons olive oil and brown beef 3-4 minutes each side. Place in slow cooker.
Dissolve 1 bouillon cube into 1 cup of black coffee.
Pour mixture over top meat.  Add in can of tomato sauce.
Set slow cooker to LOW for 8-10 hours.
Remove beef some slow cooker and season with salt and pepper.
Enjoy hot or cold the next day.  Ladle marinade on top.