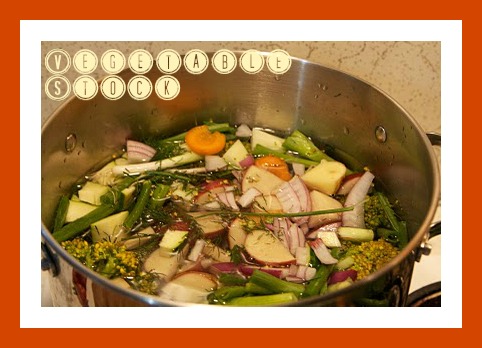 It's Seriously Soup day today, featuring one of my favorite bloggers, Serena, who authors a blog called Seriously Soupy.  Serena started Seriously Soupy as a creative outlet for herself after her first daughter was born, which combined her passion for cooking with an interest in learning more about soups and soup making.  Since it started, she has given soup tours and taught soup classes and has a catalog of over 100 soups on the site!  You can join Serena on her Soupy journey at SeriouslySoupy.com and twice a month you can find her here, at My Judy the Foodie, sharing her wisdom and helping demystify the world of soup.
Here's what Serena has to say:
Prior to Seriously Soupy, I always used bouillon and store-bought stock used for my soup recipes. I never realized how easy it is to actually make your own stock.
Silly, I know, especially since all you need to make stock is a medley of veggies, water and a container. For this simple veggie stock recipe, I used a massive stalk of scallions and carrots (also massive) from my local farmers market, an oldish head of broccoli, onions, zucchini, dill, potatoes, salt and pepper — that's it!
After only two-three hours of cooking, I had eight cups of veggie stock that I will be using for two different soups this week (check out the first soup recipe on Friday).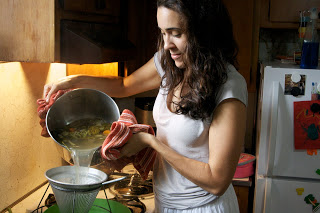 Another cool thing about stock is that you can add any combination of veggies and their bits and pieces — ends, roots, whatever. The more, the better, and trust me, your soup never tasted and looked so good!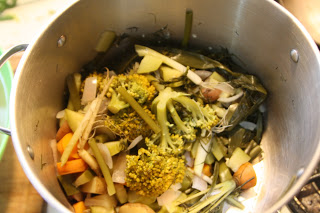 Note: Since this a hodge, podge of veggies, the ingredients and portions are estimates. As with all soups, use your discretion and taste as you go to determine the right balance of ingredients.
Vegetable Stock Recipe
Ingredients:
8-10 cups of water, approx.
Bunch of dill
3-5 stalks of scallions, chopped up
1/2 red onion, chopped up
cloves of garlic
5-6 red and white potatoes, chopped up
1 head of broccoli
1 zucchini, chopped up
2-3 carrots, chopped up
1 clove of garlic, chopped up
Drain the vegetables after 2-3 hours and the stock is ready for use or ready to be frozen.
Other ingredients for vegetable stock:
Celery
Mushrooms
Corn (right on the cob)
Spinach
Squash
Peppers
Sweet potatoes
Peas, corn
green beans
fresh herbs
Basically, any veggies and herbs can be added to make your own unique and flavorful broth!