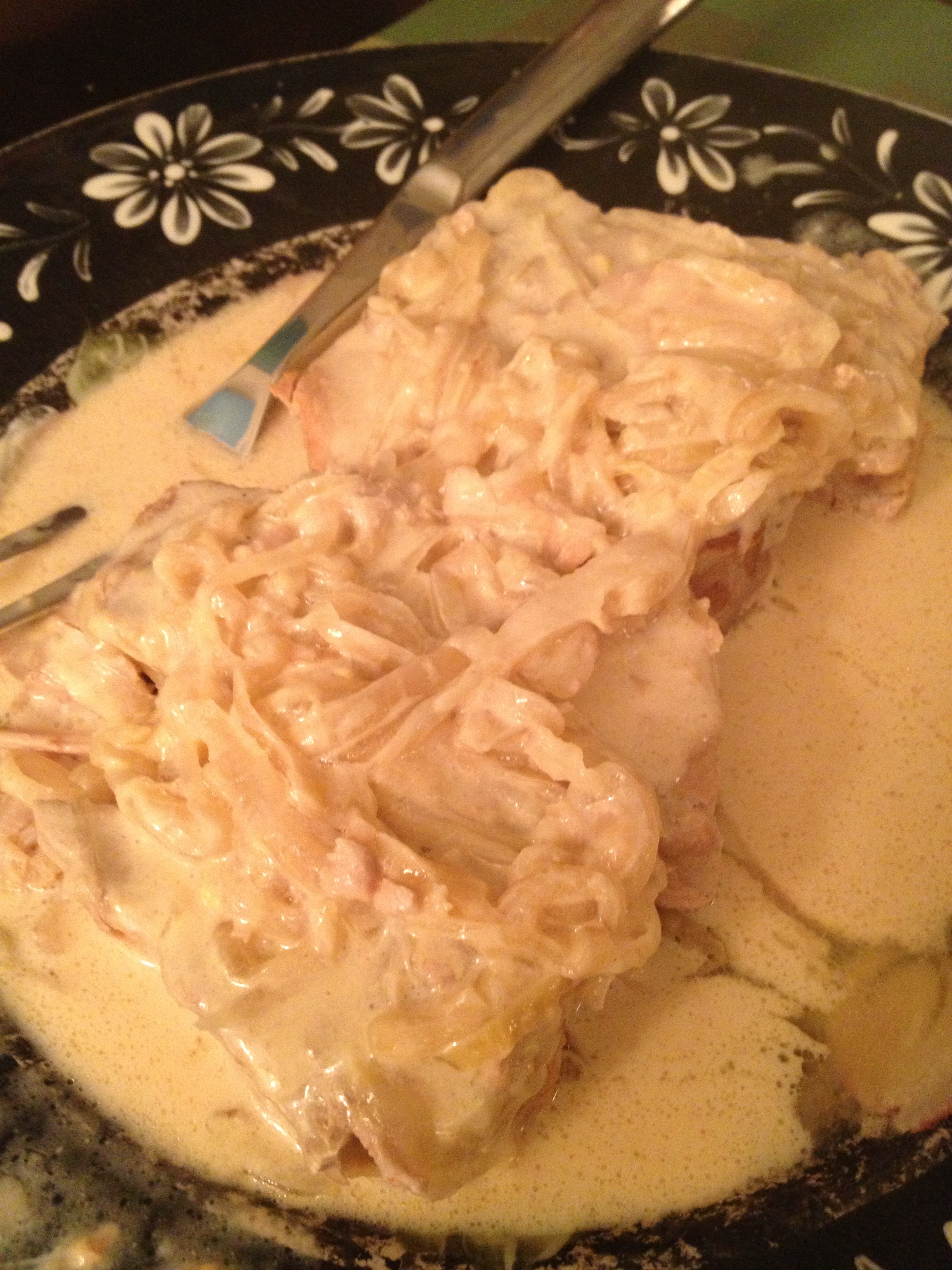 The only real stumbling block is fear of failure. In cooking you've got to have a 'What the hell?' attitude.  Julia Child
It's safe to say I finally took my biggest risk in the kitchen: I cooked a new dish for dinner guests.
I don't entertain much at all, and if I ever have people over, I stick to the basics (appetizers) or I serve a dish that's been tested ad nauseum with my family.  But, I figured it was time to leave my comfort zone behind and to face a new culinary challenge.
You might be thinking I made the culinary equivalents of a triple axel: Coq au Vin or a Baked Alaska or a Napolean.
Nope.
In fact, I didn't do much cooking at all.  I Slow Cooked Pork Chops.
I certainly can't argue that this recipe requires finesse and, while it needs time to slow cook, it's hardly labor-intensive. But, I felt so vulnerable since I had absolutely no clue how it would turn out.  There's huge risk of over cooking the meat.  While I have worked with a pork tenderloin in the oven, a pork chop in a slow cooker is a totally different beast.  Sure, I've handled cute little cubes of beef for the Slow Cooked Beef Tips recipe, and I've worked with slow cooked chicken for the White Bean Chicken Chili recipe.
But, large raw slabs of pork are intimidating (to me)!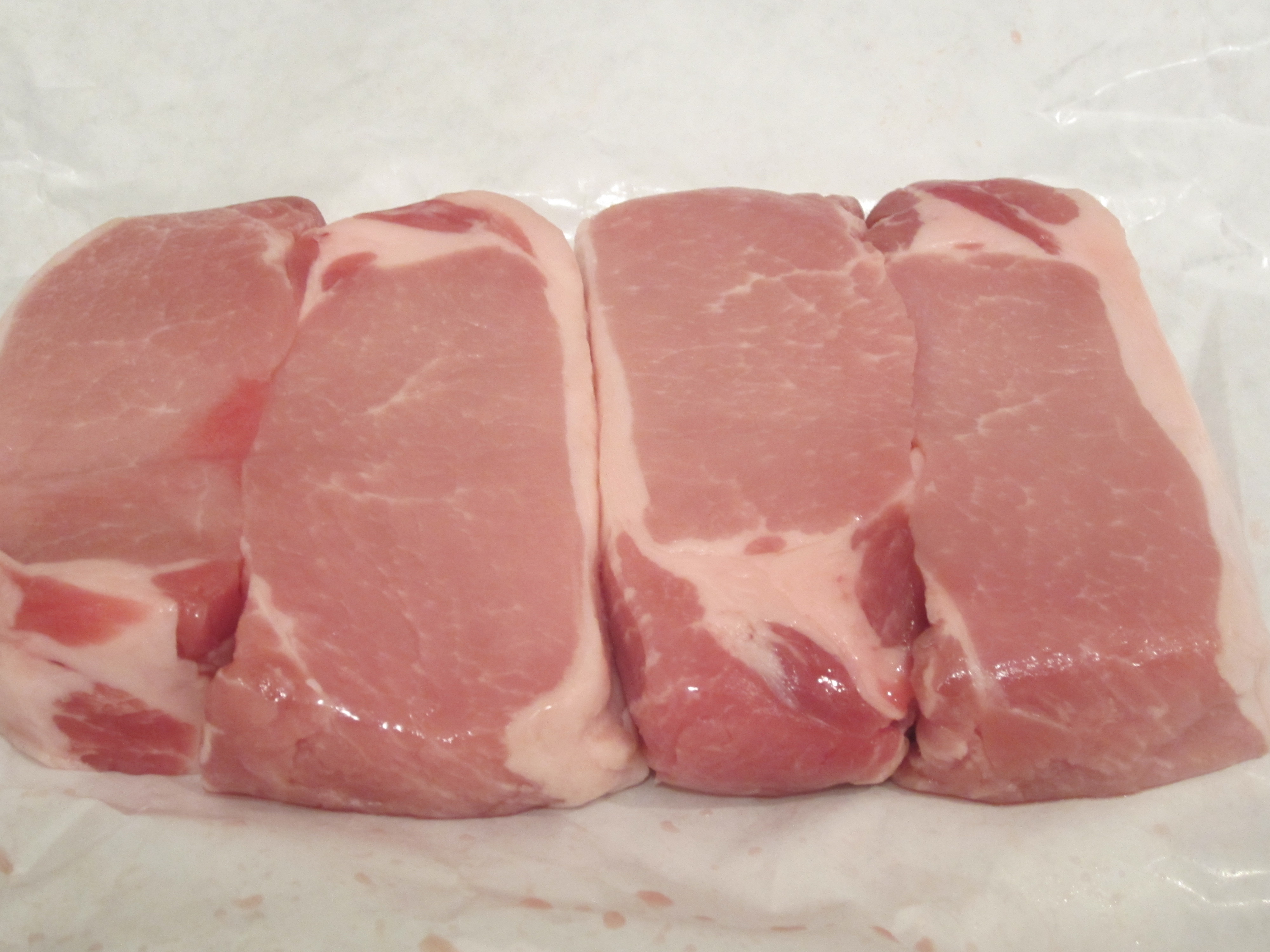 The recipe itself is easy.  Just a simple saute of the onions is all that's required before they're placed in the cooker with the chops of pork.  Then, like with all slow cooker recipes, you turn it on and let it work its magic, AND LEAVE.
The challenge is not to open your slow cooker as your meat is cooking.  So, I left it alone to cook on low for approximately 4 ½ hours (as recommended by the recipe).  After time was up, I eagerly pushed my finger against the meat, and it didn't give.  It was definitely firm and, I still had about 2 hours before it was to be served!
I tried to calm myself and figured that maybe after I put together the marinade and poured it over the meat, it would taste better.  After all, what doesn''t taste good with a heavy cream and Dijon mustard combo?
So, I hoisted my heavy slabs of meat out of the slow cooker, drowned them in  the marinade, placed them on a beautiful serving plate, and presented the main dish with the best poker face ever.
"This is wonderful," my dad proclaimed as he took his first bite.  I have to say, I was definitely surprised.
"Yeah Mom, I really like it," my honest 7-year old attested.
Our other dinner guest, Donna, was a bit reserved to comment immediately.
Not more than 2 minutes later, my dad recanted:
"Actually, I take it back, this pork is tasteless. It's the sauce that's good."
And there it was – a completely honest, unfavorable feedback. My heart sank.
But, what ensued was totally unexpected.  Together we tried to figure out how to make the dish better.  It was so supportive and reassuring.
In that moment, I felt more accomplishment in my kitchen "failure" than I ever had serving a "safe" dish.
So, while my dish didn't turn out perfectly, I'm certain that a couple minor tweaks to the recipe will render it a crowd pleaser:
Make sure your cut of meat is approximately an inch thick.  To thin and it'll dry out very quickly.
I cooked the pork for 4 ½ hours on low but, I started the process too early. The meat finished cooking 2 hours before the meal was to be served and dried out while it was on simmer in the cooker.  Make sure you time your slow cooking so that it completes just a few minutes before serving.
While the recipe never calls for the meat to marinate in the sauce in the slow cooker, screw it. I would pour the sauce over top the chops when there's approximately 15 minutes left on the timer. Let the meat baste in the liquid for the next 15 minutes.
Slow Cooked Pork Chops in Mustard Cream Sauce
recipe from a favorite food blog: Jam Hands
yields 4-6 servings
Ingredients:
1 tablespoon vegetable oil
4 to 6 pork chops, 1-inch thick
2 onions, thinly sliced
4 garlic cloves, minced
1 teaspoon dry mustard
1/2 teaspoon salt
1 teaspoon fresh ground black pepper
1 pinch cayenne pepper
2 tablespoons all-purpose flour
1 tablespoon cider vinegar
1/2 cup white wine
2 tablespoons Dijon mustard
1/2 cup whipping cream
Instructions:
1. In a skillet, heat oil over medium-high heat and brown pork chops on both sides; place in bottom of slow cooker when browned.
2. In same skillet, reduce heat to medium and saute onions until softened; add garlic, dry mustard, salt and pepper, and cayenne and cook, stirring, for 1 minute.
3. Add flour and cook, stirring, for 1 minute. Add vinegar and wine and cook until thickened.
4. Pour this mixture over pork chops, put lid on crock pot and cook on Low for 4 to 5 hours or on High for 2 to 2-1/2 hours (I did Low for 4-1/2 hours), or just until pork is tender
5. Remove pork chops from slow cooker and place on a warmed platter.
6. Stir Dijon mustard and whipping cream into juices in slow cooker; when well combined, turn slow cooker off and pour sauce over chops on platter and serve immediately.