"Slow Down, You Move to Fast"
Simon and Garfunkel – "Feelin' Groovy"

In an interview last week for www.robinsbite.com, when asked my favorite cooking gadget, I proudly mentioned my new slow cooker.
Isn't it ironic? I have absolutely no recollection of Mom ever using a slow cooker.  She has no slow cooker recipes in her vast collection. Every one of her meals was hand-cooked on the spot and either served immediately or frozen for future use.   For someone who always worked, sometimes even two jobs at a time, how could Mom not have taken advantage of the one appliance that supported her lifestyle?  Even its motto is, "Cooks all day while the cook's away."
I admit, using a slow cooker forces you to be organized and strategic about your meals.  But, if you plan ahead (like I now do), that shouldn't be a problem. And obviously there's prep work that needs to take place before you dump all the ingredients into that magic pot.  But, what could be more worthwhile?
I'm fairly certain those who haven't used the slow cooker before are simply intimidated.  I was.  Until my first try, I had conjured up and convinced myself of every reason why I didn't need to use a slow cooker.  I simply couldn't grasp the idea of foods cooking all-day-long in my kitchen without the smoke alarm going off and a caravan of fire engines wailing outside our apartment building.  I also couldn't fathom what I would actually want to cook in the crock pot.  The breadth of recipes  complimented from slow cooking is astounding.  From beef, to veggie sides, to sauces, to butters, almost every category is covered.  So, why not try?
It wasn't until I found myself sitting in my kitchen, staring at the bushels of apples picked on one of our fall harvest expeditions, that I realized I quickly needed to come up a variety of ways to get rid of those apples.  Apple Butter was my first idea.  After much research, slow cooking the apples was the easiest, most hassle-free method.
So, three weeks later, here I am, bitten with the slow cooker bug, I'm fantasizing about every food item I could possibly cook in that vessel.  It's my virtual kiln, creating beautiful vibrant cooked masterpieces from a random hodgepodge of raw ingredients.
From the first simple and sweet 2-ingredient Apple Butter recipe, I graduated to Lemon Rosemary Chicken.  The food critics, my 9 and 6 year old kids, both agreed that the chicken was just too dry (I should have followed the directions and used dark meat instead of white).  My meal only received one thumb and a crooked smile out of a possible two-thumbs and an ear–to-ear grin.
Next meal on the slow cooker menu, Beef Tips!  When people mention slow cooking, usually beef-based stews and meals come to mind.  And, I've now learned that you just can't mess up slow cooked beef. The longer it's cooked, the more flavorful and delicate the taste.  A fool-proof opportunity.  However, I did have to overcome my initial anxiety:  I had never even heard of beef tips before.  In fact, all I could envision were those vacuum-packed beef jerkey's –the hangover staple from my college days twenty years ago.
Obviously, anything kitchen-related creates a steep learning curve for me. Luckily I was able to just walk down the street and have an in depth meat discussion with the butcher at our local store, Citarella.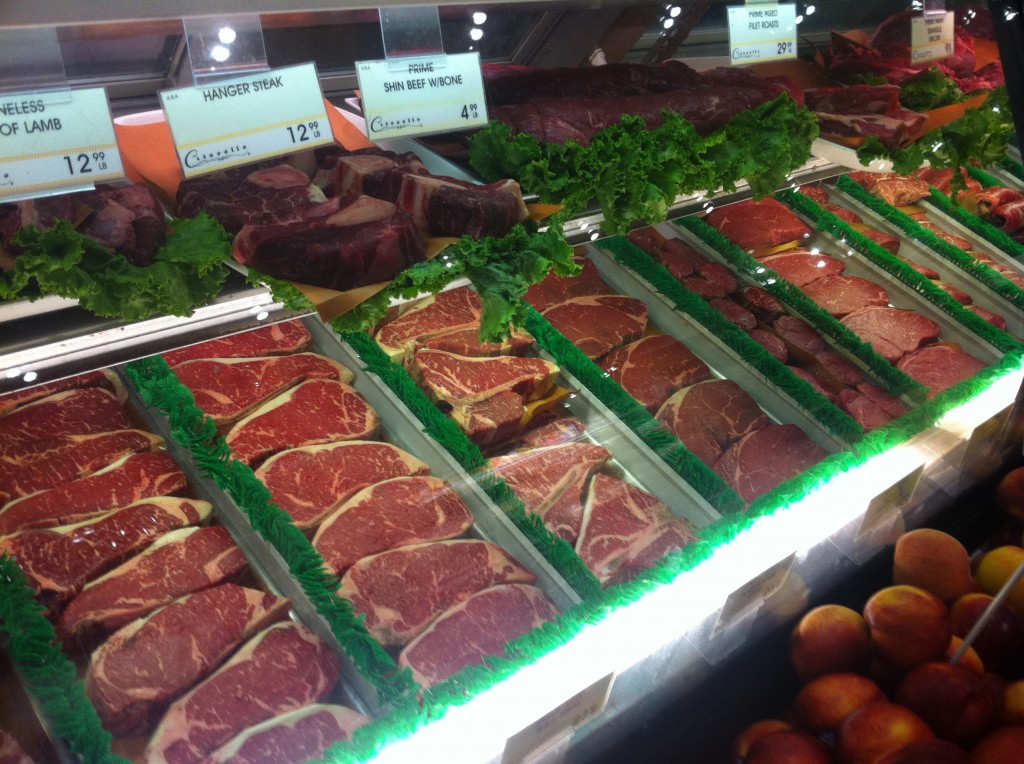 Lots and lots of meat.  Enough to confuse the average person like me.
While they didn't have meat labeled "beef tips," I mustered up my shaky confidence and settled for sirloin "stew" chunks. I lined up the ingredients the night before and scheduled a 6:00am alarm to get me out of bed to slice and dice and prep the ingredients for the meal.  This time around I carefully factored in the 10-hour slow cook to perfectly coincide the final product reveal with our 5:30p dinner.
Throughout the day I peeked in through the glass lid to visually assess the cooking but, nothing compares to the surprise I got when I opened the pot and reveled in the finished stew.  The mushrooms and beef and green peppers had all shrunk down and soaked up all of the beef broth.  The fresh flavorful smell wafting from the pot brought back so many memories of  the winter beef stew served at my high school.  Except, I never desired that stew. This meal was fresh and hearty and delicious, bursting with bold flavors, begging to be eaten.
Surprisingly, the beef and noodles meal received accolades from my young obstinate judging panel, both of whom had never tasted beef tips before.  And, all the leftovers (and there were a lot, this dish is very filling so be cautious about the quantity) went into labeled Ziploc bags to be stored in the freezer for later use (it also freezes very well).
I went to bed that night smiling while thinking I've come a long way from those terrible smoked beef jerkey's I used to buy at 7-Eleven.
And, that ain't no crock!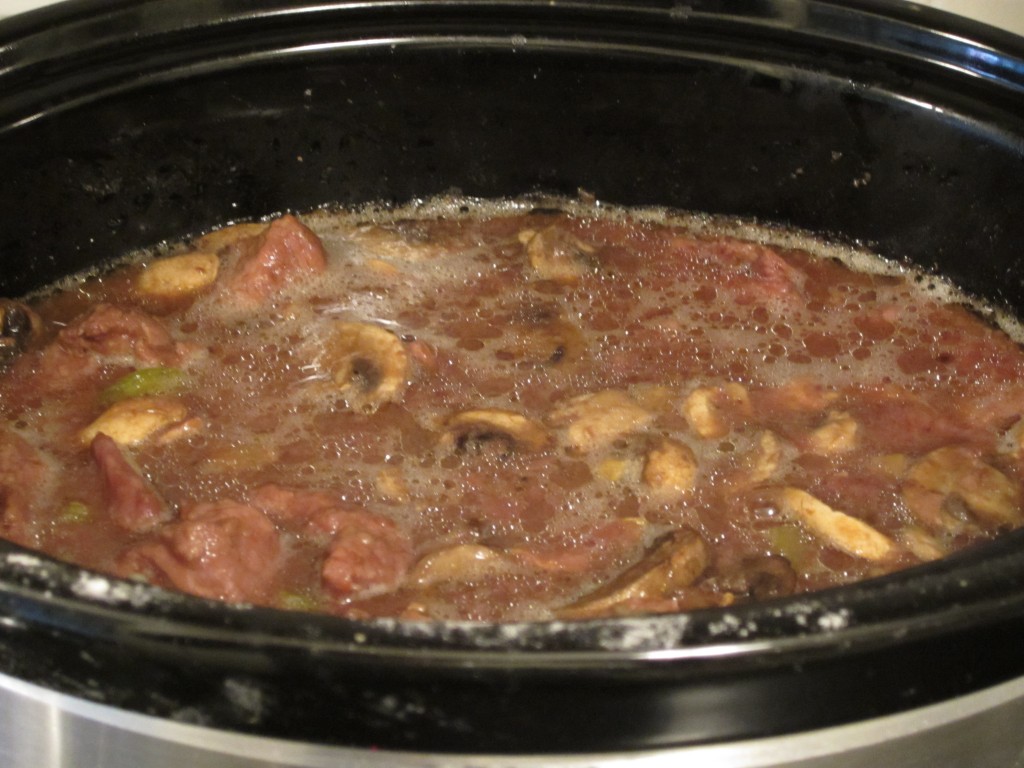 Beef Tips ready to be poured over hot noodles…
Slow Cooked Beef Tips (adapted from slowandsimple.com)

Ingredients:
1/2 c Flour
1 ts Salt
1/8 ts Pepper
4 lb Beef or sirloin tips
1/2 c Chopped green onions
1/2 lb Mushrooms, sliced
1 can beef broth, (10 1/2 oz.)
1 ts Worcestershire sauce
2 ts Tomato paste or ketchup
1/4 c Dry red wine
  4 tablespoons of flour
1lb yolk-free egg noodles
Instructions
Combine 1/2 cup flour with the salt and pepper and toss with beef cubes to coat thoroughly.
Place in crock-pot. Add green onions and drained mushrooms.
Combine with beef broth, Worcestershire sauce and tomato paste or ketchup.
Pour over beef and vegetables; stir well. Cover and cook on LOW setting for 10 hours.
One hour before serving, turn to HIGH setting. Make a smooth paste of red wine and 3 tablespoons flour; stir into crock-pot, mixing well.
Pour beef mixture over top noodles and serve immediately.
Do you have any slow-cooked beef recipes?  Did your mom take advantage of the slow cooker when it was released in the 70's?