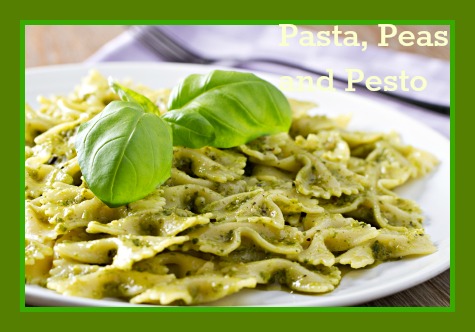 The stressful part about dinnertime for me is diversifying our meal options. I've gone to great lengths these past two years to try to vary our dishes so we're not eating chicken with broccoli every night.
I've also taken a lot of pride in making most of our dinners from scratch. But I must admit, when the weeks are hectic, sometimes it's hard not to get caught in the routine of opening up the pantry door and staring at the cans, trying to figure out what can be thrown together on the fly.
Yesterday was one of those days. I was home for 15 minutes and wasn't going to be around for dinnertime. There were plans on top of plans for after school pick ups and drop offs and emergency numbers and umbrellas, etc. In the 15 minutes I was home I panicked after realizing that, while I had gotten the days' myriad plans drilled down, I had totally spaced on dinnertime.
I really didn't have much available and found myself staring at three unappetizing canisters of dried pasta. Once I started my cooking journey, I swore to myself I would avoid cooked pasta for dinner since I suspected that's the lunch default option for one of my kids every day of the week.
I felt defeated.
But, not until I remembered that I had a handful of basil left over in my fridge.
And, I had some Parmesan cheese and some pine nuts in the cabinet! My creative juices were flowing.
While I knew that my kids wouldn't be psyched for the pasta, adding just a bit of zesty pesto sauce would be enough to get a rise out of them.
And, now that I know first-hand how easy it is to make pesto, throwing together a small homemade batch was just enough for me to feel like I put a little love into their meal.
So, at days' end, we'd all be satisfied in our own way.
If you still need to be convinced that homemade pesto is actually easy to make, check out my updated video (if I can do it, anyone can):
if you are reading this through feed/email, head over to site to watch this video
Pesto, Pasta and Peas
adapted from Ina Garten
serves 6-8
Ingredients:
1 1/2 pounds of pasta (fusilli, bowtie, penne, elbow, rigatoni– you get the drift)
1/4 cup olive oil
1 1/2 cups pesto (preferably homemade)
2 tablespoons freshly squeezed lemon juice
1 1/4 cups good mayonnaise
1/2 cup freshly grated Parmesan
1 1/2 cups frozen peas, defrosted
1/3 cup pignoli (pine nuts)
3/4 teaspoon kosher salt
3/4 teaspoon freshly ground black pepper
Instructions:
Cook the pasta in a large pot of boiling salted water for 10 to 12 minutes until al dente. Drain and transfer to a large bowl. Pour olive oil over top and mix throughout. Leave on counter top to cool to room temperature.
In food processor make pesto. When complete, add lemon juice., mayonnaise and puree.
Add the pesto mixture to the cooled pasta and then add Parmesan, peas, pine nuts, salt, and pepper.
Mix ingredients together, add salt and pepper to taste.
Serve at room temperature.