I had an aha moment the other morning when I was scratching my head trying to figure out what to make for dinner.
I wanted to make something meat-based since we over-indulged on pasta every night on our family vacation.  However, I knew I'd have no time to get to the market for any fresh meat. So, whatever was in the freezer would have to suffice!
Lucky for me, I had 1 1/2 pounds of lean ground meat needing a good recipe suddenly I had a craving for meatloaf.   I realized my kids have never eaten meatloaf.  They've had their fair share of beef burgers and Mom's Cheeseburger Pie and beef tacos and chilli  but, never meatloaf.
I went on a hunt through Mom's archives and found a half complete meatloaf recipe. I then merged it with a recipe I recently read from the blog Skinny Kitchen.
Since meatloaf is the all-American classic comfort food, most meat loaf recipes are variations of the same theme : ground beef with veggies and ketchup. Skinny Kitchen's version and Mom's both use Worcestershire sauce, ketchup and some brown sugar for a very sweet and tasty topping.
Skinny Kitchen subs Mom's panko bread crumbs for homemade whole wheat bread crumbs and uses egg whites in place of Mom's whole eggs.
Whether you decide to use turkey or beef combined with a variety of vegetables for the fillers, meatloaf is still a very inexpensive dinner option.  And, it's quite filling too.
Wanna know best part about it?  Your kids will LOVE helping out.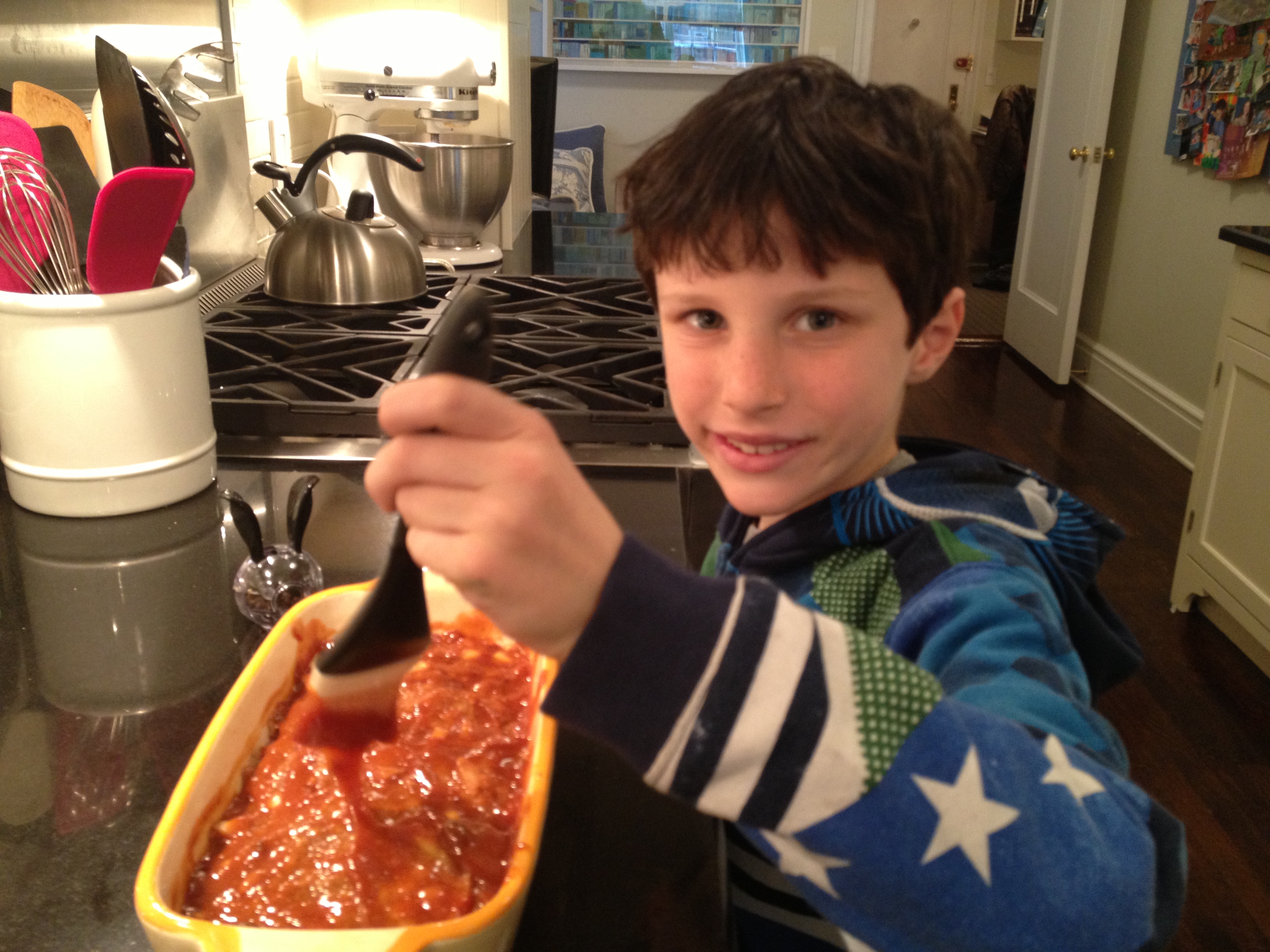 Painting ketchup over top Meatloaf
Quick and Easy Meatloaf
adapted from Skinny Kitchen
serves: 8
Ingredients:
1 1/2 lbs lean ground beef (I used 85% lean)
 1/2 cups Panko bread crumbs
1 cup onions, chopped
2 egg whites
3  1/2 tablespoons ketchup
1 tablespoon spicy brown mustard(you can also use yellow)
1 1/2 tablespoons Worcestershire sauce
¼ teaspoon salt
Fresh ground pepper, to taste
Topping Ingredients:
¼ cup ketchup
1 tablespoon spicy brown mustard or yellow mustard
2 1/2 teaspoons brown sugar, packed
Instructions:
1. Preheat oven to 350 degrees.
2.  Add ground beef to a large bowl and combine with bread crumbs, onions, egg whites, ketchup, mustard, Worcestershire sauce, salt and pepper, to taste.  Make sure to mix together all of the ingredients with your hands.
5. Carefully pack the meat mixture into a loaf pan that's approximately 12"x4."
6. In a another bowl, combine the ingredient toppings and spread evenly over top the meat loaf (we used a basting brush to insure even distribution).
6. Bake for at least 55 minutes. Let cool 5-10 minutes before serving.
Enjoy!