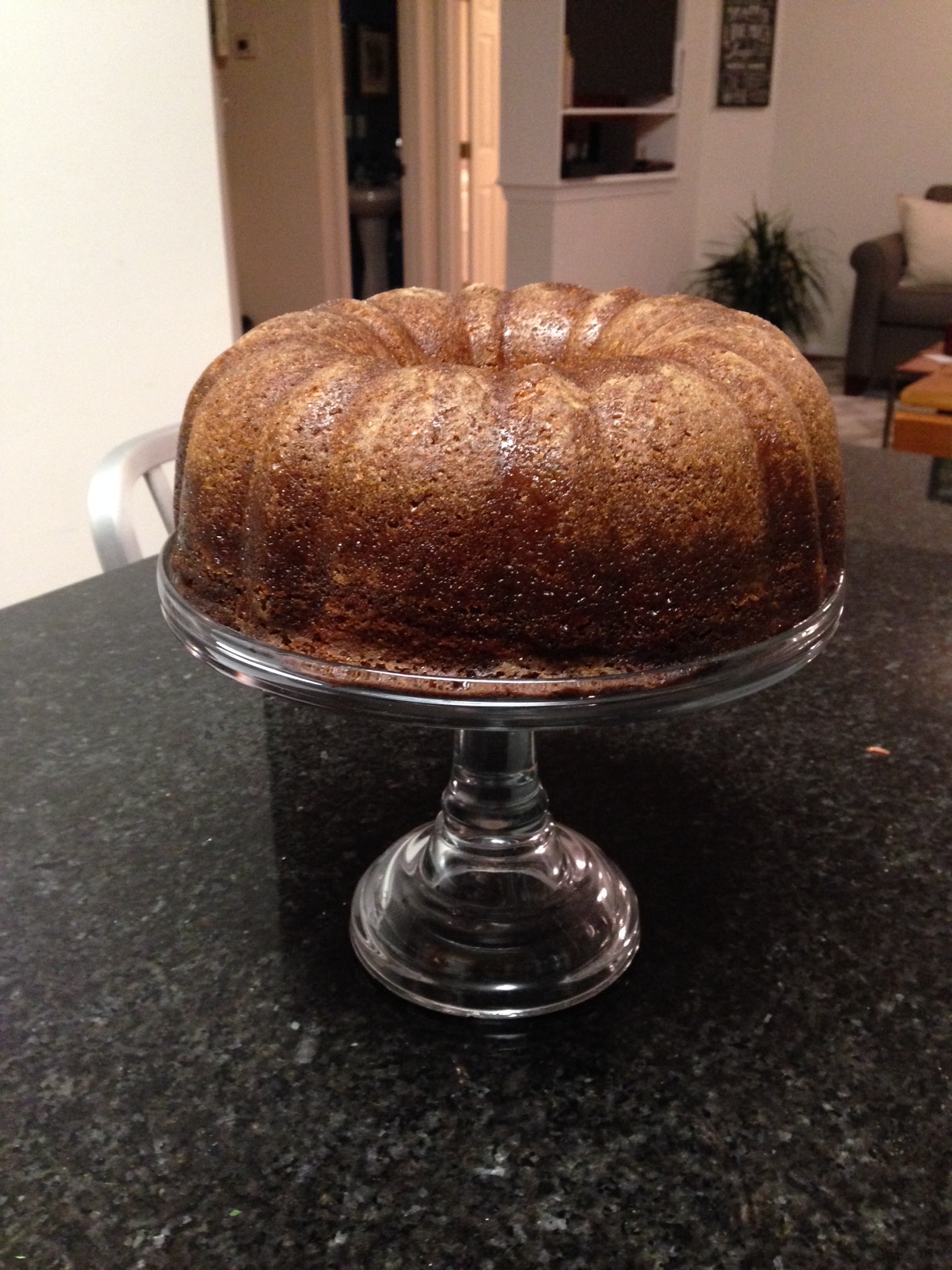 Happy New Year to all of my Jewish readers.
In keeping with tradition, we're wishing everyone a very sweet New Year. To celebrate and commemorate (with a recipe that's soo good you'll bake it all year long), we have an amazing Honey Cake recipe that comes from guest blogger Jennie Burke.  
Jennie is a freelance writer, homemaker, wife and mother from Annapolis, MD. She's interested in real food and its role in human development. She also runs a fund that supports low-income young adults facing cancer. She loves being with friends and family, travel, enjoying the outdoors and eating!
Here's what Jennie has to say:
Are you Jewish?
If you are not, do you have some Jewish friends? If you answered "no" to that question, then I want you to step away from the computer, and go find yourself some Jewish friends.
Ahhhh, you're back. We missed you! And here you are with your new Jewish friends and lots and lots of GOOD THINGS TO EAT!
Last I checked, my faith (I'm Catholic) does not have a treasure trove of sumptuous recipes, carefully guarded, handed down, mother to daughter and mother to daughter again, as the Jewish people do.
Jewish food is delicious.
Chicken soup, whether laden with noodles and veggies, or garnished with a big, fat, creamy, crackery Matzo ball – is so soothing and healthful that we equate it with medicine: The Jewish Penicillin.
And chewy, doughy bagels with schmear, or lox, or both, loaded with capers and onions and maybe a tomato – what a way to celebrate the beginning of a day!
Jewish mothers proudly present beautiful roast briskets and sides of noodle kugel and stuffed cabbages at holiday meals. This food is abundance and history all rolled up in one. I for one am honored to have feasted at many Jewish celebrations! It makes up for our lack of Catholic cuisine.
There is a retired rabbi that lives next door to my family. He and his wife are wonderful people, and we wanted to honor them by making a traditional Jewish treat in celebration of Rosh Hashanah, the Jewish New Year.
I asked a devout Jewish friend for a suggestion of what to make. She shared her famous Honey Cake recipe with me, and now, I am going to share it with you! She claims that most Honey Cakes are dry like biscotti – not this one.
It's sweet and delicious – hopefully just like the coming New Year.
NICOLE FRIBUSH'S HONEY CAKE
You will need a fluted Bundt pan for this recipe.
Ingredients:
Crisco or butter for greasing pan. (Crisco is the kosher choice)
3 ½ cups flour
1 TB baking powder
1 tsp baking soda
½ tsp salt
4 tsp cinnamon
½ tsp cloves
½ tsp allspice
1 cup vegetable or canola oil
1 cup honey
½ cup brown sugar
3 eggs
1 tsp vanilla extract
1 cup coffee
½ cup orange juice
¼ cup bourbon (OR additional 1/4 cup orange juice)
glaze:
½ cup honey
2/3 cup orange juice
Instructions:
Preheat oven to 350.
Heavily grease and lightly flour fluted Bundt pan
Combine dry ingredients in a large bowl
Combine wet ingredients (oil through bourbon)
Combine wet and dry ingredients with a mixer, and pour batter (it will be VERY wet and runny) in to Bundt pan.
Place Bundt pan on a rimmed cookie sheet and bake for 70 minutes.
Cake should be springy to the touch when finished.
ALLOW CAKE TO REST for 15 minutes. If the cake has run over the top of the pan, cut off the top (really it will be the bottom) of the cake with a serrated knife. If it has NOT run over the top, poke holes in the cake with a skewer. GENTLY TIP the cake over a plate to loosen, but DO NOT REMOVE THE CAKE FROM THE PAN.
Make your glaze. Reduce the extra ½ cup honey and 2/3 cup OJ in a small saucepan for about 5 minutes. Pour the glaze over the bottom of the cake (still in the pan).
Now this part is important, although I don't know why. You must let this cake cool completely in the pan. Nicole says to let it cool in the refrigerator. When the cake is cool, invert it on your cake plate, and ENJOY!