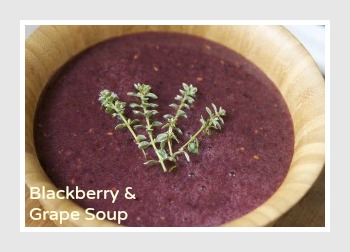 It's Seriously Soup day today, featuring one of my favorite bloggers, Serena, who authors a blog called Seriously Soupy.  Serena started Seriously Soupy as a creative outlet for herself after her first daughter was born, which combined her passion for cooking with an interest in learning more about soups and soup making.  Since it started, she has given soup tours and taught soup classes and has a catalog of over 100 soups on the site!  You can join Serena on her Soupy journey at SeriouslySoupy.com and twice a month you can find her here, at My Judy the Foodie, sharing her wisdom and helping demystify the world of soup.
Since we're in full spring swing, I asked Serena to share a soup that's refreshing and chilled and I'm thrilled with her selection this week.  The recipe is so easy, I made a batch for my family (early this am) and it's currently chilling the the fridge.
Here's what Serena has to say:
I have been loving experimenting with new flavors and testing out lighter soups for the spring with some favorites being the Chilled Bluberry Mint Soup and the Corn and Crab Bisque as well as checking out guest soups such as the Creamy Asparagus and White Bean Soup by Cathy Elton. For this week, I wasn't sure what to create for the color indigo so I jumped ahead to a purple or violet soup with this Blackberry and Grape Soup with Lemon Thyme. I plan on exploring some indigo next week but for now I was inspired to create another chilled soup using some dark fruits – cherries, grapes and blackberries – and fresh herbs like basil and lemon thyme. I started by stewing the fruits by boiling them with the herbs and some sugar that was then blended together to create this vibrant soup. The lemon thyme and basil was also a great addition, which gave it a mild spice that complimented well with the sweetness in the fruits.Enjoy!
Blackberry and Grape Soup with Lemon Thyme
Ingredients:
1/2 cup of water
1 cup of red grapes
1 cup of blackberries
1/2 cup of cherries, de-pitted
1/4 cup of sugar
2-3 sprigs of fresh lemon thyme
2-3 sprigs of fresh basil
1/4 teaspoon of cinnamon
Instructions:
Cup the grapes and blackberries in half. De-pit the cherries and place them into a pot.
Add water and let boil with the lemon thyme, basil, sugar and cinnamon.
Mash the fruits as they cook (about 10 minutes). Turn off flame and let cool. Mash with a hand mixer or blender.
Let cool for 2-3 hours and enjoy!